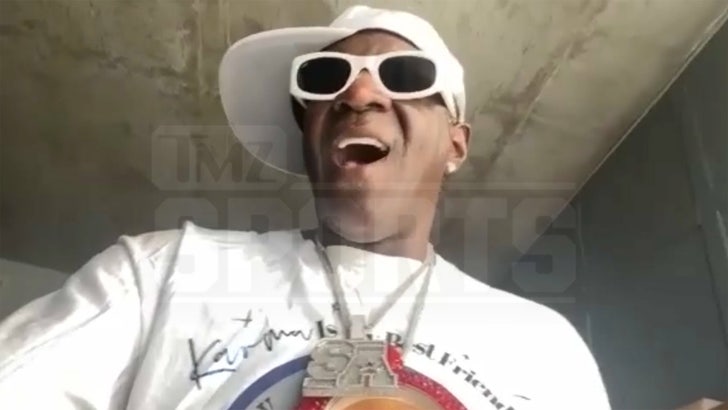 Could Flavor Flav do the national anthem at an NBA game again?? Yeahhhh boyyyyyeeeeeee — 'cause the rap legend tells TMZ Sports he's gotten offers from two more teams after singing at the Milwaukee Bucks game on Sunday!!
The iconic Public Enemy hype man got on the mic and belted out the "Star-Spangled Banner" ahead of the Bucks' home loss to the Atlanta Hawks … and footage of the rendition quickly went viral.
As it turns out, it was a bucket list moment for Flav … who explained he always wanted to give it a shot in honor of his family members who fought in the U.S. military — some who passed in the line of duty.
"When I sang that national anthem, I was singing it for them because they're not here to sing it for themselves," Flav told us. "I did that in honor of my family and also for a lot of other people's families, too, that fought for this country."
Flav — who got the opportunity thanks to Bucks prez Peter Feigin — received mixed reviews on the internet … but he said the positive feedback far outweighs the negatives, and the only thing that really matters is that he had fun doing it.
"I ain't gonna lie, I was kind of proud of myself after I did it."
The Rock and Roll Hall of Famer revealed he also got a lot of love from two of his famous fans — Anthony Anderson and Flo Rida … who both told him he crushed it!!
Flav said he never gets nervous before taking the stage … but admitted he had a few jitters before venturing into this new territory.
But, there's a chance this wasn't a one-time thing for Flav — he told us there are two organizations that have already reached out for his next gig … one being his favorite team!!
Source: Read Full Article