Las Vegas Raiders defensive end Clelin Ferrell spent his college career with the Clemson Tigers, helping the team win two National Championships in 2016 and 2018. He was then drafted by the Raiders in the first round of the 2019 NFL Draft. While Ferrell's stats on the field are well-documented, he's doing things off the field that are even bigger than football and that includes participating in USAA and the NFL's "Salute to Service" program.
Showbiz Cheat Sheet caught up with Ferrell prior to the 2022 NFL Draft to talk about a special Salute to Service event he's participating in and what he's learned as the son of two military veterans.
Ferrell's memories from when he was drafted
Prior to the 2022 draft, Ferrell shared his memories from the night his name was called in 2019.
"I remember a lot of different emotions running through [my] mind," he recalled. "You really don't know who's going to pick you because leading up to it coaches are telling you 'We're going to take you here or watch out for us there or we might trade up here.' So you have to tune everything out and just be patient and understand your moment is going to come."
Ferrell didn't have to wait too long as he was selected with the fourth pick overall by the Raiders.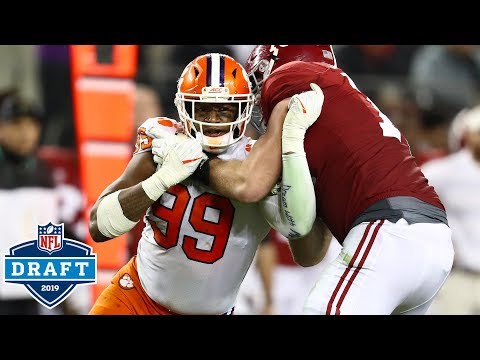 He's participating in USAA's Salute to Service event
USAA and the NFL honor the military community through the "Salute to Service" program by hosting military members, veterans, and their families at dozens of NFL events throughout the year including the NFL Draft.
USAA, Official NFL Salute to Service Partner, is also the Official Salute to Service Partner of the Las Vegas Raiders and with the 2022 draft being held in Sin City, Ferrell was proud to participate in an event for local military from Nellis Air Force Base and Creech Air Force Base. For the event Ferrell and his teammate Darren Waller hosted a meet and greet, a Q&A, posed for photos, and signed autographs. And following that, the service members got a tour of Allegiant Stadium before attending the first round of the draft.
"Something that's been life-changing for me is my parents serving in the military," Ferrell stated. "So it's good to come and be here at Alligeint Stadium with my teammate, Darren, and we're just getting to give back and sit and chat with some service members; a lot of who are football fans as well. And [we can] give them insight on what it's like to be an NFL player and absorb what it really encompasses. And this sport has always been about joining people together."
Ferrell's father, Cleavester, served two tours in Vietnam and his mother, Faye, served in Operation Desert Storm.
What his parents taught him that's helped in his life and career
Ferrell learned some important lessons having parents in the military and one of the most valuable for him is "discipline."
"Specifically for me being a young man, I think discipline," he said. "Especially living the lifestyle that I lived. You can have a lot of different people grabbing at you or reaching out at you, and different things coming whether it be temptations or whether is be opportunities. You need to be disciplined in who you are and have your values and understand that there is a process of elimination in the decisions you make in life. I have always gone back to my values and who I am as a man. I think that comes from the discipline I learned."
He added that a number of those values were instilled in him when he attended Benedictine College Preparatory, a private military academy outside of Richmond, Virginia.
What Ferrell's looking forward to in the upcoming NFL season
The NFL season is just a few months away and the Raiders have a new coaching staff coming in so Ferrell said that he's looking forward to "getting to know everybody. Just getting in there and getting to work with everybody, working out with the guys and sweating a little bit, and moving around."
As for how the Raiders will do this season, Ferrell didn't predict how many games the team will win but did say: "I think we have a good group and we'll be very successful."
Fans can keep up with Ferrell and the events he's involved on Instagram @missiledreaming.
Source: Read Full Article