Food Network star Ree Drummond's fried rice takes the classic takeout item to an irresistible level.
Packed with flavor and texture, this twist from The Pioneer Woman host on the popular dish may become a mainstay in your menu rotation. It's that good.
Drummond calls her fried rice a 'throw-together skillet dish'
In her cookbook The Pioneer Woman Cooks Super Easy, Drummond described her fried rice as both "weird" and "delicious" in the most complimentary ways.
"Some food mash-ups are weird," she began. "Some are delicious. And, as is the case with this lightning-fast stir-fry, some are weirdly delicious! This throw-together skillet dish, which is part fried rice and part pepperoni-and-pineapple pizza, should not be as delicious as it is. But it is! It absolutely, positively is!
"This is one mash-up that'll rock your world."
Ree Drummond's Pepperoni Fried Rice is the ultimate weeknight meal
The culinary personality's unique fried rice recipe calls for mini pepperoni, sliced onion, diced green bell pepper, minced garlic, jarred pizza sauce, crushed red pepper, leftover cooked rice, pineapple chunks, cubed fresh mozzarella, and torn fresh basil.
This really is a throw-it-in-one-pan kind of recipe. Once the vegetables are cooked to a tender stage, the pepperoni is added, until it's "starting to sizzle," as the chef instructs in her cookbook. She stirs in the pizza sauce and pepper flakes, then the rice until it's heated. Drummond adds the pineapple and once that's heated through, the mozzarella is stirred in "at the very last minute."
She adds that "you'll want to serve it immediately so that the mozzarella is very soft but still intact. Garnish with fresh basil leaves and fall in love!"
Get the complete recipe on Food Network's site or in 'The Pioneer Woman Cooks Super Easy'.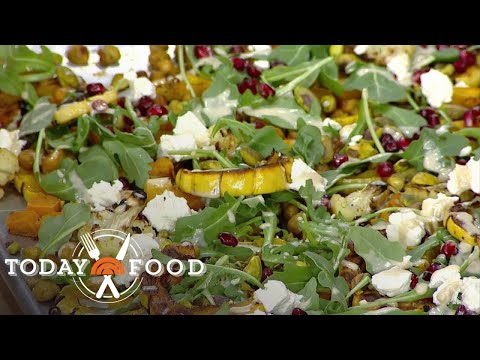 Reviewers gobbled up Drummond's Pepperoni Fried Rice recipe
With its tasty jumble of flavors, this recipe impressed reviewers on Food Network's site.
"This is a nice alternative use for leftover rice. I added mushrooms and felt that 2 Tbsp. pizza sauce left the mixture too dry. Next time, I'll double. Also, I omitted the mozzarella, but topped with Parmesan," wrote one home cook.
Another fan of the recipe added, "This was quick and easy plus had all the ingredients. I followed your recipe as written and it was delicious! Thanks, Ree for sharing."
One home cook praised the dish's combination of flavors: "This is my go-to comfort dish! I doubled the sauce because I found it a little dry the first time I made it. It's so versatile; I even added a few leftover crumbled pieces of bacon…game changer! Oh, and the pineapple? Perfect!"
Lastly, another reviewer did it their way in the spirit of Drummond's recipe, writing, "I had to substitute 2 T of barbecue sauce for the pizza sauce, and then added a little bit of sriracha instead of the red pepper flakes.  I also had an extra red pepper to use up so just chopped that up to throw it in (addition – not substitute for green pepper).  Two thumbs up on this one!"
Source: Read Full Article