After being strong enough to reveal that she was living with multiple sclerosis (MS) back in October 2018, Selma Blair has been inspiring us all. Since then, she has been an open book by candidly sharing her MS symptoms and showing how she lives with the autoimmune disease, making her a voice for people that live with the chronic illness. Selma is now officially on the road to recovery from MS, and while her body continues to heal, she decided to take a major step in her recovery by debuting a new cut— a beautifully shaved head.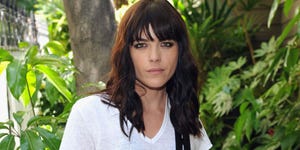 Today, Selma took to Instagram to share that she's getting discharged from inpatient care (yay!) and to thank the team of nurses and staffers that helped her become strong enough to go back out into the world. She posted a pic of herself looking stronger than ever, debuting the brand-new buzzcut. Just look at how amazing she looks!
A post shared by Selma Blair (@selmablair) on
In her post, Selma says that she's immunocompromised for the next three months, so will need to limit interacting with people (read: kissing). Selma also said that her recovery is the best possible gift she could give her son Arthur, who just celebrated his 8th birthday. (Awww.) Read Selma's touching post in full below:
Here's to wishing Selma a speedy and seamless healing process. We're rooting for you!
Source: Read Full Article