One of the highlights of Season 3 of Stranger Things delighted fans of Gaten Matarazzo in particular as he and other cast members sing the theme to the 1984 movie The NeverEnding Story. Many have even said, "Hey, his voice is actually pretty good."
Perhaps it's not so surprising, then, that the actor who plays Dustin has his own band and has other musical experience besides that. In fact, a number of his castmates sing music on the side too.
What follows are some other things Matarazzo is good at in addition to playing perhaps the nerdiest of the Stranger Things kids. And we mean that as a compliment.
Matarazzo sings Pearl Jam and other hits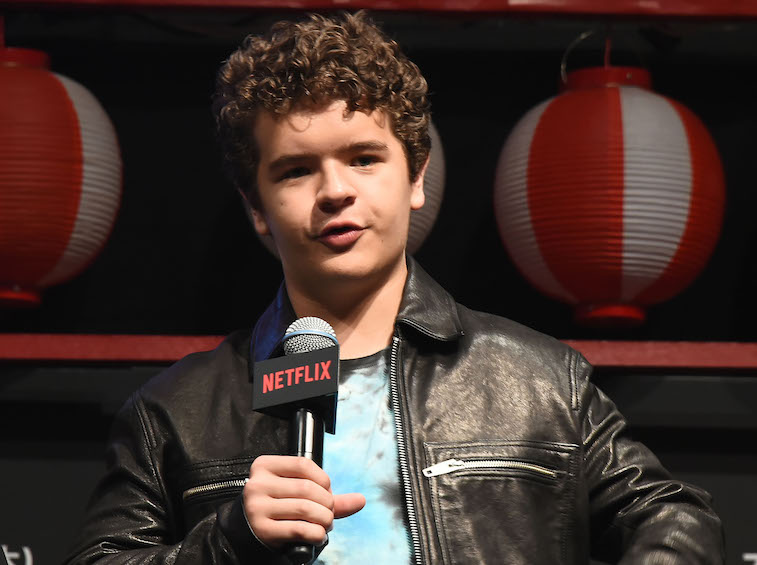 The band Matarazzo sings for is called Work in Progress, and he's one of six members of the New Jersey-based group, according to Billboard. His sister Sabrina is also in the group. 
And that isn't the extent of his musical experience, according to this New Jersey website.  He got his start on Broadway starring in Priscilla, Queen of the Desert and Les Miserables, and anyone who knows that latter show knows that's not an easy song score to sing.
Broadway is also where Matarazzo got acquainted with Caleb McLaughlin, who plays Lucas on Stranger Things. 
And as if all that weren't enough, he also appears in Katy Perry's video for the song "Swish Swish." At this rate, perhaps the show ought to consider a soundtrack album of Matarazzo singing 80s hits.
Many of the 'Stranger Things' kids are musical
Matarazzo isn't the only cast member with musical chops. Finn Wolfhard, who plays Mike, leads the band Calpurnia, which recorded some songs with Twin Peaks' Cadien Lake James. Joe Keery, who plays the onetime jerk and now reformed hero Steve, has a Chicago-based band called Post Animal.
Millie Bobby Brown hasn't recorded any music per se, but the breakout star of the show has rapped on various talk shows, at live concerts, and in a funny intro skit for the Golden Globes with Jimmy Fallon and the other Stranger Things kids.
All this singing has certainly been a boon for pop star Limahl, who is enjoying a resurgence in popularity with the NeverEnding Story theme prompting many a fan to go back and check out the original song. He told EW, "My God! It's been very exciting to hear about all the new interest in the song. Thirty-five years later, it's reaching a whole new audience — it's fantastic."
Limahl was also the lead singer of the band Kajagoogoo, best known for the 80s hit "Too Shy." We'd suggest Matarazzo could sing that one too, but that might be a little on the nose. Besides, Netflix already gave that song a boost with Black Mirror.
Matarazzo talks about 'Stranger Things' 3
Matarazzo's character spends most of the latest season separated from the other kids, as the forever put-upon Dustin ends up spending most of his time tracking down evil Russians with Steve and his ice cream store co-worker Robin, played by Maya Hawke, the daughter of Ethan Hawke and Uma Thurman.
Matarazzo told The Hollywood Reporter his chemistry with Keery turned out to be a nice surprise, and their pairing gave their characters new momentum.
"In the middle of Season 2, as they were writing, they realized that me and Steve had nowhere to go. Our characters were pretty much at a dead end in the plot. There was only one path for them to go on to continue their story … they're actually dealing with similar things," Matarazzo said. 
As for Dustin's future, Matarazzo says, "He's probably going to college and get his Master's (degree) and then become like a Nobel Prize-winner. He seems like a smartypants."
So much for that '80s album, we guess. 
Source: Read Full Article