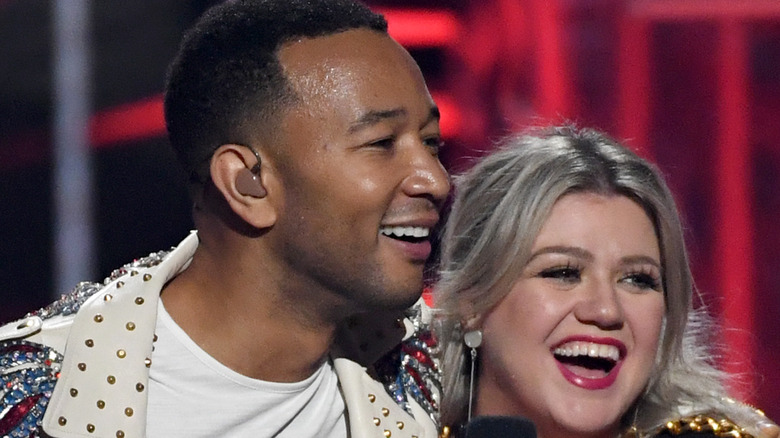 "The Voice" has been one of the most beloved singing competition shows in the history of television, and even though the ongoing coronavirus pandemic has put a dent in, well, literally everything, television fans can breathe a sigh of relief as production has mostly returned to mostly normal, just in time for the upcoming 2021 fall TV lineup, according to Taste of Country.
While "The Voice" has gone through a plethora of coaching changes over the last 20 seasons, with artists like Miley Cyrus, Gwen Stefani, Christina Aguilera, Pharell Williams, Adam Levine, Jennifer Hudson, and more rotating in and out ever since the show's 2011 debut, longtime fans of the show are excited to see some familiar faces and their favorite artists return to the stage for the new season, which airs on NBC starting September 20 (via Insider).
Read on for everything we know so far about Season 21 of "The Voice," including who's returning as a coach, who the new coach is (hint: she's one of the biggest names in music), what fans are buzzing about and looking forward to, and more.
John Legend, Blake Shelton, and Kelly Clarkson return for Season 21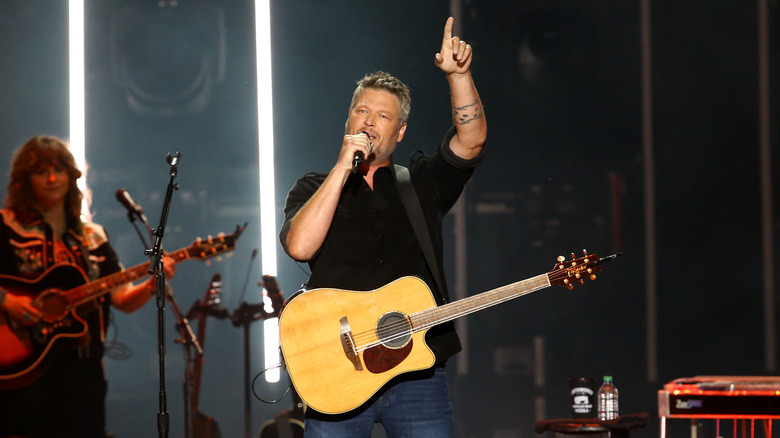 Fans of "The Voice" can expect to see some familiar faces on the judging panel, including former "American Idol" champ Kelly Clarkson, EGOT winner John Legend, and Blake Shelton, who's been a coach ever since the show's debut back in 2011. After last season wrapped, though, rumors that Shelton was ending his solid 20-season run on the hit NBC show began to run rampant after an interview with Hoda Kotb started making the rounds. "Do you picture yourself in ten years, you and Gwen [Stefani], just out in Oklahoma — not jetting all over the place, do you see yourself living a much simpler life way, way down the road?" Kotb asked the singer (via The Sun).
"I hope that's not too far down the road. Ten years sounds like way too long to me. I'd like to see that sooner rather than later," Shelton responded. "I mean, we both pretty much have taken it to the limit as far as our careers go and touring and now the television thing, it's been fortunate to accomplish a lot of things that hopefully at some point we'll get to live some life. I think we're both ready for that honestly."
Fans of the country superstar can rest assured for now, though, as Shelton is currently filming the show with host Carson Daly, Clarkson, Legend, and a brand-new coach who was added to the lineup earlier this year.
Ariana Grande joins the panel of The Voice coaches for Season 21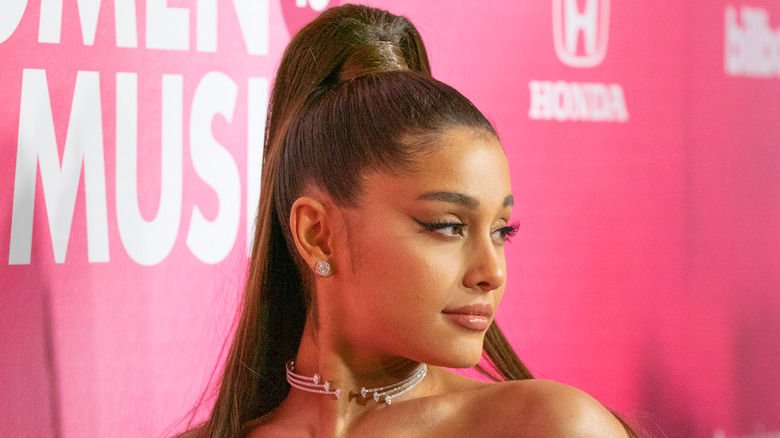 Season 21 of "The Voice" has a bit of a coaching change-up, as newcomer Nick Jonas, who served as a coach for Season 18 and Season 20, is being replaced by pop superstar, Ariana Grande. "I have been a huge fan of the show for such a long time," Grande said in a press release earlier this year (via E! News). "I can't wait to go head-to-head with the incredible coaches, get to know these new artists and help to take their craft to the next level."
When the blind auditions started filming back in June, an eyewitness dished all about the "Thank U, Next" singer's debut as a coach on the long-running competition show, saying, "Ariana was so fun and sweet. She was interacting with the fans so much and was having the cutest moments on and off camera with the coaches. She was so sweet to anyone who came up to her from the production team, as well. Ariana and Kelly Clarkson were talking selfies. It was so cute."
"Ariana also had a cute little lunchbox filled with goodies for whoever chose to be on her team," the insider continued. "She was so excited to hand them out."
Fans of The Voice are divided about the upcoming season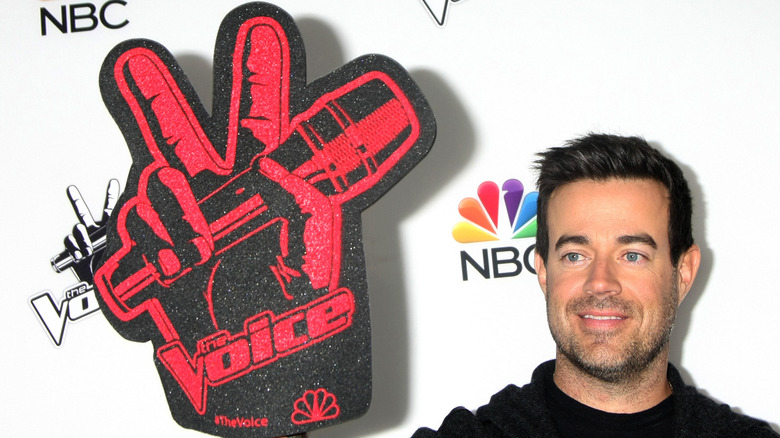 In a strange turn of events, it seems as though fans of "The Voice" are truly divided about the upcoming season — specifically because of the coaching switch-up. "Zero interest in @ArianaGrande, just like I had zero interest in @nickjonas. I get you are trying to attract teenagers/young demographic, although these are quick fixes to your viewership. Get back to basics. I love the voice without gimmicks," one fan wrote on Twitter, to which another replied, "You're literally talking about one of the best singers of all time tho."
"She is literally the voice omg how could anyone hate her.. she is like Mariah Carey's talented daughter, a princess and a legend," another social media user wrote about Grande joining season 21 of "The Voice," while a separate Twitter user said, "I AM SO EXCITED!! I can't wait to watch!!if I had to pick anyone in the world as a mentor, it would be u!! you are so so perfect for this. in every way!! I couldn't name a more nurturing, helpful, knowledgeable, kind person, than u Ariana!! I love u, I can't wait."
The Voice Season 21: additional info and air date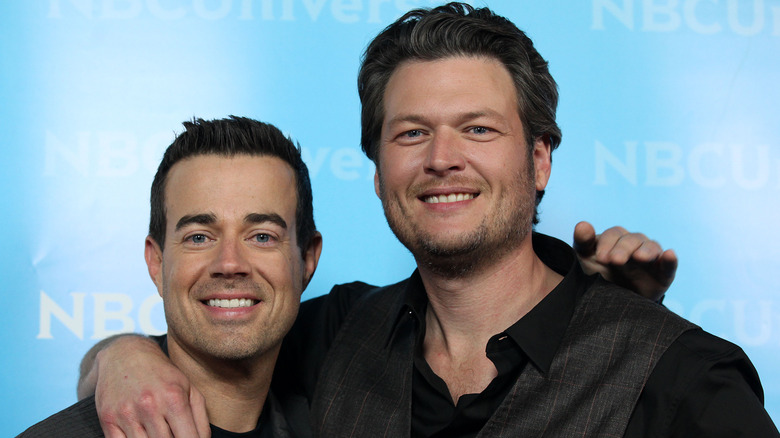 While it's unclear as to which promising new artists are on each coach's team, Ariana Grande took to social media to let fans know that she's excited to show off Team Ariana when the time comes. "Hello @nbcthevoice can september 20th hurry up please ? i love my #teamariana and i am waiting quite impatiently to be able to follow them all and to show you their work and for the world to fall in love with them the way i have !!!!!!!" the ""Positions" crooner tweeted in August.
Additionally, Season 21 was filmed in front of a live audience for the first time in two seasons — Season 19 and Season 20 were filmed without an audience, thanks to the ongoing coronavirus pandemic (via Good Housekeeping). However, in order to attend a taping of "The Voice," NBC required audience members to be at least 18 years old and fully vaccinated in order to participate in a taping, as well as provide a negative COVID test and wear a mask at all times.
Season 21 of "The Voice" premieres on Monday, September 20 at 8 p.m. EST and will air on Mondays from 8 p.m. to 10 p.m. and on Tuesdays from 8 p.m. to 9 p.m.
Source: Read Full Article