Among the many reasons singer-songwriter Faye Webster and Brain Dead founder Kyle Ng have become fast friends is a shared devotion to their hobbies — even light-hearted pastimes are things they like to explore fully. Webster is a yo-yo aficionado, so Brain Dead unveiled a playful cobalt yo-yo. Ng is passionate about tennis, and whenever Webster leaves her Atlanta hometown to travel to Ng's in Los Angeles, the two ensure they make time to hit the courts to run a few matches. 
While Ng was always drawn to Webster's music, the creative collaboration officially began in 2021 when Ng hit up Webster to make an appearance on Brain Dead Radio as part of NTS Radio's at-home concert series. Webster traveled to LA later that year, the two met in person, and the rest was history – seriously. "People are a lot of the times boring, and when I met Faye I loved her approach and I really resonated with her," Ng gushes. "I was just like 'that's my homie." Webster echoes the same sentiment, verbatim. 
For Webster's first new releases since 2021, the only person to entrust with the visual aspect was Ng. After releasing "But Not Kiss" in June, Webster and Ng hosted a Brain Dead x Faye Webster bracket-style ping-pong tournament at the store – it was only after three hours of ping-pong competition, in which Webster made it all the way to the quarterfinals, that she premiered the video for "But Not Kiss."
Webster dropped off the ethereally existential "Lifetime" last week, complemented by another round of captivating visuals by Ng. Bonded by their innate desire to create solely for the experience and fulfillment of the creative process, Webster and Ng are a storytelling powerhouse, creatively enabling each other in only the best of ways, and, most importantly, having fun while doing it. Hypebeast got both of them on the phone together to hear more about it.
You both are such seasoned storytellers. What was it like collaborating on a project? 
FAYE WEBSTER: Most of it is trust. I really never asked Kyle any questions, ever, because I trust his vision.  Even for the "But Not Kiss" video we didn't even really have a plan and I didn't care. 
KYLE NG: I have zero interest in making music videos for people, but I love Faye and I want her to feel comfortable. My job is to make her feel comfortable when she does something creatively. 
What was the on-the-ground production process like?
KYLE: There was no shot list, really. I believe that whatever you're supposed to catch is going to happen, and the more you try and formulate it, the more static and boring it feels. "But Not Kiss" we figured out pretty late in the game – it all happened in like a week. For "Lifetime", we had a little more time to think. We knew we wanted Faye to be old, and show her in different locations, but also to bring in that element of nostalgia, which is where the paper comes in. I see it as a printing on printing of memories. 
FAYE: A lot of it was in the moment. For "But Not Kiss" we picked out puppets on the spot. We'd be like: we like the potato, but do you have a different piano? This one doesn't really match my vibe. We picked out backdrops on set too, and it's actually our friend Casey who's pulling the backdrops in the video. 
KYLE: With "Lifetime", there was a shot we wanted to get in the mountains at sunset and we had just missed it, so we just started walking around LA and decided on the Echo Park Tennis Courts. We love tennis, but it's so much more than that. When you actually see the shot, it's so incredibly heavy. It just made sense. The mountain would've been too staged. 
What was it like stepping into that elderly version of yourself, Faye? 
FAYE: We did the makeup just outside the Brain Dead store. And then two hours later, I went to the bathroom and I had no idea what I was looking at. 
KYLE: Tell her how the cover art was shot.
FAYE: We were just driving in Kyle's girlfriend's car and Nietzsche, who took the photo, was like "You look insane right now," and took this film picture of me. When I saw it I just knew.
How did you scout the other locations throughout "Lifetime" – the house where you're watering the flowers, for example? Each location is so visually striking. 
FAYE: That location was our friend's coffee shop. I feel like in every video it's very much just: that's the homie and we want to be there. 
KYLE: I think our level of comfort is key too. It's also really cool to see Faye in LA. A lot of her videos are very Atlanta-focused so this series is really beautiful – it's almost like these love letters to Los Angeles and our friendship. She comes here and stays with me. We'll play tennis. There's something really special about seeing that era for her.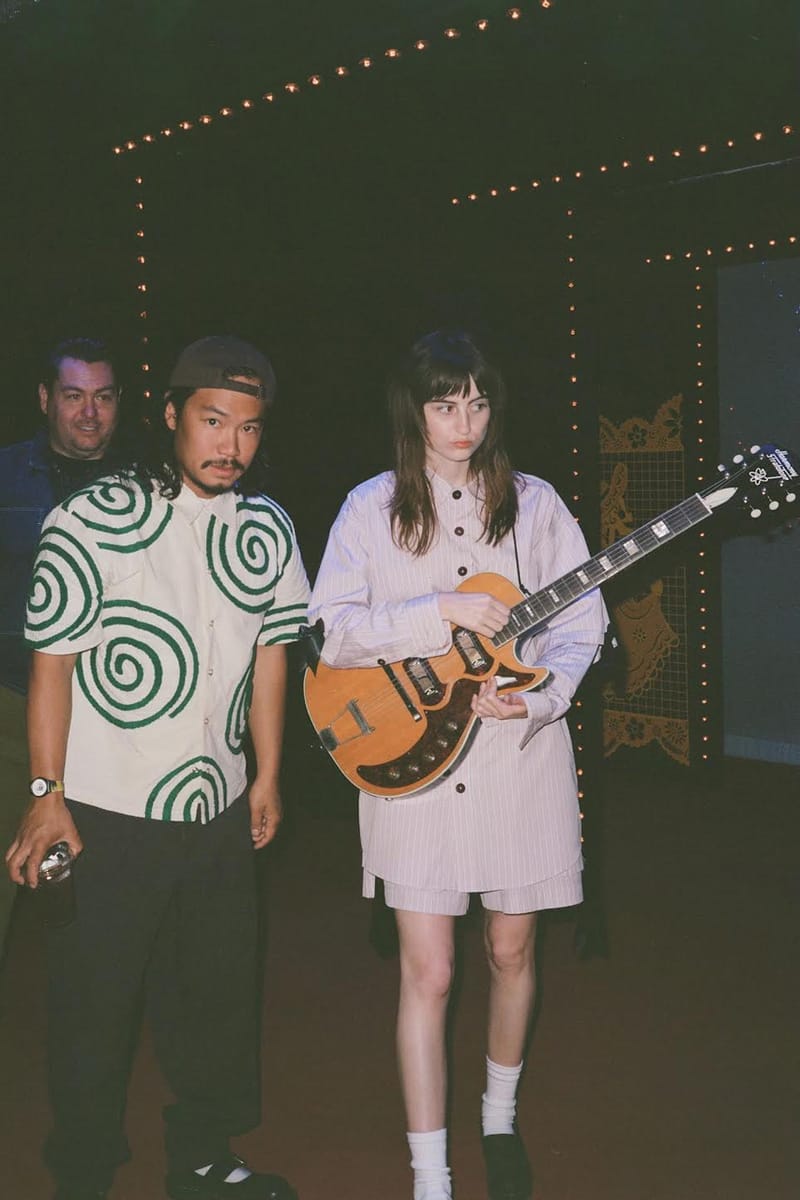 Faye Webster/Kyle Ng
Kyle, you've worked with the Bob Baker Marionette Theater before. Why did you choose it for "But Not Kiss"?
KYLE: Bob Baker is a very special and magical place. I think about the music played there and the feeling you get. There's something about watching a performance within a performance… where you're focused on puppets, but there are also people moving around and dancing. I think at the end of the day, the feeling I get from Bob Baker's is the same feeling I get from Faye's music. It's this childlike innocence, but sophisticated art that is so personal and tangible, but still elevated. 
Faye, what do you try to achieve with your music videos, and how did Kyle help you do so?
FAYE: I think the biggest thing is for people to relate to it and feel understood when they listen to my music. So I feel like with the videos it's just a raw version of me. And with these, because Kyle knows me so well, he's just really good at complementing and representing who I am now. 
Kyle, how does your directing process compare to your process of curating pieces for Brain Dead?
KYLE: It's very similar. I don't see myself as a clothing designer. I make stuff that I love and I just want to tell stories through anything great. 
FAYE: Kyle just made a payphone line for Brain Dead, and there's no payphone market, ya know? You make yo-yos.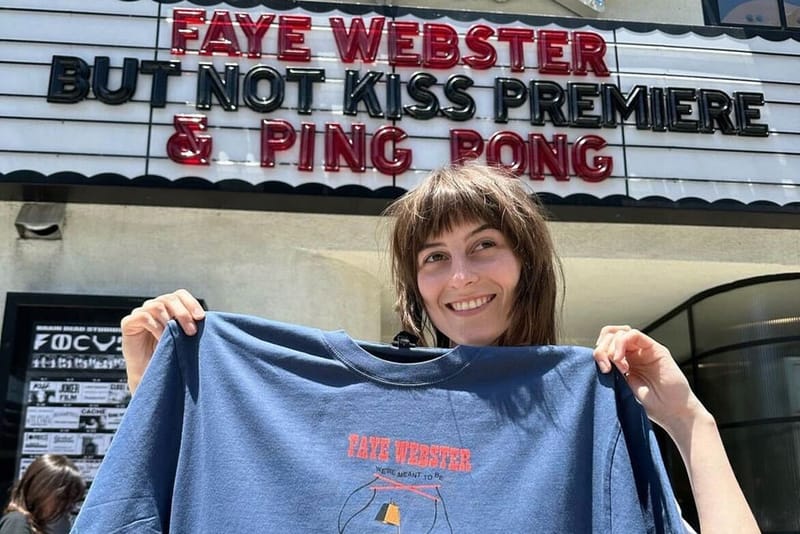 Faye Webster/Kyle Ng
KYLE: We do what we do because it's fun. That's the key with Brain Dead too. It's more exciting when you create something that's actually original, and with a different juxtaposition than you expected. Most streetwear brands want to be hard, and we're out here making yo-yos and puppet videos. It's all about putting people on their heels and seeing what they're actually able to absorb.
What's your favorite thing about working together?
FAYE: He just gets me. We don't have many conversations around anything we should do. You just do it. He just gets it. 
KYLE: [laughs] I'm not a film guy who's going to send you a full storyboard. It's just not gonna happen. (Editor's note: Kyle prefers to send Photoshop mixes, stick figures and haikus.)
---
"But Not Kiss" and "Lifetime" are streaming everywhere now.
Source: Read Full Article