New York's Superhouse gallery is currently presenting the debut furniture collection of interior architect and designer Kim Mupangilaï. Running through to late August, the "HUE/AM/I – HUE/I/AM" show brings together a series of works that each explore Mupangilaï's identity through surrealist forms and natural materials.
"Growing up in a small town in Belgium with a Belgian mother and Congolese father, it became my natural instinct to blend in with the Western culture that surrounded me," the New York-based designer said. "This resulted in never fully understanding nor finding my identity."
Mupangilaï describes her debut collection as being made up of pieces that explore her own "personal cross-cultural experience". The seven objects take on abstract forms that look almost unusable and subvert the typical shapes associated with furniture. Materials were chosen because of their association to her father's country – from rattan, typically found on textiles and baskets, to banana fiber, used in cooking and food preservation.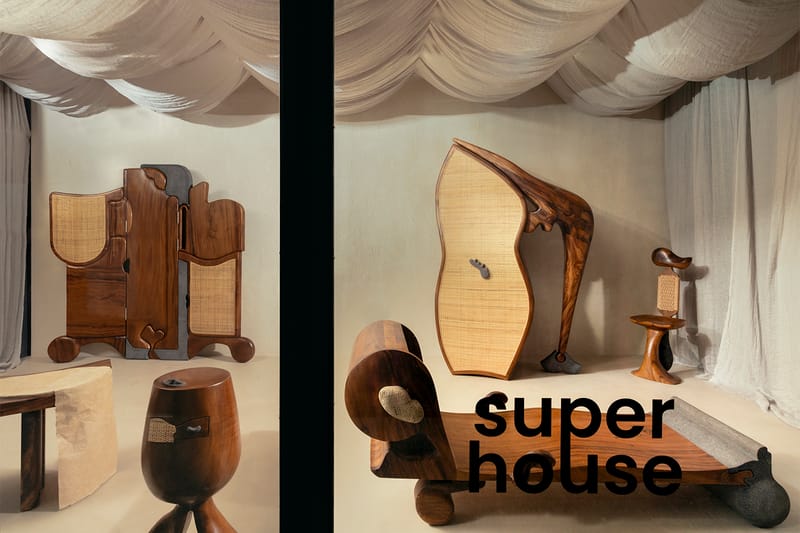 Luis Corzo
Each is handworked to create a collection that is distinctly personal and introspective, yet showcases the designer's ability to understand scale and form while still creating a piece of useful furniture. Each piece has its own personal identity, but common themes of femininity, place, history, and culture have formed the basis of the collection as a whole.
"These pieces have been in the works for what felt like a decade, but it gave me the opportunity to explore femininity, place, history and cultural landscape," Mupangilaï adds. "This work came to develop their own alphabet and rhythm which then embodied the idea of a 'new design language'."
For the show, Mupangilaï has worked alongside Belgian artisans Håndlayer to create a set that features textural surfaces and ceiling drapes, that is intended to evoke traditional Congolese
HUE/AM/I – HUE/I/AM runs until August 19 at Superhouse Vitrine. In other design news, NARA has launched a hyper-modular, hyper-colourful sofa system titled "Family".
Superhouse Vitrine
75 East Broadway, Second Floor
New York, New York.
Source: Read Full Article