You may have heard psych-rock band the Oh Sees pumping out the stereo of your favourite indie bar – but now their maverick frontman John Dwyer wants people behind bars to hear their music too.
Dwyer's own independent label Castle Face Records will, on request, send their albums directly to prison inmates free of charge for them to listen to while serving their time.
"I don't know how it is in the UK but in the States we have a lot of people in prison for a lot of stupid reasons," explains John, down the line from the band's California headquarters.
"There are lots of people in prison who deserve be doing time and rehabilitation.
"But we have a lot of people in jail for drug offences and I would never consider them to be bad people. A friend of ours got six months jail-time for not paying a fine for graffiti.
"Obviously, I can't judge people if I'm not aware of who they are or what they've done, but it's just something nice you can do for someone who is in a crappy circumstance."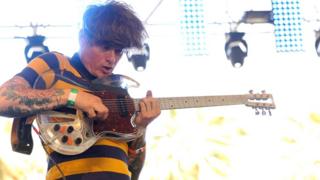 Castle Face for the Incarcerated, allows people to select a record from the label's repertoire and send it to a friend or loved one in prison for nothing.
They do all they can to deliver the records to the desired inmate but John acknowledges some will never make it, due to differing prison rules.
"I don't know what the thought process is behind not letting them have these items – maybe they're seen as contraband – but we still stand by it.
"I'm not going to sneak it into them in a cake, by any means! But if somebody wants to listen to music we'll send it to them for free if they can find us a way to get it to them.
Oh Sees' John Dwyer: 'I'm a pig for control when it comes to my art'
"I like to think a bunch of jail guards somewhere is listening to our stuff that they've just stolen from the inmates and they're like; 'Hmm, I didn't realise that I liked this young man's music!'"
The UK Ministry of Justice declined to comment on this story – but prison inmates are allowed to receive items in the mail on a case by case basis, depending on the category of the prison.
Oh Sees and their label mates Flat Worms, Male Gaze and more bring their Castlemania show to Manchester's Albert Hall on Thursday night, before a follow-up gig at The Troxy in London on Friday.
Unlike Johnny Cash or Metallica, they haven't scheduled any dates in prisons but the band's forthcoming live album might well end up in detainees' hands in the near future.
"I personally don't see how it could hurt anybody.
"From what I understand from my friends who have done a bit of time is that they just end up watching Jerry Springer and go with what's on the tube.
"Obviously it's on a case by case basis but I fully support somebody being able to have books and be lifted by art, while in such a predicament. That's why there's libraries in most prisons and the same should go for music and film.
"I don't know if I'd call it a human right – but you'd have to be pretty mean to deny someone something as simple as music."
Oh Sees start recording their 20th studio album in March and their European tour kicks off in The Netherlands on 30 June
Follow us on Facebook, on Twitter @BBCNewsEnts, or on Instagram at bbcnewsents. If you have a story suggestion email [email protected].
More on Oh Sees
BBC Music homepage
BBC Music News LIVE
Source: Read Full Article