Renowned comic book artist, Frank Quitely has carved out a legendary status for himself in the world of comics and action with his visually explosive and transportive graphic illustrations and in his recent collaboration with Bowmore, the artist extends his creative talents to illuminating the bewitching tales from the distiller's home.
Quitely's work is easy for anyone to come by. A flick through the iconic All-Star Superman, Batman and Robin or New X-Men books reveals the best of the artist within its pages. All while the stories in Jupiter's Legacy, a ten-part series largely familiar with hardcore comic fans, stands as Quitely's most personal project offering an unrefined look into his artistic evolution.
Though he came from a comic-obsessed generation, it wasn't until he was invited to help launch a new comic book that he found his true calling as an artist and was fully cemented in the world of comics from then on. Scrupulous detail and dynamic action are what characterize Quitely's illustrative flair. Some consider his style to be a form of fine art, as the comic artist pays close attention to the subtle, softer features of his characters that are often overlooked by other artists.
In Quitely's collaboration with Bowmore, the artist delves into his Scottish heritage, where he draws on an ancient myth of the devil from the whisky's hometown of Bowmore for the haunting design of the limited edition bottle. Providing on-going inspiration in the project, and throughout his compendium of work, Quitely explains that ancient folklore is "fuel for the imagination" as he recalls an early memory of reading the Tam O'Shanter poem by Robert Burns, the very first story he was told of the devil.
The vein of Scotland, and particularly Glasgow, runs deep in Quitely's practice as an artist. The city's grand and slightly intimidating gothic structures dating back to the 19th Century have played a big role in informing his eye for detail and nuance. It's no wonder that the artist has always chosen to stay close to his hometown. Last year, Quitely relocated his studio space to his family home, which he shares with his sons.
With all the essentials at close reach, the illustrator now finds himself creatively charged whilst sunk into his armchair in front of his roaring and almost mystical fire. After a long day, you can expect to find him with a glass of Bowmore's finest whisky, nestled in his Scottish abode, where HYPEBEAST caught up with him to discuss his artistic journey, favorite comics and the latest from his No Corners To Hide Bowmore collaboration.
HYPEBEAST: What role did comic books play in your childhood?
They were one of several touchstones of cultural reference available to me. Along with illustrated story-books, Television and Film, Music, and schooling, Comic Books were a reflection of the world around me and a window into a richer fictional world, so they inspired my visual imagination.
What inspired you to become a comic book artist?
To be honest, my dream was always to be an artist, any kind of artist. When I left Art School I started freelancing: commissioned portraits, magazine illustrations, caricatures, murals, T-shirt designs, logos – whatever came my way. Then one day I was invited to join a few guys in Glasgow who were trying to get an independent comic off the ground. I had loved comics since childhood but it wasn't until I started writing and drawing my own strips that I realised how much I loved making them.
Talk us through your creative process?
It always starts with a conversation. With a writer, or an editor, or a client. In comics that conversation usually leads to character and costume designs, and then a script. In illustration or graphic design that conversation typically leads to rough or preliminary drawings and then to the finished piece. But most projects start with a sharing of ideas and goals.
When did you first move into this studio space?
For the first two decades of my career, I worked from home. My parents' house before I got married, then the small maisonette where I set up home with my wife, and then the house we're in now. Then I had a period of close to ten years when I had a studio in Glasgow city centre, but I came back and set up a home studio here about two years ago, shortly before the first lockdown. I've been very lucky that I've been able to continue working almost as normal all through the Pandemic.
What makes this space special to your work?
It's home, and I've got everything I need here, and I don't need to travel to get here. One of my sons shares the studio with me when he's working on his own artistic projects, and all three of our kids are creative in different ways so I'm never short of feedback if I need it.
I shared my artistic goals around illustrating Scottish myths and legends. I could practically hear them smiling through the phone.
What initiated the latest partnership with Bowmore?
Conversations, of course. Bowmore had been exploring the past of their whisky, their distillery and its home on Islay to uncover the stories that were part of its history and culture. They then approached me to sound me out on working with them, albeit they gave little away about the project they had in mind for me. Showing a rare keenness to understand what I'd like to be working on, my interest was piqued. I shared my artistic goals around illustrating Scottish myths and legends. I could practically hear them smiling through the phone.
How does the brand's latest mythology campaign resonate with your own work?
Bowmore's mythology resonates with my work in a very special way. My love of Scottish stories makes this whole project feel like the perfect collaboration.The stories, of course, are fuel for the imagination, but I've learned so much about how to tell a story in a drawing or painting by studying the illustrations. Throughout my childhood and teenage years I had books of Scottish, Irish, Norse, and Greek myths, and some from Arabia, India, and Eastern Asia, and all of them had amazing illustrations so it's little wonder they've inspired me so much.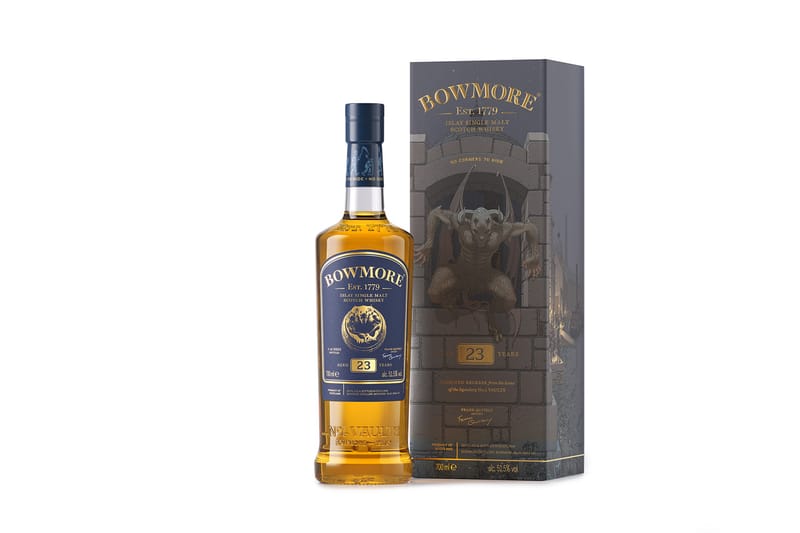 How did you recreate the "No Corners To Hide" legend onto the bottle design?
No Corners to Hide tells the story of the Devil being chased from the round church and into the distillery where he chose to hide. After many thumbnail sketches and rough layouts, often using paper folded to represent the four sides of the box, I settled on a layout that told the story as the box is turned in the hands. The Devil is seen front and centre, framed in a window of the distillery. The back of the box has the story printed, between the full moon and the cask below the surface of Loch Indaal, which is how he was believed to have escaped. The left side of the box shows the round church, the villagers with their torches, a fleeting shadow of the devil, and the doors and windows of the distillery being shuttered. The front confirms the devil is inside. The right side sees the workers loading the casks onto the paddle-steamer bound for the mainland. After getting this layout to work it was just a case of adding all the elements of the narrative using visual detail and atmospheric lighting.
Take us through the flavors of the 23-yr-old and 32-year-old special edition whiskies from the Bowmore collaboration, what do they remind you of?
I will say that they both have that balance of subtle peat smoke and sweetness that I associate with Bowmore, but what I really find remarkable about both these expressions is how the aromas, flavours, and tastes mirror the story. I take my hat off to Bowmore's Whisky Maker Ron Welsh. From the incense, candle wax and old wood of the church where the legend begins, to the hint of salty sea air where it ends, I can't drink either of them without being back in the story. My dad was a whisky drinker, and he generally favoured Islay Malts, so that's where I started when I was old enough. I enjoy whiskies from all over Scotland, and further afield, but I most often go back to Islay, and to Bowmore in particular. The whisky I drink most often is Bowmore 18, and it's my first choice if I'm buying a whisky as a gift for someone else.
On what occasions do you enjoy whisky most?
My favourite occasion for enjoying a glass of whisky is mid to late evening when we have guests. When we have family or friends round for dinner we usually start with a fizz before eating, and I enjoy choosing wines to pair with the food, but I love when the meal is over and we all head for the soft seats and have a dram by the fire. That's bliss.
I soak up inspiration every time I travel, but every time I return I see Glasgow with fresh eyes. It's a constant source of inspiration.
How does Glasgow inspire you? Is there a particular area which sparks your creativity?
I've been in and out of it's churches, graveyards, back lanes, and public buildings all my life. Kelvingrove is the first Museum and Art Gallery I remember visiting and it's certainly the one I've visited most often. I studied at the Glasgow School of Art. I'm inspired by the variety of architecture in the city and by the range of character types that grew up here and by those that come to visit. I've spent countless afternoons in bars or cafes with a small sketchbook recording snapshots of life. I soak up inspiration every time I travel, but every time I return I see Glasgow with fresh eyes. It's a constant source of inspiration.
What has been the proudest moment of your career so far?
In 2016 I was part of an exhibition in Glasgow's Hunterian Gallery where pieces of my work were exhibited alongside Picasso, Warhol, Hogarth, Hockney, and a host of others. In 2017 I had a solo show in Kelvingrove which proved very popular, and I received an Honorary Doctorate from The University of Glasgow.
Who's your favorite comic book character and why?
Locally, Oor Wullie and the Broons were huge favourites of mine, particularly when written and drawn by Dudley D Watkins, who was a big influence on my drawing style. In American comics Conan the Barbarian was my favourite, maybe because of my love of myths and legends.
DC or Marvel? And why?
Over the years I've read more DC than Marvel, but that's mostly because they had an imprint called Vertigo that produced all manner of non-Superhero work. The Invisibles, Sandman, Preacher, Y The Last Man. All sorts of genres and mostly with a Mature Readers rating. That said, Marvel and DC both have some amazing characters.
If you were to add your own twist to any animated series/character, what would it be?
I'd like to see a team-up with Daredevil and Mr. Magoo.
Find out more about the limited edition Bowmore release and sign up to be the first to know about new releases on their website.
DISCLAIMER: We discourage irresponsible and/or underage drinking. Drink responsibly and legally.
Source: Read Full Article