It's not easy being a mom. It's definitely not easy being a "good" mom. But what about for those who are a member of the royal family? Does parenting get easier when you have the British royal family at your back? Or does it get harder when you have to worry about repping Her Majesty daily?
Kate Middleton has been a successful member of the royal family since she wed Prince William back in 2011. She's handled her Patronages and other royal responsibilities with grace and poise. She's also been a dedicated wife, standing next to her Prince through thick and thin.
But what about her children? Has Middleton also nailed being a mom alongside rocking her royal duties? At times, Middleton has shown the world she has what it takes to be Mom of the Year.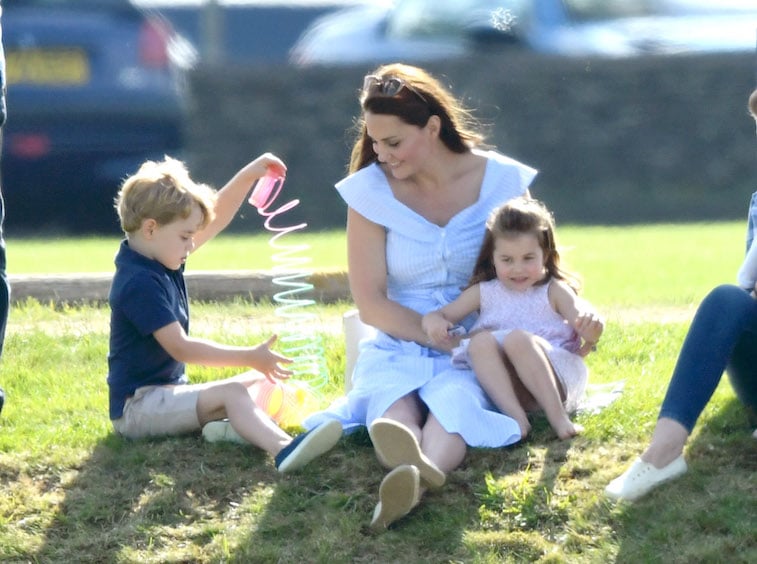 Kate Middleton calms Princess Charlotte in the blink of an eye
When 3-year-old Princess Charlotte fell on the Buckingham Palace balcony during the Trooping the Colour flypast last year, The Duchess of Cambridge came to the rescue. Middleton immediately tended to her daughter, picking her up, and calming her down.
In no time Charlotte was back to being your average happy-go-lucky 3-year-old. It's obvious this caring mum knows precisely how to handle her children in any and every situation.
Kate's great with kids, even those that aren't her own
Middleton's motherly instincts extend beyond her own children. During her first public engagement after returning from maternity leave in the fall of last year, Middleton paid a visit to the young students of St. Stephen's School. As with all of the Royal family's appearances, cameras were snapping every few seconds.
One of the curious students asked Middleton why she was getting her photo taken so much.
The Duchess of Cambridge's response — "They're picturing you cause you're special!" She came up with this charmer in a heartbeat. Now that's perfect mom material.
Strangers even recognize Kate's knack for parenting
During Prince William's charity polo game last summer, Middleton brought their two eldest children, Prince George and Princess Charlotte, to cheer on their father. One of the many people in the audience took note of the beautiful family soaking up the sun at the event.
"Kate is a fantastic mum." – An onlooker to People
When People Magazine asked the onlooker about her thoughts, she immediately praised the Duchess. "She was calm with the children."
An impressive fact considering she was letting them have their fun. The end goal, probably to tucker them out before hopping in the car ride home. Talk about thinking ahead!
That's not the only time her motherly instincts kicked into high gear around a stranger. During a royal outing, she noticed a young boy who looked like he wasn't feeling too hot. Her reaction? Provide the young lad with a sickbag.
"Princess Kate came over and give him a sickbag, our little Craig. I think he was a little bit overcome." – Carole Flynn
She's willing to play, even in heels!
Middleton doesn't let her formal attire keep her from interacting with children. While visiting SportsAid in 2013, she happily got on the court to play some volleyball despite her wedged heels.
She also joined some children for a few rounds of tennis while checking out the Coach Core program, shoes and all.
Middleton's body language proves she's a good mom
Middleton has never been shy about sharing the love she has for her children with the world. Body language experts decided to take a closer look to see just how close the Duchess is with her kids.
Well as it turns out, Middleton loves her children just as much as you'd think! For one, Middleton always maintains a connection with her children through eye contact or physical touch.
"Instead of paying attention to the cameras or reporters, Kate is communicating to her children that this moment is about their family more than anything." – Patti Wood
What sounds like a simple action, is much more though. By making her children her number one priority in any situation, she makes even the biggest and gaudiest events about her children. This ensures they will have great family memories, ones they can reflect back on when they're older.
Source: Read Full Article