The suspect allegedly started to DM the victim after the incident, telling her she was "too pretty to rob" while vowing to pay her back after holding her at gunpoint.
A man charged with armed robbery not only fled the scene with an extra $100, but also a new Facebook friend … after demanding the woman he allegedly stole from add him on the social media app.
According to the Indianapolis Metropolitan Police Department, victim Amber Beraun was out getting her mail after getting home from work on May 8, when the suspect — later identified as Damien Boyce, 31 — approached her.
"I had a man come up to me and try to rob me at gunpoint after I had got off work one night. He took it out of his pocket and showed me, to show me, 'This is what's going on, let me into your house,'" she told WRTV. "I did not do that."
Saying she had nothing of value inside, she instead offered to give him $100 in cash. Then, things got a little weird.
According to the probable cause affidavit, Boyce then asked Beraun if she had a boyfriend, before then asking her — still at gunpoint — "to add him as a friend on Facebook so he could pay Brain back for the money he stole." Per the docs, he gave the victim his full name and "pointed to the correct profile and told Beraun to add him"; she complied.
"I thought maybe if I added him onFacebook, that would be it and he'd leave and he did," she told WRTV.
Houston Pastor Confronts Man Accused of Attacking Neighbor, Stealing Truck In Wild Video
After then fleeing the scene on bicycle, per the affidavit, Boyce later accepted Beraun's friend request and started to send messages to the victim. One repotedly read, "Look just know imma pay you back"; in another, he told her, "you wass to pretty to rob … come chill with me."
"I just can't understand the thought process," a bewildered Beraun said to WRTV. According to the affidavit, she didn't immediately call the police but decided to report the incident after speaking with her boyfriend about it.
Per USA Today, he was later charged with armed robbery and being a felon in possession of a handgun and was held on $7,500 bond.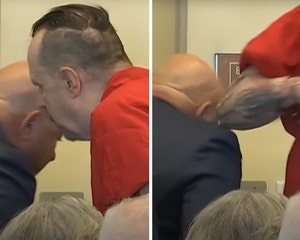 Convicted Murderer Attacks Own Attorney Before Being Given Death Sentence In Court
Source: Read Full Article