See which artist did enough to earn Blake Shelton's last-ever Steal on "The Voice" — even if we're still scratching our heads about it a bit — as the Knockouts wrap and four more hopefuls are sent home, leaving our Top 20.
The final round of Knockouts features six more incredible pairings and Blake's last-ever Steal as a Coach on "The Voice." Did he make the right call, and which team did he steal from?
Reba McEntire was back and it was almost as fun watching the contestants fall all over themselves in shock at seeing her than it was seeing her give them advice and try to help them shape their best possible performances. Her advice, by the way, was again incredible. She has a great sense of story, arrangement and musicality.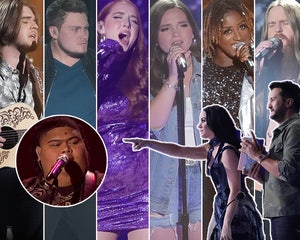 American Idol 5th Judge: Ten Artists Fight for Two Spots as Top 12 Is Revealed — Plus, a Fly Steals the Show
We said goodbye to some favorites, but in a rare week, we didn't disagree with any of the Coach's decisions — except for one, but a Steal was used, so we'll let it pass as the right person still gets to stay in the competition.
Blake and Kelly both still had their steals heading into this final night of the Knockouts, and we definitely think one of them used their steal right. The other said they were waiting for something, and then seemed to use it almost randomly and in the moment. Meanwhile, some great singers went home.
By the end of the night, the Top 20 stood revealed, with five people left standing on each team. The problem is that teasers for next week showed that they need to whittle this number in half for the Playoffs. We'll see how that breaks down, and who gets how many people, next week. First, we've got to shatter the dreams of four more artists who will never make it there.
Fair warning, since I'm safe at home, I'm probably going to be a little harsher than my colleagues Kelly Clarkson, Chance the Rapper, Niall Horan, and Blake Shelton. But I might be nicer, too. Maybe.
And just for fun, I'm going to rank the performances from worst to first to see who my favorites are, and then see how they do as the season progresses.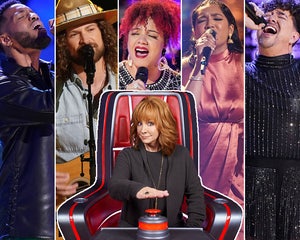 The Voice 5th Judge: Showstopping Goo Goo Dolls Leaves Everyone in Tears — Still Loses
Ross Clayton v Jerome Godwin III (Team Niall)
("Dirty Work," Steely Dan – Ross Clayton, 33, McCloud, OK) There's a danger in taking on these rock staples in that they're so familiar in melody and lyric we find ourselves not really thinking about what they meant when they were being written and what those words are actually saying. Instead, we just slide in that familiar rhythm. Ross sounds perfect on this track, but we didn't feel as connected to the story as we hoped because it's a strong one. Still, we can't deny he's got such a smooth tone, it's almost deceptive in how soothing and easy it all sounds.
("Someone You Loved," Lewis Capaldi – Jerome Godwin III, 20, Montgomery, AL) If you can't break our hearts with your delivery, you probably shouldn't even try to sing Lewis Capaldi. Ross got good notes to focus on the ache in the lyrics and rein in his big old voice to really find that intimacy. He nailed it on the big stage after a slightly shaky start. He could have found his breath outside of the middle of a line, but we really loved the softer parts of his voice. It got a little wild toward the end, but he pulled it back. We feel like he's finding himself live on the air, but we're impressed with his fast growth so far.
This was another tough one, with both of them nailing with similar consistency the intent of their respective songs. For the growth we saw from the start and for the fact he was a little stronger in connecting to his lyric, we'd say that Jerome had a more successful Knockout experience. Ross was perfectly suited for that performance, but we didn't really feel anything. The panel, however, was definitely feeling Ross' apparent professionalism on the track more.
Results: Ross Wins
Unable to render YouTube Video.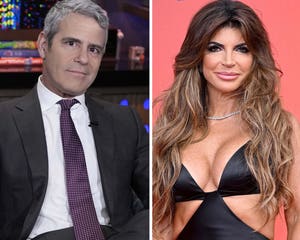 Andy Cohen Lost His 'S—' on Teresa Guidice During RHONJ Reunion
EJ Michaels v Michael B. [Team Niall]
("Trip Switch," Nothing But Thieves – EJ Michels, 31, Draper, UT) The physicality was at a ten and the voice spent much of the performance at an eight in energy, creating an odd disconnect at times. Overall, though, he did manage to show off some great control in his falsetto, slipping in and out of it effortlessly. EJ is definitely a consummate performer, but we could never quite get past that odd energy disconnect from what he was doing to what he was singing.
("When You're Gone," Shawn Mendes – Michael B., 29, Los Angeles, CA) Michael was very subtle with his physicality, but he let his voice and the story carry us through. What's remarkable is he had us believing with him from those soft opening lines and then we traveled with him along a perfect, slow crescendo as the song built toward some of his biggest notes and moments. Michael's tone was magical throughout, rich and confident at all levels.
Both of these artists have big, incredible voices. It felt like Michael tapped into more of his for this performance, and gave a more consistently great performance. He had the kind of build that leaves you gasping for air a bit by the end, but fully enamored with the journey you just went on. EJ's performance felt underplayed at times, or lost in all his movement, only shining here and there. For that lack of vocal consistency, Michael is our winner.
Results: Michael Wins
Unable to render YouTube Video.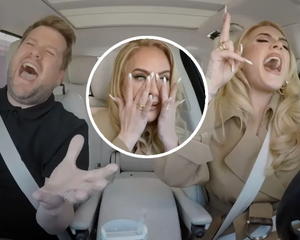 Watch Adele, James Corden Both Break Down During Emotional, Final Carpool Karaoke
Jamar Langley v Magnus Martin (Team Chance)
("Cruisin'," Smokey Robinson – Jamar Langley, 37, Andrews, SC) Perhaps the most remarkable thing about this incredible moment for Jamar was how obvious it was he was still holding back. He has such a rich vibrato, it threatened to overtake some words in the early verses, but it didn't happen. Instead, he put such a singular stamp of presentation on this classic track. His sound is old-school R&B but with an infectious groove on this track we found ourselves holding our breath and waiting to see how he would approach each line. That's a powerhouse performance right there.
("Ordinary People," John Legend – Magnus Martin, 26, Virginia Beach, VA) An impressive vocal showcase, we found ourselves hoping for a little more variance in Magnus' presentation. It almost felt like the song was looking for a hint more intimacy and Magnus was full-chested through so much of it, we weren't getting it. Toward the end, he showed off a little more of himself with a bit of scat and some vocal runs. He's got an incredibly rich and full tone, but we're not sure he quite knows how to rein it in and use it effectively.
Jamar kept his performance interesting from the very first note. While we weren't always enamored with how his enunciation got lost in vibrato a couple of times, we can't deny that we were paying close enough attention to each syllable to even notice something like that. It was such an artistic presentation, he felt like he was miles and miles ahead of Magnus in understanding his instrument and what kind of vision he has for himself. For that reason, he feels like the stronger artist at this stage.
Results: Jamar Wins
Unable to render YouTube Video.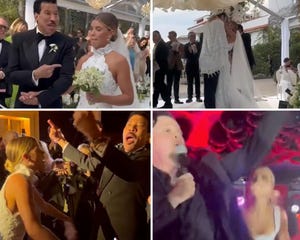 Sofia Richie's Gorgeous Wedding Video Includes Lionel Richie, Good Charlotte Performances & Big Surprise
Grace West v Neil Salsich (Team Blake)
("Here You Come Again," Dolly Parton – Grace West, 19, Canton, MI) Grace definitely took Reba's note to playfully smile to the side and give the camera a little play. In fact, she took it a little too far, which distracted a bit from the innocence of those early bars. By the middle of the song, though, she was in full throttle, perfectly capturing this country classic. She sounded so natural, as if she was born in another era, with a beautiful, rich tone, the perfect amount of vibrato and pitch-perfect soaring moments.
("Takin' It to the Streets," The Doobie Brothers – Neil Salsich, 34, St. Louis, MO) Neil was delivering this almost like a preacher up there, dancing and getting into the groove. He's got the perfect tone to take on this distinctive sound and nailed the delivery. We also appreciated the subtle tweaks he made to put his stamp on it. It's an ambitious choice, but he took total command of it from the start and was really bringing us into it like a gospel performance by the end.
This is definitely a tougher battle because both of them are so very good in their respective lanes. Those lanes are also very different, making it harder to try and compare them. All we can do is look at who did a more consistent job of presenting their intent. For that reason, it felt like Neil was in the zone from the very start and never faltered one bit. Grace got lost a bit in Reba's advice. So really we guess we'd reward the consistency of experience and a deeper understanding of who you are as an artist. We always wonder if the Coaches sometimes gamble that the artist they don't choose will be stolen, as it felt like Blake chose Grace because he could hear how much Kelly dug Neil.
Results: Grace Wins (Kelly Steals Neil [Team Kelly])
Unable to render YouTube Video.
Unable to render YouTube Video.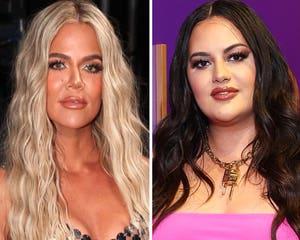 Khloe Kardashian Wants to Go on 'Love is Blind,' Calls Alexa Lemieux 'Twin'
Holly Brand v Rachel Christine (Team Kelly)
("Blue Moon of Kentucky," Patsy Cline [as performed by LeAnn Rimes] – Holly Brand, 22, Meridian, MS) We had no idea Holly had so many weapons. The break, the yodel, the soaring whistle notes at the end. Pair all of that with a very cool and contemporary vibe on an old-school country classic and she just delivered her strongest performance yet — and she's had a pretty good run to this point. This is an artist who knows exactly where her values are, what she's about, and she knows how to sell a story. Even with all those tricks, she never lost the message.
("Rhiannon," Fleetwood Mac – Rachel Christine, 22, Delavan, WI) Rachel made an interesting choice with this one, delivering the track pretty straight for the first half and then showing off some interesting arrangements after we were all sitting comfortably and thought we knew what was coming. Her voice has a smokiness to it that was perfectly suited for the energy of this track, creating a very pleasant aural experience. We're not sure every vocal trick landed perfectly, but we appreciated her letting loose and showing off a bit toward the end.
Both of these women came in such different lanes but were so well suited in them. Rachel definitely feels like an old soul on this classic, but it didn't stand out enough beyond a solid cover to really make a mark. Holly, meanwhile, took a classic track to the next level, showing off a crazy arsenal of talent. She absolutely smashed this one.
Results: Holly Wins (Blake Steals Rachel [Team Blake])
Unable to render YouTube Video.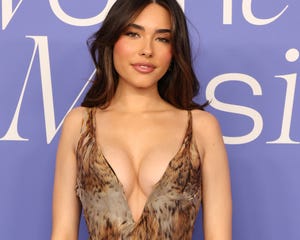 Why Madison Beer Is Opening Up About Her Mental Health In New Memoir
Sorelle v Tiana Goss [Team Chance]
("Blame It on the Boogie," The Jacksons – Sorelle, 15/20/21, Lexington, OH) A whole concert in one performance, each of the sisters got their chance to shine and they mixed up their harmonic choices throughout to really create a powerhouse performance. This is not an easy song to shine on for a vocal competition, but as a trio, they were able to find those moments throughout, blowing us away with how they came together and how they complement one another during solo moments. They did absolutely everything they could out there and then some.
("God is a woman," Ariana Grande – Tiana Goss, 29, Los Angeles, CA) Tiana has a thickness in her voice, it's so fully textured but light at the same time, we felt her intent throughout this performance. It got a little shaky during the rapid delivery lines, but for the most part, she was on point by giving us more with less. She's got the pipes to go big, but we appreciated that she kept it tastefully subdued and more in line with the original song. This one is supposed to almost be hypnotic, and we could see her going for that.
Another tough one on the night, Tiana really nailed the intention behind the performance. We could hear her voice almost straining to be contained, which is incredible, but she managed to keep this one sliding on that smooth groove throughout. The problem is that Sorelle is just so intriguing every time they perform. The way they arrange songs to suit their harmonies and how each of them can stand alone with a unique signature, as well as killing those harmonies. We find ourselves much more interested in what they might do next.
Results: Sorelle Wins
Unable to render YouTube Video.
"The Voice" continues Mondays at 8 p.m. ET on NBC.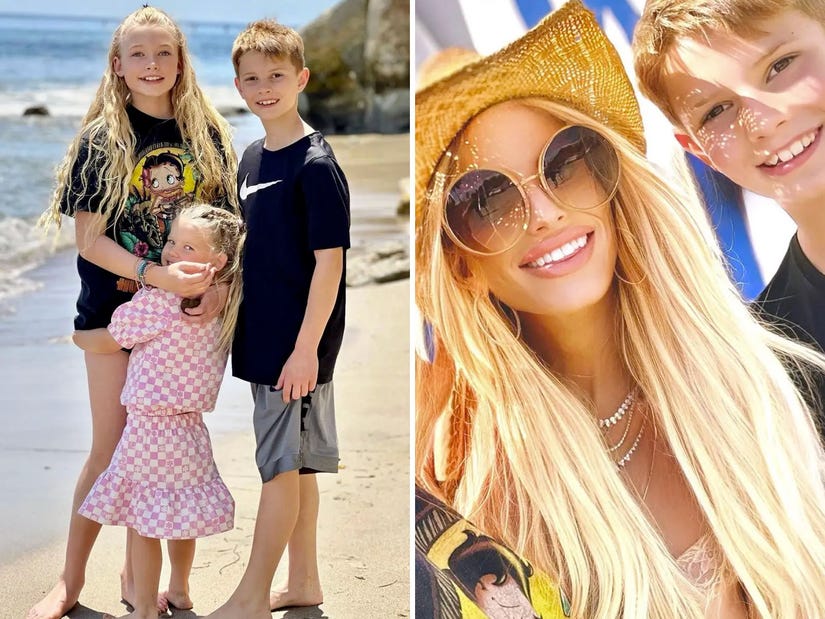 Source: Read Full Article