Nick Carter is best known as a member of the '90s boy band Backstreet Boys. Despite being around for the better part of three decades, the group — consisting of fellow members Brian Littrell, Kevin Richardson, A.J. McLean, and Howie Dorough — have yet to dissolve into the past. According to The Sun, the Backstreet Boys have nine studio albums under their belt and sold more than 100 million records. The popular band has even earned a spot on the Hollywood Walk of Fame. 
In August 2021, Carter and his buddies teamed up with a couple other '90s bands, N'SYNC and Boyz II Men, for a Las Vegas residency at The Venetian Resort, per People. They're also considering a joint tour, which Carter expanded on during an episode of "People (The TV Show!)." "I think it would just be good for the nostalgic side of it, for the fans, if we did something like that," he said, adding, "We are realizing that we're the only ones that have gone through what we have together, and we relate to one another. It was a place in time, and our lives were very parallel. So, all this unity and coming together … it's really cool."
The "Larger Than Life" artist began his career with the Backstreet Boys at the tender age of 12, but most fans don't know that before he was a singer, he was considered for a part in Disney's "The Mickey Mouse Club." Keep scrolling to find out why he turned it down.
Did fate push Nick Carter toward the Backstreet Boys?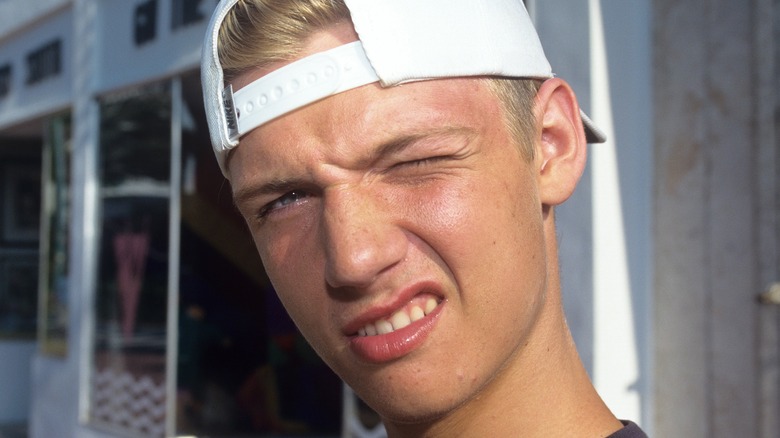 When Nick Carter auditioned for a spot in the boy band Backstreet Boys, he had not just one, but two auditions that day. The multi-talented young Carter was also trying out for Disney's "The Mickey Mouse Club," which had been airing on and off since around 1955. The auditions took place in Orlando, Florida in 1991 when Carter was just 11 years old, as per HuffPost.
The pop star explained the series of events that followed the auditions. "We came back home … and we waited for the callbacks … I was nervous about that," Carter said. He ended up getting callbacks for both "The Mickey Mouse Club" and BSB. "'The Mickey Mouse Club'; offered me a contract — it was $50,000," Carter reported. Despite the tempting deal, the singer's mom gave him a choice to accept the contract with "The Mickey Mouse Club" or join the boy band. "I made the choice of going with the Backstreet Boys, which there was no money at the time … which actually turned out to work out later on down the road," he told HuffPost.
It seems that Carter knew deep down that his calling was with the Backstreet Boys, and he hasn't regretted the choice since, especially since "The Mickey Mouse Club" was canceled a few years later in 1994. The boy band released their debut studio album, "Backstreet Boys," in May 1996, which featured some of their most popular songs still to this day, including "Anywhere for You."
Nick Carter wanted to give back with this competition show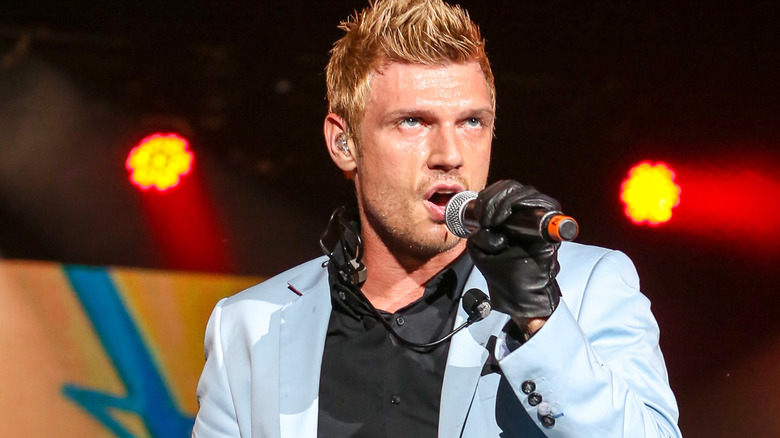 In 2017, Nick Carter decided to help young aspiring singers to make it big as part of a boy band by in the ABC series "Boy Band." The show only ran for one season, but featured undiscovered singers as they competed to become the next Nick Carter, essentially. The Backstreet Boys pop star was an architect of the series alongside Emma Bunton and Tim Mosley, while fellow singer Rita Ora hosted the show.
Despite not getting renewed for a second season, Carter was thrilled to be a part of the project. Speaking with Billboard in 2017, he commented that his goal was to give back to the next generation. "After 24 years, I'm able to kind of give back a little bit and maybe inspire — and who knows, maybe create that next big group for the next generation," Carter said. "I think I have a lot to offer."
The "Quit Playin' Games (with My Heart)" singer took his role seriously as an architect on "Boy Band." He drew parallels between his own experience auditioning for the Backstreet Boys and helping aspiring artists achieve their dream. "We want it to be honest and true, it has to be right," he told Billboard. Carter was passionate about the show's objective and was confident that they would have no problem finding five superstars. He was right, and the winners were Brady Tutton, Chance Perez, Drew Ramos, Michael Conor, and Sergio Calderon.
Source: Read Full Article