Singer-songwriter Vincint just released his long-awaited debut album, "There Will Be Tears," on June 11, and he's preparing to celebrate Pride all summer long. His album is a celebration of being out and proud and features LGBTQIA+ collaborators on songs about love, friendship, and solidarity, per Gay Times.
Vincint got his first taste of being in the public eye in 2018 when he appeared on the singing competition show "The Four" and absolutely slayed with his cover of Radiohead's "Creep." He's also the singer behind "Be Me," the theme song for "Queer Eye," per The Advocate.
"There Will Be Tears" started, appropriately, in his therapist's office. "I talked to my therapist and she was like, 'Hi, you should sit down and write down all the things that are really stressful in your life, because you're having a moment. And you should confront them all,'" the singer told The Advocate. He bought some index cards. "I wrote down all the things that I wanted to talk about, the relationships I had been in, everything that had caused me stress, anxiety, trauma. And I confronted them because I felt that I needed to grow. And the only way to do that was to put away the old baggage and clear out that sh*t."
Vincint wrote "There Will Be Tears" based on these feelings. And his single "Getaway," featuring openly gay twin sisters Tegan & Sara, is poised to become a massive hit. The way this song came together is absolutely amazing.
It all started with an epic date and a random tweet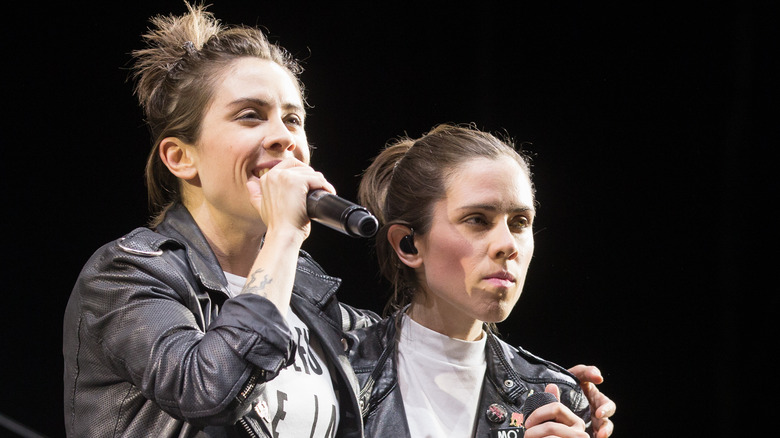 "Getaway" is based on a magical day Vincint had with "a boy who was in town from Texas," he told American Songwriter. "… he asked me to hang out with him the day after I met him. We did. As the date passed on … it felt like I was living a life with this man. And I had not even known him for more than two days. But it was this beautiful thing of 'I am kind of seeing I could be with you,'" he continued. "And this is what a life with you would kind of look like."
Vincint went home and wrote about those feelings. The result is "Getaway," which contains lyrics like: "On a summer night, it was you and I / Making memories, felt like we could be / Strangers lost in the street, caught up in ecstasy," and "Forget the rest of the world, it's just us."
He recorded the demo, rounded up his friends, and drove around listening to it. Then he got an idea, as he told American Songwriter. "I said, 'Tegan & Sara would sound so good on this! I'm going to tweet that.' Within minutes, Tegan is like, 'Great, send it over.' So, now I'm like, 'Sh*t, this is just the demo. I really talked this up, and here we are.' Tegan and Sara laid down these beautiful freaking harmonies and vocals and sent it back over. I sat there flabbergasted."
Source: Read Full Article