On 90 Day Fiancé: Happily Ever After, Angela Deem gets into an argument with her husband Michael Ilesanmi's Aunt Lydia. Michael's family really wants him to have a child, and he also really wants one as well. However, Angela is 54, and she recently learned about the risks involved with carrying a child at her age. She's wary about the prospect, and during the virtual Tell All, the drama gets explosive when Michael's aunt is brought into the mix.
Angela Deem and Michael Ilesanmi discuss having a child together during the Tell All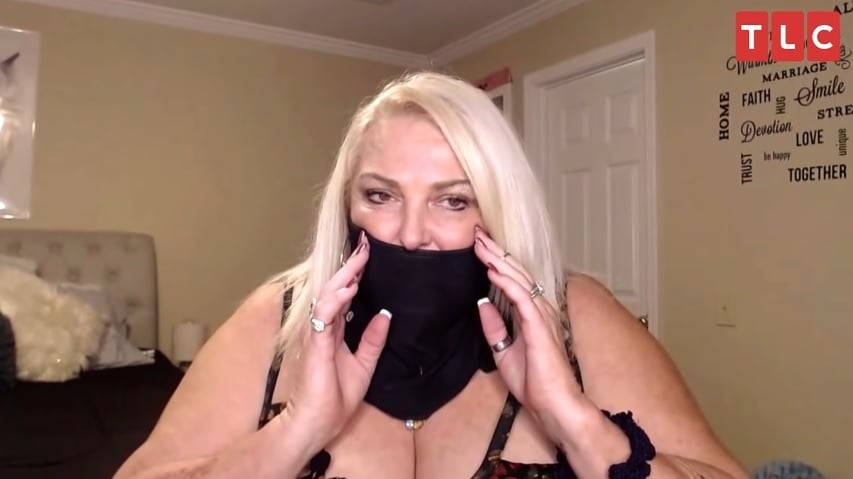 Of course, the host, Shaun Robinson, asks the couple about where they are at in the process of having a child. Angela insists that she would like to have their "own child." Angela and Michael were hoping that they could get an egg from Angela's daughter, Skyla, and that she could possibly "tote" it for her as well. Michael insists that if Skyla "refuses" to donate an egg, they can have a surrogate.
Angela thinks Michael's family is "pushing." After a heated discussion between the couple, it gets worse when Michael's Aunt Lydia comes into the conversation.
"Michael, being an African man, should have a baby," Lydia explains. "That is what we are looking for. When Angela came to visit in Nigeria, I was told then that she has an egg, and she can manage the egg. We all were very, very happy about it. But later on, they said it's going to be risky because of her health and her age. But Michael told me something about maybe getting a surrogate mother or IVF and I supported it."
Lydia even pleads with Angela's daughter, Skyla, for one of her eggs so Angela and Michael can have a baby. However, Skyla isn't changing her mind.
Angela goes on to say that this "baby stuff" is going to take "a lot out of both of us." She doesn't just stop there. "I'm starting to rethink, because it's more like it's for Michael and not for us," Angela explains. "You know, even if Skyla would give us her egg, I don't think Michael understands how much money… Like hundreds of thousands of dollars for IVF."
Lydia reveals that she understands IVF is expensive. Michael goes on to say that when he gets to the United States, he doesn't mind working his "a** off."
Angela questions that, and says that it could mean working until she's 60 years old "and then we wasted all that time and all that money," Angela explains. She goes on to say they didn't get together to have children.
"How the hell are we gonna do things if we're stuck…take the good years I have wrapped up in going to these IVF clinics going to these surrogates?" Angela says, clearly getting upset. "How are we gonna have time to do anything with my age that I can do it now with you?"
Things get heated between Angela and Michael's Aunt Lydia
Next, Lydia puts in her 2 cents, and this is when the trouble really starts. "You know, for a young boy of Michael's age to fall in love with someone like you, he has done a very big, he has done a very big sacrifice," Lydia says. "The first thing I asked when I knew about Angela's age was can she give you a baby?" Lydia details. "And he said, 'Yes.' That was why we could go ahead. That was why we went ahead to have the wedding."
Shaun asks if Lydia had known from the beginning that Angela couldn't have a baby, if she wouldn't have given Michael her blessing, and she admits that's the case. Shaun then asks if Lydia thinks they should get divorced, and she says not if Angela will "allow him to get a child from another woman."
Angela gets really upset, and bangs on her computer with her hands, making the screen shift backward. She says she's "tired of hearing this."
"We accepted you, Angela, because you made us to know that you are going to have a baby," Lydia replies.
Angela says Lydia is being 'disrespectful'
Angela tells her to "shush." "I'm in America," Angela says. "When Aunt Lydia says for you to go screw another woman, she's being disrespectful to my child and me."
Michael says he isn't going to screw another woman, but when he says it, he's pointing his finger at the camera. "Michael, you point you finger at me again, then you can go marry Aunt Lydia," Angela tells him.
Angela then says to Michael to shut his mouth, and Lydia gets involved. "Hello, Angela don't tell Michael to shut his mouth," Lydia says.
"Lydia, OK, I'll tell you. Shut your mouth," Angela chooses to respond.
Lydia goes on to say that Angela should be "submissive." "Michael is your husband. You have to respect him," she continues.
"No, and that's right. He's not yours," Angela tells her. "Remember that. He's mine. Not yours."
Angela continues, and explains that she's an "American." "I don't got to do s*** because I'm an American, and I'm gonna do what the hell I want to do," she tells her.
Angela actually gets up and walks out of the room, and it's an explosive moment. Eventually she does return, and she says she won't be "submissive."
Angela mentions that if Michael is going to be an "alpha male," he should sign the "divorce papers." She also turns the tables around, and mentions to Aunt Lydia that she should follow her own "culture advice," considering she's the elder.
"If you live by that rule, the submissiveness to a man, y'all's culture also respects the elder, and I am your elder," Angela tells Lydia.
Lydia replies that in their culture, she is older than Angela because she was married into the family first. "So I'm your elder in that aspect," Lydia says.
Nothing seems to be resolved after this, and it's not clear where they go from here. What does this all mean for the future of Angela and Michael's relationship? We'll have to see what happens between them as time goes on.
Source: Read Full Article