There's no shortage of stories outlining the dramatic transformations in Hollywood. Some actors lose weight for specific roles and go to great lengths to do it. Others lose weight for personal reasons and wow people with their new looks.
There are still others who flat-out refuse to alter their bodies. Liv Tyler told the Chicago Tribune in 2003, "I've been told that if I lose weight, I'd have more work, but I refuse to submit myself to Hollywood standards. To the rest of the world, I am slim, and I like the way I am." We love this confident energy and firmly believe that self-love is the only way to go. Plus, there's a lot to be critiqued when it comes to body standards in Hollywood. 
Kelly Clarkson has been honest about body standards in Hollywood, too. "No one actually cares about your health. They just care about aesthetics," she said to Redbook in 2017. "It's when I'm fat that I'm happy. People think, Oh, there's something wrong with her. She's putting on weight. I'm like, 'Oh, no! I'm sorry, but that represents happiness in my emotional world.'" Good for her! But what happens when stars lose weight and it doesn't work in their favor? Here are some actors whose careers crashed after they lost weight.
Kelly Osbourne surprised fans with her new look but hasn't been around since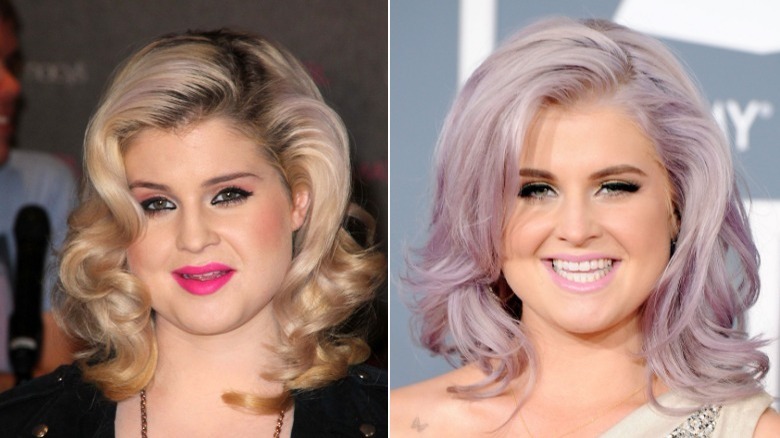 Kelly Osbourne has undergone a major transformation. While her physical transformation is most immediately evident, she's also embarked on a brave and worthy journey into recovery and sobriety.
Osbourne surprised fans with her tremendous weight loss, which came as a result of surgery. She lost 85 pounds and was completely unrecognizable. While it looked quick to the outside world, Osbourne revealed that weight loss is no quick fix. On the "Hollywood Raw" podcast, Osbourne said (via People), "I had surgery; I don't give a f*** what anyone has to say. I did it, I'm proud of it…. I did the gastric sleeve. All it does is change the shape of your stomach. I got that almost two years ago. I will never ever ever lie about it ever. It is the best thing I have ever done."
While this is great, Osbourne hasn't been in the spotlight as much as we'd expect following her transformation. According to her IMDb credits, Osbourne's last project to date was appearing on "The Masked Singer" in 2019. Osbourne has since appeared on "The Talk" and "Red Table Talk," but she doesn't seem to have a steady gig outside of her podcast, "The Kelly Osbourne and Jeff Beacher Show."
Ethan Suplee's out of the limelight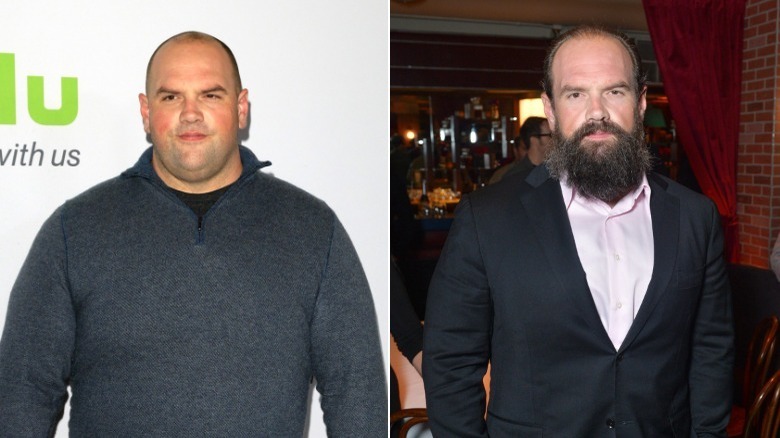 Ethan Suplee was in some major hits, including "American History X" and "The Wolf of Wall Street." He was also in the series "My Name is Earl," per his IMDb credits.
In 2001, Suplee weighed 536 pounds and had congestive heart failure, according to Today. Suplee was also seeking help for drug and alcohol addiction at the time, and in rehab, he gained more weight. "I'd eat and eat," Suplee said to Today. "It's what I'd always done."
Suplee lost almost 300 pounds thanks to a transformation in the way he looked at food. In an essay written for Men's Health in 2020, Suplee explained, "The main thing I had to do was make sure I didn't eat more calories than I expended each day. And guess what? Foods that were nutritious — dark leafy greens, chicken, salmon — also tended to be much lower in calories than, say, a two-patty Super Star." But despite his transformation, Suplee hasn't been in the limelight as of late. Why not? We'd love to see more of him.
Jordin Sparks had a stunning transformation after a health scare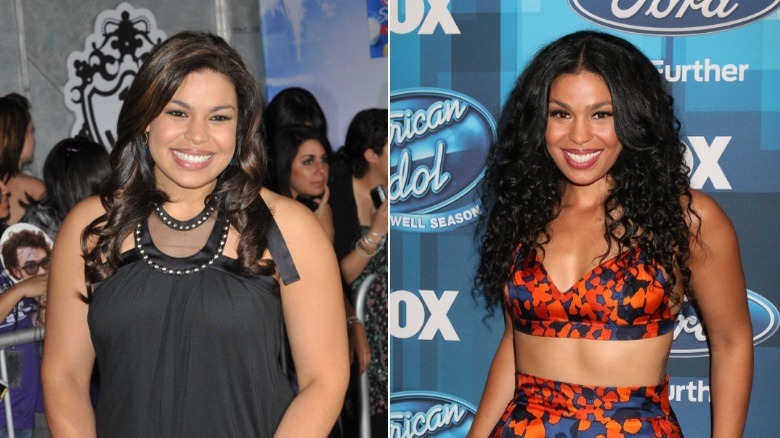 Fans of "American Idol" will know how Jordin Sparks rose to fame at 17 years old after winning Season 7. But it wasn't just her singing that got people talking. Sparks also made headlines for her weight-loss journey.
It was a health concern in 2010 that prompted Sparks' journey, and she wound up losing 50 pounds, according to Today. "I got really sick in the fall of 2010 right after Broadway," Sparks explained to the outlet in 2012. "And I was just like, I am not going to take my health for granted anymore. This changes right here, right now." So, how did she do it? "I just took baby steps because I was so fatigued from what I was sick with," Sparks told Today. "Just doing baby steps and getting more into physical activity and then eventually I found a trainer. And I've just been trying to keep it up. It's a day-by-day thing. It's been a year and a half, and I feel good."
Despite this transformation, we haven't seen much of Sparks in recent months. Yes, she competed on "The Masked Singer" in 2021 as the "Exotic Bird." However, she finished in fifth place, according to Fox News. Hey, it's something.
Where's Zach Galifianakis?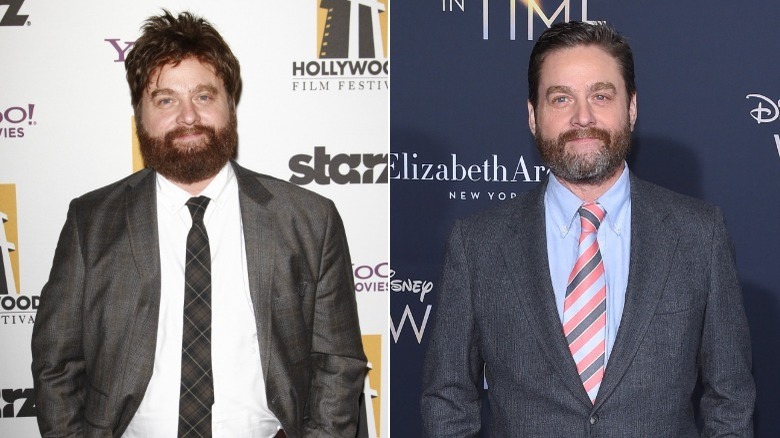 Zach Galifianakis burst on the scene through the "Hangover" series, and fans became obsessed with him. His funny-man personality continued with his quirky series, "Between Two Ferns," which then turned into a Netflix movie in 2019. That same year, Galifianakis' FX sitcom, "Baskets," ended its four-season run.
Galifianakis caused a stir when he began losing weight. As Men's Health noted, the star began losing weight as far back as 2013. While speaking to Conan O'Brien, the actor explained one of his secrets. Galifianakis said that he skipped alcohol, and that made a huge difference. "I stopped drinking and I just, kind of, put the weight off," he explained. "I was having a lot of vodka with sausage. Delicious, but bad for you," (via Men's Health). In 2014, though, Galifianakis responded to a red-carpet interviewer asking him about his weight loss by simply saying, "I'm dying" (via HuffPost). Galifianakis is known for his dry humor, but his comment is also a reminder that there may be underlying reasons for someone's weight loss that aren't public knowledge.
As for Galifianakis' career, he's done more voiceover work in recent years, per IMDb. The actor voiced the Joker in "The Lego Batman Movie" and stars as Ron in the upcoming animated flick "Ron's Gone Wrong." Galifianakis has also lent his voice talents to "Bob's Burgers" and Netflix's "Big Mouth." We'd love to see more of the comedian in "Between Two Ferns," though!
Mama June Shannon has had a tough journey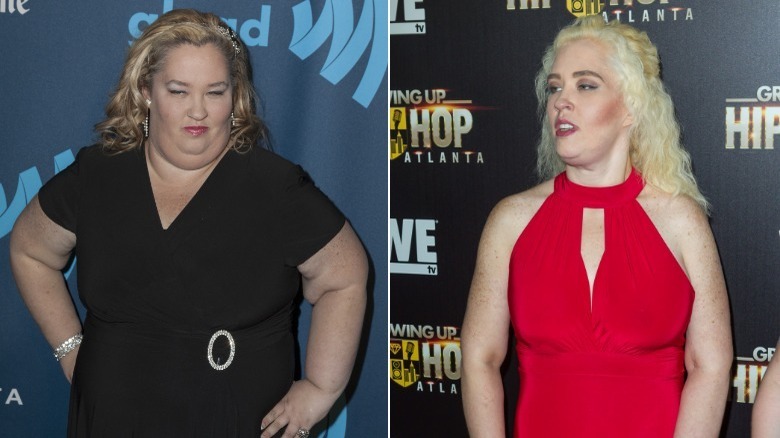 "Mama" June Shannon, famous thanks to her daughter, Honey Boo Boo, and her start on "Toddlers and Tiaras," ended up getting her own show that centered around weight loss.
Shannon shared her 300-pound weight loss on "Mama June: From Not to Hot," according to USA Today. Shannon once weighed 460 pounds, but that changed in 2016 when she had gastric sleeve surgery. She also worked with a professional trainer to get her body moving, and the results were shocking. She dropped from a size 18 to a size 4, per People.
Shannon has since fallen off the map, but a big part of that was because of her drug addiction. She spent an astounding amount of money on it. Has she been able to change her ways? As of March 2021, Distractify reports that she is 14 months sober. Good for her!
If you or anyone you know is struggling with addiction issues, help is available. Visit the Substance Abuse and Mental Health Services Administration website or contact SAMHSA's National Helpline at 1-800-662-HELP (4357).
John Goodman found success with the Mediterranean Diet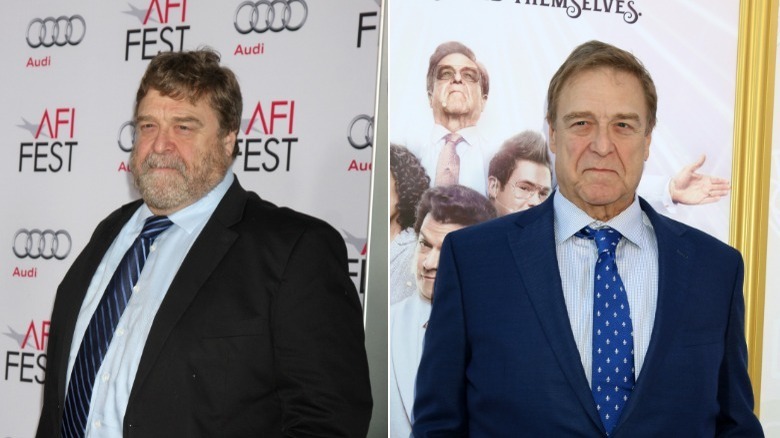 John Goodman is another famous name who fell off the map after an extreme weight loss. In 2011, Goodman began the Mediterranean Diet, according to Mediterranean Living. Like Zach Galifianakis, Goodman started losing weight by quitting alcohol. Goodman stuck with the Mediterranean Diet, and by 2018, he had lost 100 pounds, per People.
This was a notable departure from his previous habits. Goodman told ABC News in 2016, "In the old days, I would take three months out, lose 60 or 70 pounds, and then reward myself with a six-pack or whatever and just go back to my old habits. This time I wanted to do it slowly. Move, exercise. I'm getting to the age where I can't afford to sit still anymore."
So, what's Goodman been up to lately? There was, of course, the whole debacle with the ABC sitcom "Roseanne," which was canceled thanks to Roseanne Barr's tweet about Valerie Jarrett, an adviser to former President Barack Obama. But, per Vanity Fair, after Barr was removed from the show, Goodman joined the spinoff "The Conners." He's also reprised his role as the lovable monster Sulley for the Disney/Pixar series "Monsters at Work." So Goodman's not totally off the map, but he's certainly not as out there as he once was.
Roseanne Barr's bumpy journey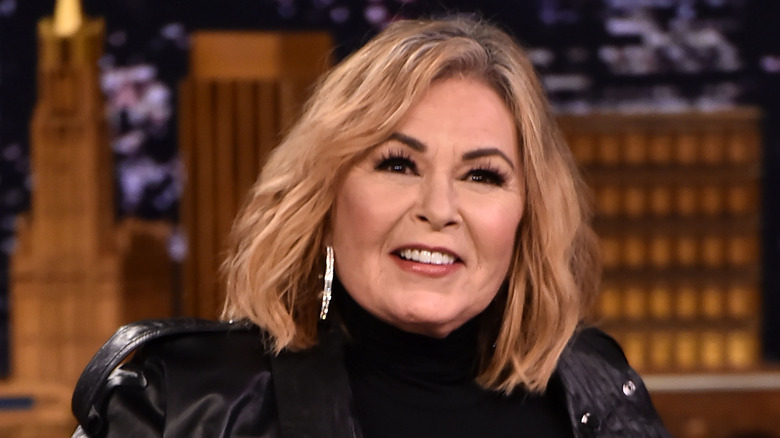 Roseanne Barr hasn't been in the spotlight lately for a much bigger reason than her weight. In 2018, she was back on the ABC sitcom "Roseanne," which was receiving rave reviews. Then, one night, Barr wrote a racist tweet about Valerie Jarrett, a Black senior advisor to Barack Obama. In response, ABC canceled "Roseanne," according to The New York Times.
With the return of "Roseanne," prior to its cancellation, fans were surprised by Barr's weight loss. In the 1990s, Barr weighed 350 pounds, according to Women's Health. Following this, Barr had gastric bypass surgery and made a commitment to exercise and eat well, per the outlet.
While Barr has a weight-loss success story, her career's plummet had nothing to do with this and everything to do with her behavior online. Because of this, it's unlikely that we'll be seeing much of Barr anywhere in the future.
Kirstie Alley has fizzled out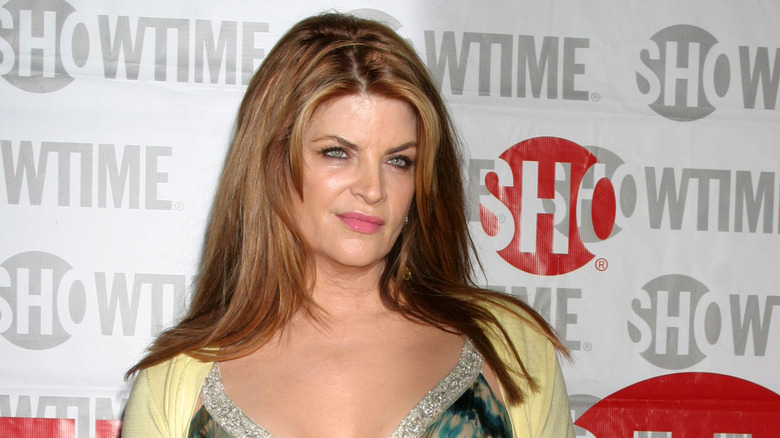 Kirstie Alley has been a notable name in movies and TV since the late 1970s. In fact, her IMDb page goes impressively far back. But she's also made headlines for her more controversial moments and has been one of the more famous faces in Scientology.
Alley has also been candid about her weight over the years and lost 75 pounds through Jenny Craig, according to Today. In 2017, Alley explained to People what she did to keep the weight off. "I'm much more disciplined," Alley explained to the magazine. "I love sugar cookies that are frosted with Santa's faces and trees, so I didn't order any, and I didn't have any. My friends were dismayed because I usually give them out as gifts."
What a pickle! But many are also asking what happened to Alley since her heyday. While she's successfully kept the weight off, she's fallen off the map. Girl, where'd you go?
Rosie O'Donnell might not be finished yet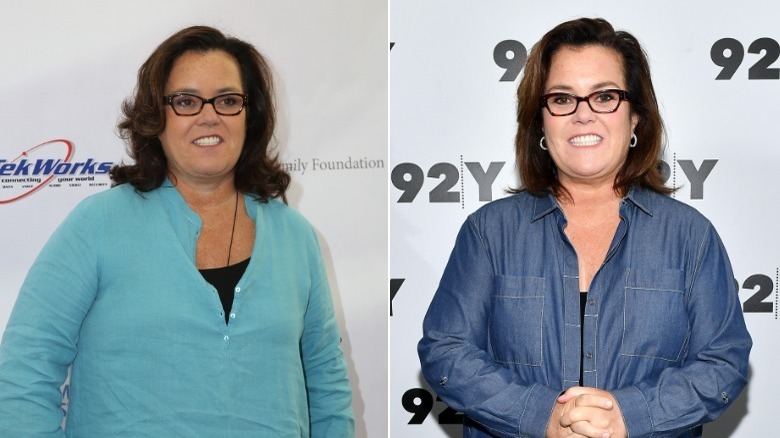 Rosie O'Donnell has been a fixture of American pop culture since the 1980s. Obviously, we all know who the comedian is. But apart from an ongoing feud with Donald Trump, O'Donnell has largely disappeared from Hollywood.
O'Donnell has been candid about her experience with weight loss. In 2015, People reported that O'Donnell lost 64 pounds. To help the process, O'Donnell had vertical gastric sleeve surgery in 2013 and dropped from 240 pounds to 176 pounds. It was the surgery that changed things for O'Donnell. "Believe it or not, that surgery changed my life," O'Donnell told People at the time. "It doesn't reroute your intestines. You have no issue with going to the bathroom in public. But your relationship with food ends."
While O'Donnell's connection with food ended, it seems like her relationship with Hollywood ended, too. According to her IMDb page, her last writing credit dates back to 2015. However, she did have an appearance in "The L Word: Generation Q" in 2021 and acted in "SMILF" from 2017 to 2019, so this might not be the end of O'Donnell just yet.
We want to see more of America Ferrera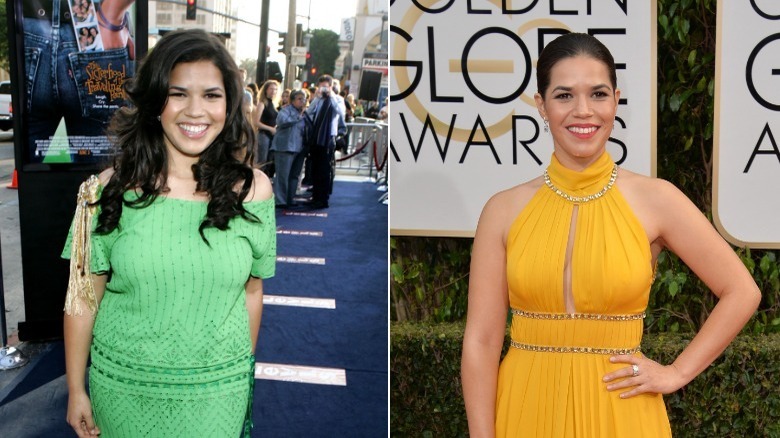 America Ferrera rocked our world in the early 2000s, thanks to her roles in hits like the 2005 flick "The Sisterhood of the Traveling Pants" and the series "Ugly Betty," per her IMDb credits.
As Ferrera continued to stay in the spotlight, she made headlines for her weight-loss journey. According to Life & Style Magazine, Ferrera lost over 30 pounds through the years. On top of this, Ferrera welcomed her son, Sebastian Piers Williams, in 2018, and her daughter, Lucia Marisol Williams, in 2020. With these intense changes to her body, Ferrera opened up about the impact of pregnancy on her body in a 2020 interview with Health. "I have changed my relationship to food," she said. "I swore off scales a long time ago. More than anything, I just try to be aware of, how does what I eat make me feel? Do I feel better? Do I feel energized? Does this make me tired and not feel great? I try to go easy on myself. I think that's been one of the mantras for me in all of motherhood — to try and not be so hard on myself."
Ahead of the birth of her daughter, Ferrera stepped back from her role in the NBC sitcom "Superstore," per The Hollywood Reporter. (The show ended in 2021.) Her weight isn't the reason she's been out of the spotlight, though — she's just focusing on her family.
Source: Read Full Article