Lucien Laviscount and Lucas Bravo are two-thirds of a love triangle in Emily in Paris. Off-screen, though, their friendship is way less complicated and way more adorable. The actors formed a bond while filming season 2 of Netflix's romantic comedy series, and it sounds like a friendship that will last many years. Laviscount and Bravo gushed about their bromance in a recent interview, revealing what they have in common and how they spent time together on set.
[Spoiler alert: The following story contains minor spoilers for Emily in Paris Season 2.]
Gabriel and Alfie bond over soccer in 'Emily in Paris'
Emily in Paris Season 2 sees Emily find a new love interest in Alfie (Laviscount), a cynical banker from Britain who becomes her partner in French class. Unlike Emily, Alfie has no love for Paris, so they clash at first. However, they quickly develop feelings for each other and begin dating, giving Emily a break from her drama with Gabriel (Bravo) and Camille (Camille Razat).
Of course, the peace doesn't last long. Without knowing about Gabriel and Emily's history, Alfie bonds with Gabriel over fútbol (a.k.a. soccer). This makes things pretty awkward for Emily — especially when Alfie finds out the truth.
Thankfully, the revelation doesn't affect Alfie's relationship with Emily or his friendship with Gabriel. Yet. Things will undoubtedly get a little messy in season 3, given that Emily almost confesses her true feelings for Gabriel in the finale.
Lucas Bravo and Lucien Laviscount took their bromance off-screen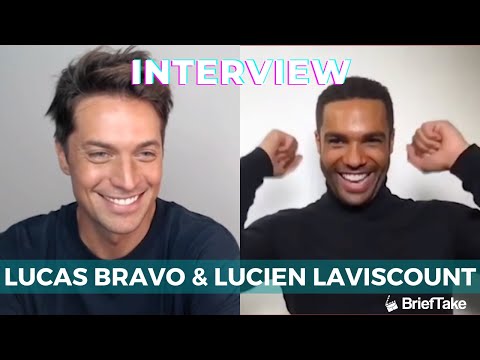 Thankfully, Bravo and Laviscount's real-life friendship doesn't seem so messy. Speaking to Brief Take, as seen above, the duo explained how Emily in Paris brought them a beautiful bromance. Laviscount revealed that Bravo, a Frenchman himself, introduced his British co-star to life in Paris.
"He showed me Paris. I've got a bro for life in that," Laviscount said. "I'm stepping into his world. I'm really thankful it was Mr. Bravo playing Gabriel."
Likewise, Bravo said Laviscount was the "perfect addition" to the cast, bringing some much-needed diversity.
"I've always loved England, the sarcasm, the humor, and the subtlety," Bravo added. "To discover Paris through his eyes, it was so much fun. I felt like I really found a brother."
While Gabriel and Alfie bonded over soccer, Laviscount and Bravo have many interests in common.
"Food, art, music … I think Lucas has got an incredible mind for film. We spoke a lot about different movies because he's got this arsenal of movies he watches that I've never seen before," Laviscount revealed. "We spoke about life, relationships, friendships, future, and pasts."
Bravo explained that he and Laviscount come from different cultures, but their differences helped them teach each other, and they were able to connect on a deeper level.
Lucien Laviscount helped Lucas Bravo land a new movie role
In addition to teaching each other about culture, Bravo and Laviscount helped each other on a professional level. Bravo told Brief Take that Laviscount helped him land a part in Julia Roberts' and George Clooney's upcoming film, A Ticket to Paradise. During the interview, Laviscount took a moment to cheer for his friend and express how proud he was of Bravo.
"That's my boy!" the Katy Keene actor said.
Deadline announced Bravo's involvement in A Ticket to Paradise in October. However, his role has not yet been disclosed. The movie is currently in production and expected to release on Oct. 21, 2022.
Emily in Paris Seasons 1 and 2 are now streaming on Netflix.
Source: Read Full Article