The film hits theaters on Thanksgiving weekend, but is coming to Disney+ sooner than you think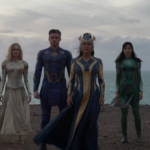 "Brooklyn Nine-Nine" alum Stephanie Beatriz stars as Mirabel, while the ensemble voice cast also includes John Leguizamo as Mirabel's uncle Bruno, María Cecilia Botero as Mirabel's grandmother Alma aka Abuela; Angie Cepeda and Wilmer Valderrama as Mirabel's parents, Julieta and Agustín; and Diane Guererro and Jessica Darrow as Mirabel's sisters, Isabela and Luisa. There's also Carolina Gaitán and Mauro Castillo as Mirabel's aunt and uncle, Pepa and Félix; and Adassa, Rhenzy Feliz and Ravi Cabot-Conyers as Mirabel's cousins Dolores, Camilo and Antonio, respectively.
"Encanto" will be released in theaters on November 24, just in time for Thanksgiving, but Disney is given the film a shortened theatrical window before it hits streaming — the movie will be available on Disney+ on Christmas Eve for all subscribers.
Source: Read Full Article