As a woman who identifies as both Severely Online and a Lesbian Twitter Overlord, I feel like I witness weekly debates about "queerbaiting" on social media. Usually, the conversation is surrounding mainstream pop stars: Taylor Swift's new music video "You Need to Calm Down" is currently being argued over by queer Swifties feeling some type of way about the singer's aggressive ally-ship. Some feel like the singer, who took a suspicious amount of time to denounce her neo-nazi fanbase, is just now turning to her LGBTQ+ followers for political points.
For those who don't know, queerbaiting is defined by TV Tropes as an "attempt to lure an LGBT fanbase with either false hints of representation or stereotyped, non-essential LGBT characters." It happens IRL, too. The same-sex kiss in Ariana Grande's "breakup with your girlfriend…i'm bored" music video was also dubbed as queerbaiting. Steamy make-outs aside, fans felt exploited by Grande, who publicly identifies as straight, for views.
Luckily, the queerbaiting debate on TV has died down considerably since the days of Rachel's girl-on-girl Friends kiss, but thanks to a few particularly buzzy shows with two female leads that blur the lines between friendship and something more, the debate has come back to life in full force.
Twitter has been in its feelings lately about Netflix's new housewife murder drama Dead To Me, which many LGBTQ+ viewers felt had queer undertones, despite the two main characters identifying as hetero (for now). The same exact thing happened with Killing Eve's second season when fans started accusing the show of baiting its LGBTQ+ audiences, despite it being critically praised for centering queer women in the past.
sandra: "you guys are tricky because you want to make it into something… but it just isn't"
the promo: pic.twitter.com/FK2MM3nPzH
But here's the thing: the promotional images for season two positioned the two lead actresses (Sandra Oh and Jodie Comer) as a couple, and the show hit heavily on a shared romantic interest between them—yet, in a recent interview, Sandra Oh insisted there was nothing romantic happening between their characters. Nothing?
Eve had sex with a co-worker while listening to Villanelle masturbate…That's not subtext—it's text.
When Sandra Oh told Gay Times that there was zero romantic interest brewing between her titular character on Killing Eve and Villanelle (Jodie Comer), fans felt completely gaslighted. In the series, wild assassin Villanelle calls Eve her "girlfriend." While listening to Villanelle through a wire, Eve had sex with a co-worker while listening to the assassin masturbate. Villanelle repeatedly expressed jealousy over Eve's husband, creepily watching them through a window as they hook up, and she stews. That's not subtext—it's text.
no one:
literally no one at all:
sandra oh and jodie comer: killing eve is NOT gay, eve and villanelle are JUST friends who occasionally masturbate to each other, nothing GAY about it
sandra oh talking about villaneve. pic.twitter.com/1jjRjQ2UT9
In the case of Dead To Me, many queer fans expressed frustration over a photo shoot with Christina Applegate and Linda Cardellini that (according to the stans) perpetuates the sensual vibes between the Jen and Judy in the show.
Except in this case, the creator, Liz Feldman, is an out lesbian. She told Playboy, "I'm a gay woman, and I wrote it, and it's inspired by my relationships," adding, "Everything I do is queer because it's part of my DNA, and I'm part of the DNA of the show." So, here's where it gets murky, or more nuanced; I understand the emotional impulse to feel betrayed, because I've been there—I'm there with Killing Eve—but if a queer creator made a piece of art that reflects her life and story, and didn't have any malicious intent to exploit fans, then I wouldn't call that queerbaiting. Either way, who's behind the camera matters.
They did this with Rizzoli and Isles, too, though…very sexy photoshoot but no actual lesbian content in the show…
My opinions on the subject are tangled at best, having personally felt the ramifications of queerbaiting on TV. I didn't even know I was gay until I was 23. I lost a decade of my life thinking I needed to be straight, because I didn't have any visible examples of queer people in my life—not in the shows or movies or music I consumed, and not in real life—I didn't know queerness was an option.
The original queerbaiting controversy sparked in the late aughts and 2010s, when shows like Rizzoli & Isles and Supernatural were accused of hinting at a same-sex relationships between their lead characters—enough to string us along—but remaining purposefully vague. The writers and cast of Rizzoli & Isles have even admitted to playing it up for their lesbian fans without actually intending to include a queer storyline on the show.
If I had seen Piper and Alex fingerbang on Orange is the New Black when I was 15, maybe I could've lived a normal teenage life.
In the past couple decades, shows that featured queer protagonists came few and far between—like Ellen in the 90s, The L Word in the 2000s, Glee in the late aughts, or Orange is the New Black a few years later. These shows speckled the TV landscape, but were mostly standalone acts, gay buoys in a heterosexual sea. Queer fans weren't just hungry for more relatable content—they were starved, nearly invisible on-screen.
Media invisibility has real, harmful repercussions. To be blunt, if I had seen Piper and Alex fingerbang on Orange is the New Black when I was 15, maybe I could've lived a normal teenage life, experienced first loves, hormonal crushes, sexual awakenings. Instead, I repressed it. I felt alone, like there was something wrong with me. I had no one to talk to about it, and was lodged in a pop culture landscape which echoed that sentiment: You are different. Your story is off-putting. And until the last few years, there wasn't much evidence to prove those sentiments wrong. In 2015, when I was just grappling with coming out, my favorite show was The 100, which depicted a lesbian romance between two lead characters, Clarke (Eliza Taylor) and Lexa (Alicia Debnam-Carey)—until Lexa was brutally and abruptly killed off the moment after she and Clarke finally got together. Years later, fans still won't let that go (as they shouldn't!!)
daily reminder that lexa kom trikru deserved better pic.twitter.com/9UpueItuTh
"you think lexa deserved better?
me: pic.twitter.com/4vaw1r3wL1
But a lot has changed since then, and according to GLAAD's Where We Are on TV's report (which tracks queer stories and characters on television every year), there are more LGBTQ characters on TV than ever before. These days, queerness is significantly more normalized, both on-screen and IRL.
Right now, there are numerous positive and realistic portrayals of queer people and their relationships on TV. There's Gentleman Jack (basically lesbian period drama porn), The Bold Type (a rom-com TV dream that features a queer protagonist and her romantic and professional endeavors), and Vida, which may include the "best queer sex scenes on television." There are even shows that are about specific queer movements, like Netflix's Tales of the City, which follows the LGBTQ+ scene in the hub of San Francisco, or FX's Pose, based on ball culture in the 80s. These shows don't just make me feel included, they make me feel important, like my story matters—even if my story is just dyke drama set to a Little Mix song (shoutout The Bold Type, we stan forever).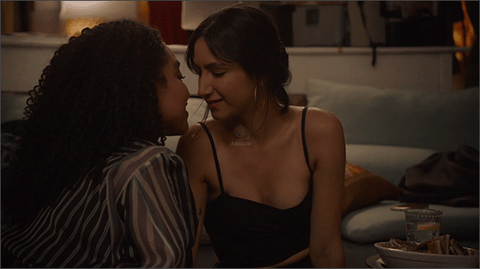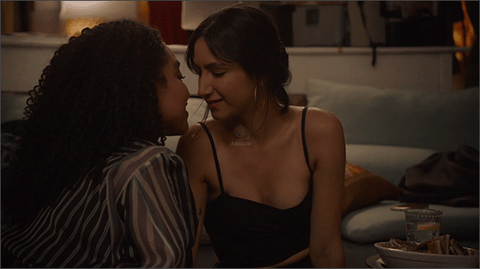 All that said, as TV progresses, and LGBTQ+ stories are pushed to the forefront, our conversations on queerbaiting in today's pop culture landscape must evolve, too. It's not as simple as Supernatural making googly eyes between demon hunter Dean (Jensen Ackles) and his guardian angel Castiel (Misha Collins) for ten seasons with no follow through—especially now that queer stories are taking over.
Queerbaiting hasn't been "solved," but things are certainly looking up for LGBTQ+ fans…finally. Currently, there aren't many simple, inarguable examples of queerbaiting on TV, which is—as a queer TV fan who endured years of disservice—almost unfathomable. Even Killing Eve, as frustrating as the show can be, shouldn't act as fan service by making Eve and Villanelle fall hopelessly and endlessly in love—Villanelle is a ruthless killer, after all. They just need to watch how they market themselves and stay true to the characters. Still, nothing will stop me from shipping Villaneve, sorry not sorry.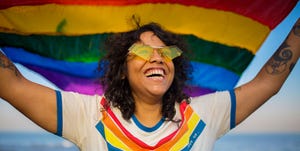 Source: Read Full Article