Randall Pearson's journey on season 4 of This Is Us tapped into lingering issues from season 1. Randall, played by Sterling K. Brown, struggles with anxiety and depression that coincides with lifelong identity and race insecurities. Brown recently opened up about mental health. This Is Us is helping others seek out therapy and necessary treatments despite the stigma.
Season 4 of 'This Is Us' showed how complicated mental health can be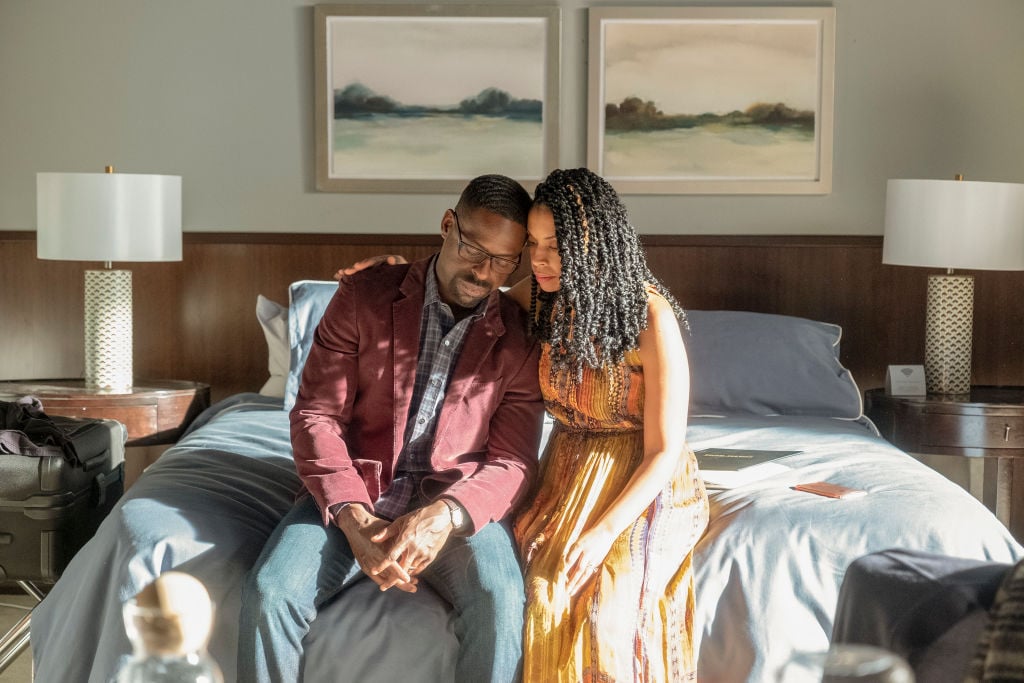 Back in season 1 of This Is Us, Randall Pearson tried and failed to hide his anxiety. The high-functioning, people-pleasing Pearson faced complicated traumas. They go as far back as the day his biological father placed him on a fire station stoop, allowing Jack and Rebecca Pearson (Milo Ventimiglia and Mandy Moore) to adopt him from the hospital the day they lost one of their triplets.
Season 1 explored the effects of Randall's adoption into an all-white family. He grew up with questions about who he is, and how it all manifests in adulthood. As Randall's stresses amassed, his anxiety grew into an inevitable breakdown.
After that, Randall's emotional response to stress and anxiety seemed to level out. However, by the time season 4 of the hit NBC drama rolled around, Randall's stressors hit their all-time limit. He'd become a city councilman, moving his family to another city. His wife, Beth (Susan Kelichi Watson), started her own dance studio. Money became tighter and the father of three's list of to-do's mounted.
This, along with a 40th birthday flash-forward that revealed Randall and Kevin (Justin Hartley) aren't speaking. The tension from Randall urging Rebecca to take part in an Alzheimer's clinical trial caused a season finale blow-out.
Series creator, Dan Fogelman, likes ending on a bittersweet note
Brown recalled talking to series creator, Dan Fogelman, about it long before they shot the episode.
"It goes down in such a way that, I remember talking to [creator Dan Fogelman] about episode 1.18 'Moon Shadow' when Rebecca and Jack have their argument about her career," Brown told Variety.
"And I remember calling Dan and I was like, 'Damn, you sure you want to end the season like this? I was like, this is hard man. This ain't this, ain't that feel good joint.'"
He continued: And he's like, 'I know, but sometimes we gotta explore the darkness so that we can earn the light.' And so Dan said, 'Do you remember when you called me from Vancouver about the last episode of season one? And he goes, 'This is worse.'"
Before the blowup, fans watched a random break-in that triggered Randall's lifelong fears, causing him to spiral into another breakdown. Only, this time, he needed dedicated treatment to make it through. It's his choice to attend therapy that sparked a bigger conversation among This Is Us fans and those struggling with similar mental health.
Brown said Randall opened the dialogue for treatment options among the black community
Brown recently addressed responses he's received about Randall's choice to go to therapy in an Instagram Live session with Variety.
"Many black men and women, in particular, have said thank you for demystifying the idea that therapy is something that is an anathema to us, something that our community needs to see," he said.
"Because I think the power of media is, once you see somebody else do it, then it sort of makes it a little bit easier for you to envision yourself taking that step on a personal level."
He continued: "So, I love the idea that people who thought that it was too macho to admit that they needed help with something, now realize like, 'Oh s**t, Randall's getting help," he said. "If Randall getting help means that it's okay for them to get help too then I think we've done exactly what we wanted to do with the storyline."
Mental health is nuanced within different communities, according to Brown
Brown also touched on the nuances in discussing mental health within the black community. As a participant in the National Alliance of Mental Illness' #curestigma campaign in 2018, Brown explored what it means for things to be wrong "enough" to need treatment and what it means for minority communities where "the world is hard."
Brown's commentary explored how those communities maintain the "deal with it yourself" mentality and how dangerous that can be for those who need help.
"And that is something that has allowed us to get to where we are," he said. "But there's a place that allows for certain degree of vulnerability and access to be like, 'Yo, I need help. I'm having a tough time with this, and there are certain blind spots that I have difficulty detecting on my own and seeing a professional helps.' So me, Sterling K. Brown, I go to therapy."
Brown's son asked to go to therapy and he's all for it
Playing a character dealing with such complicated issues isn't lost on Brown or his children. The father of two said his 8-year-old son, Andrew, asked about therapy.
"It was interesting too because, like, I said, 'You can go by yourself, big boy…it can be all private, or if you want me to come with you, I can come with you.' He's like, 'Yeah, I want you to come with me.' And so we had this really lovely moment and I get a chance to raise a kid who has no stigma associated with the idea of asking for help," he said.
"If it is something that you have access to and you've been thinking about and you're like worried about whether or not people were going to clown you or think that you were soft because you sought out help — try it, do it, own it. "
In a time of isolation due to the coronavirus pandemic (COVID-19), Brown said mental health can really take a toll.
"The feelings of isolation that you can have when you're dealing with a mental illness in and of itself can be debilitating," he said.
"Now in the presence of social distancing and actually keeping away from people, it can only be exacerbated. I stress that [people] find community, whether it is through your text chains, the Marco polos and through the zooms through by any means necessary, find a way to connect to your people."
Source: Read Full Article