"This is the world we live in. This cannot be our world," cat member Gideon Glick tweets
Photo: Julieta Cervantes
Tuesday night's Broadway performance of "To Kill a Mockingbird" came to an abrupt, early end after the sound of motorcycles backfiring outside the theater was mistaken for gunfire by audience and cast members, according to one of the play's stars.
"Stopped our show tonight due to a motorcycle backfire that was mistaken for a bomb or a shooting," actor Gideon Glick, who plays Dill in the production, tweeted shortly after. "Screaming civilians tried to storm our theater for safety. The audience started screaming and the cast fled the stage. This is the world we live in. This cannot be our world."
The New York Police Department confirmed there was no danger on Twitter. "There is no #ActiveShooter in #TimesSquare. Motorcycles backfiring while passing through sounded like gun shots," the department said on Twitter. "We are recieving [sic] multiple 911 calls. Please don't panic. The Times Square area is very safe!"
Representatives for director Bartlett Sher did not immediately respond to a request for comment from TheWrap. Representatives for the Shubert Organization, which owns the Shubert Theatre where the play is performed, also did not immediately reply. Representatives for Glick also did not immediately respond. Representatives for the production also did not immediately respond.
On Twitter, several people who said they were in the audience described scenes of panic and chaos as audience members fled the theater.
"I was in the Shubert at the tail end of To Kill A Mockingbird. Loud screaming from the lobby and people started trying to burst through the doors into the show. Crowd panicked and ran out the emergency doors. The street was all running, so I ran until no one was running," one user said.
The incident comes just days after a combined 31 people were killed in a pair of deadly mass shootings in El Paso and Dayton, Ohio.
Directed by Sher and written by Aaron Sorkin, the Broadway production of "To Kill a Mockingbird" has been widely acclaimed and is currently the highest grossing American play in Broadway history. It won a Tony Award in June for featured actress Celia Keenan-Bolger, who plays Atticus' daughter, Scout. Jeff Daniels plays Atticus Finch in the production; he'll be replaced by Ed Harris in the role beginning in November.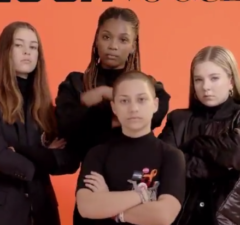 (Tap photo and swipe to view gallery)
Source: Read Full Article