Everything is different when you're a celebrity. Even celebrity proposal stories tend to be different from non celebrity proposal stories. Like, for example, while I (a not famous person) casually got engaged up the street from my mom's house on Thanksgiving, Patrick Mahomes proposed to Brittany Matthews at Arrowhead Stadium after receiving his Super Bowl ring. Orlando Bloom popped the question to Katy Perry during a Valentine's Day helicopter ride. John Legend hid his ring in a bed of arugula during a Christmas-themed dinner he and Chrissy Teigen shared while on vacation in the Maldives. Hilary Duff's husband Matthew Koma had an entire illustrated storybook of their romance made for his proposal. Offset proposed to Cardi B on stage in front of thousands of fans.
You get the picture. The sky's the limit when you're a celeb. But, of course, not all of their proposals are that over-the-top. Prince Harry famously proposed to Meghan Markle while they were roasting a chicken at home. Blake Shelton popped the question to Gwen Stefani when he was a starting a fire in a fireplace at his Oklahoma ranch. Justin Bieber asked Hailey Baldwin for her hand in marriage when it was just the two of them hanging out alone in a house.
Whether you're into the over-the-top stories or the more low-key ones, I've got them all detailed for you below.
Blake Shelton & Gwen Stefani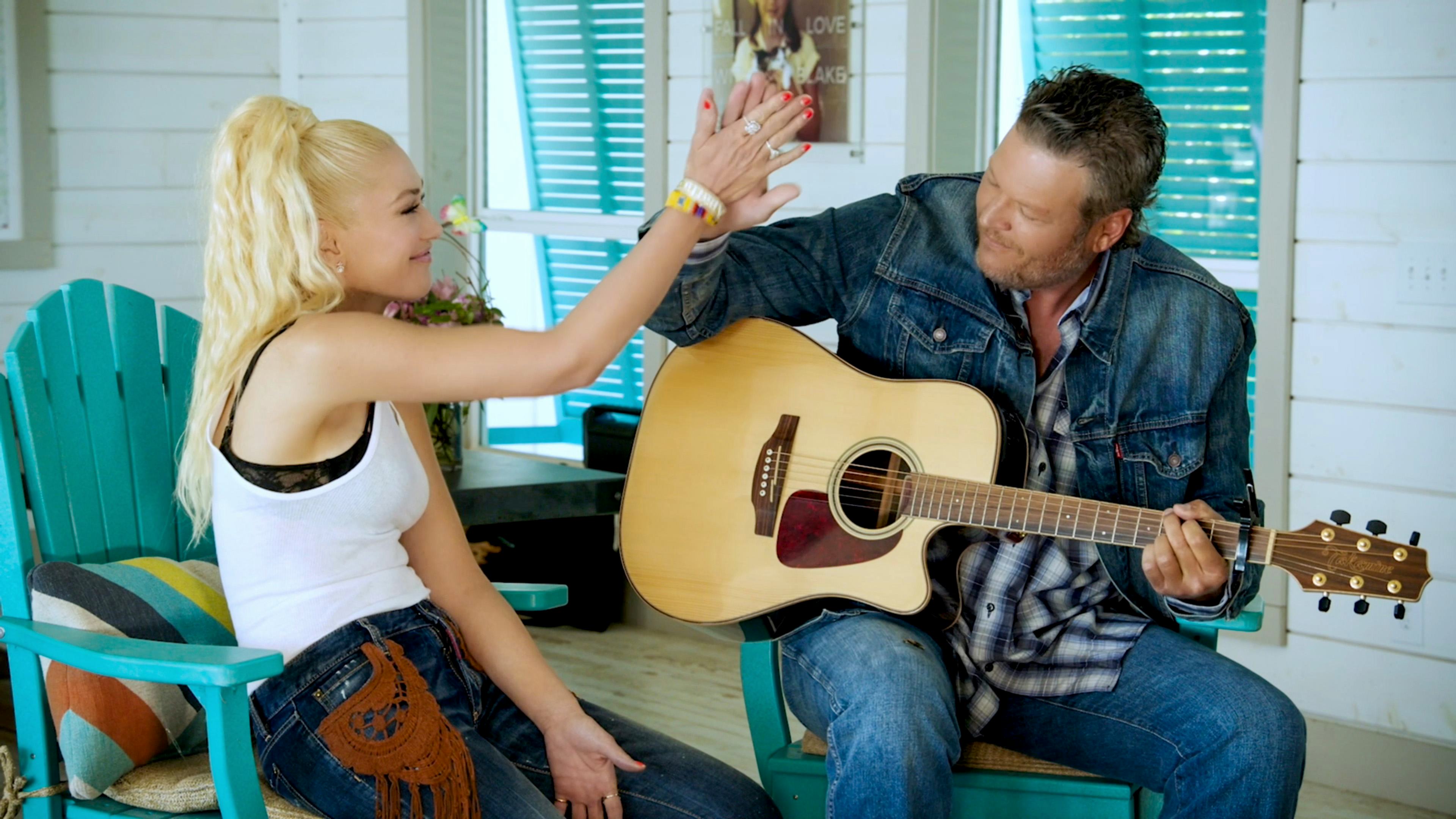 During a Dec. 16 appearance on The Kelly Clarkson Show, Stefani spilled the deets on how Shelton popped the question at his Oklahoma ranch.
Well, for starters, Stefani almost totally ruined his plan by nearly bailing on the trip to Oklahoma all-together. "I was trying to get out of going because it was getting too complicated with COVID and the family," she told Clarkson. "I'm like, 'I think we should just cancel.'"
Buuuut her opposition to going wasn't too strong because Shelton managed to convince her to still come and to bring her sons Kingston, 14, Zuma, 12, and Apollo, 6 along as well.
"We're building a house there," she continued. "We were going to go from one part of the land to the other part of the land to go to see the house. And meanwhile, Blake had had this ring for a couple of weeks and nobody knew." (Well, she clarified that her dad actually did know because Shelton had asked him for permission, but nobody outside of him knew!)
The proposal finally went down when Shelton asked Stefani to help him light the fireplace. She explained, "Blake basically was getting down on his knees to do a fire and he goes, 'Hey, can you look in that cabinet over there and get me a fire starter?' So I opened the cabinet and there was a ring in a box and I was like, 'Ahhh! What?! Are you serious?!'"
Patrick Mahomes & Brittany Matthews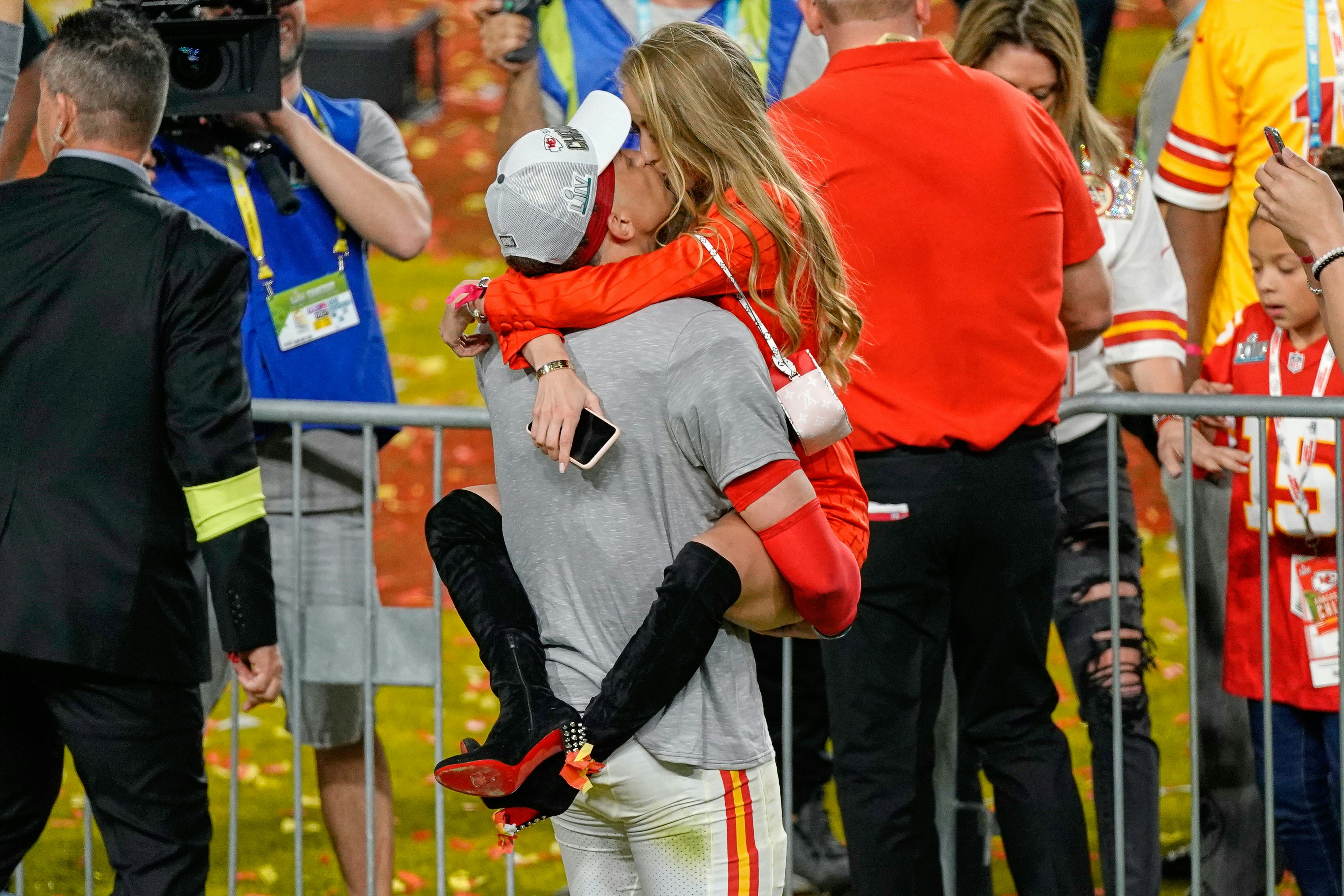 In what has to have been the best day of his life, Patrick Mahomes proposed to Brittany Matthews just shortly after receiving his Super Bowl ring.
On Sept. 1, after receiving his ring at the socially distanced ceremony held for The Chiefs at Kansas City's Arrowhead Stadium, Mahomes popped the question. He did so by surprising her with a white floral wall and bright lights spelling out "Will you marry me?" in a room inside the stadium. After she said yes, the two celebrated with a a candlelit dinner.
Matthews shared some pictures of the special day to her Instagram page the day following the proposal alongside this adorably gushy caption:
https://www.instagram.com/p/CEo5aeRFnXh/
Katy Perry & Orlando Bloom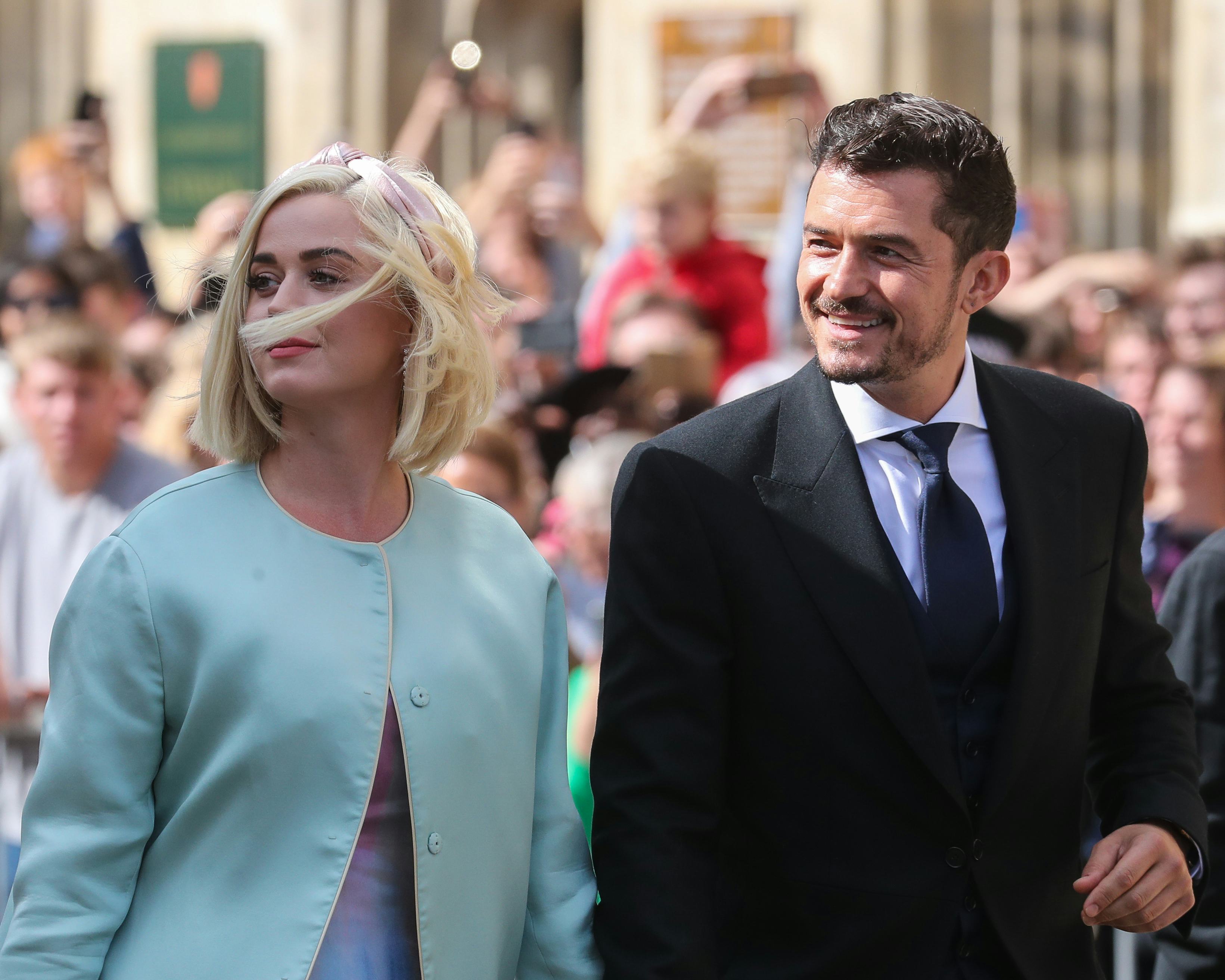 Perry spilled the beans on her rom-com-worthy proposal from Orlando Bloom during a Feb. 25, 2019 appearance on Jimmy Kimmel Live!
"It was very sweet," she began. "It was Valentine's Day… We went to dinner and I thought we were gonna go and see some art after dinner but we pulled up to a helicopter."
She continued, "He asked me to marry him on a helicopter. Actually, the funny part is we had champagne in the helicopter and the box was in his pocket and he had written down everything he had wanted to say in a note, you know, to divert, right? He was just going to pull it [the ring] out while I was reading it. So, I'm reading it but I'm hearing, like, the champagne is, like, broken, the bottle's everywhere, and I'm still looking at this note."
Things only got worse from there. "Because he's pulling out this box that's too big for his coat pocket, it rips his coat pocket and his elbow goes into the champagne and I'm like, 'No, I'm just reading the note. I know you're not doing anything,'" she added with a sly smile.
Luckily it all worked out, despite the mishaps along the way. "We did land and it was like James Bond," she concluded. "Everybody had an ear piece and then we go downstairs (we landed on a rooftop) and my whole family was there. And all my friends. He did so well."
John Krasinski & Emily Blunt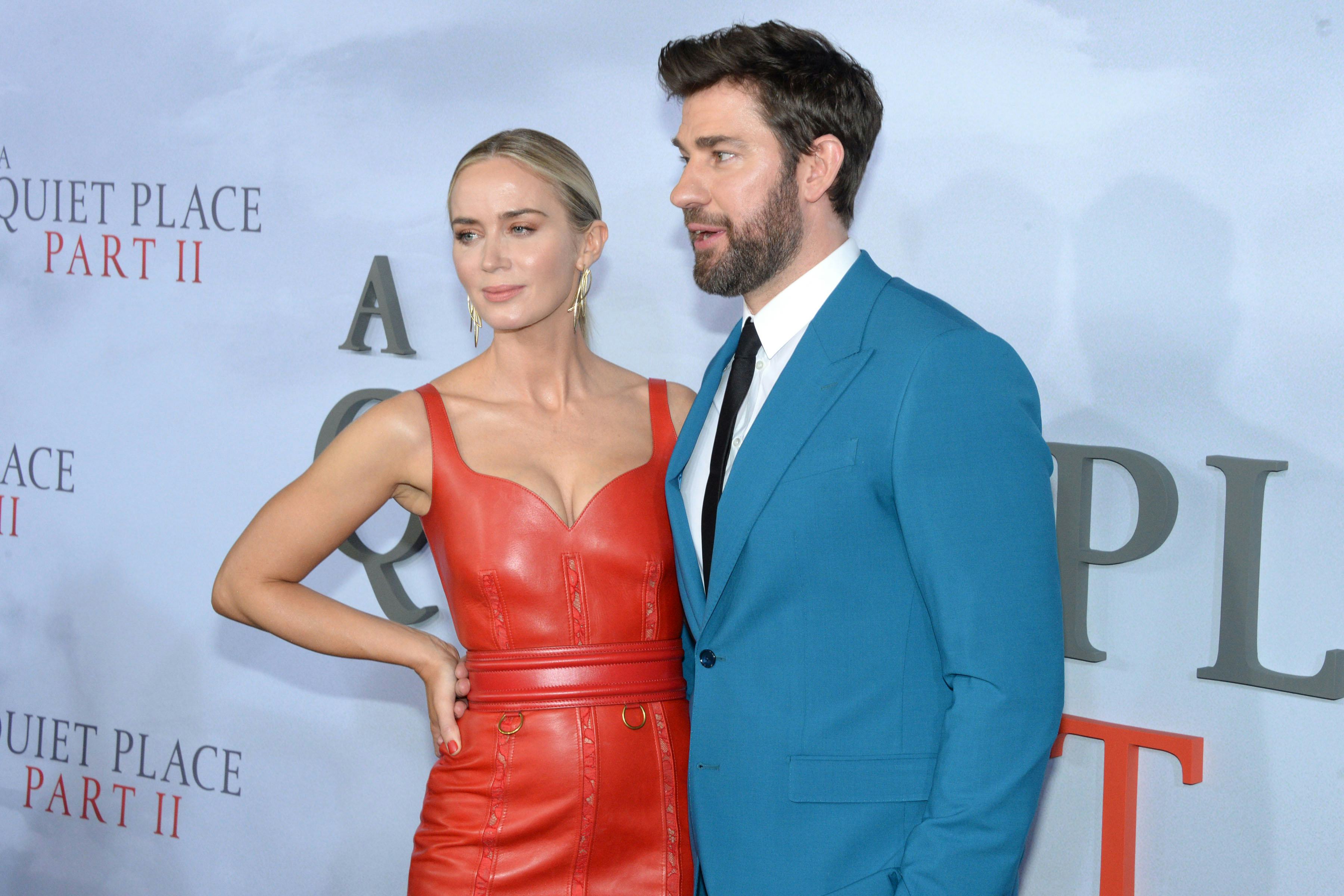 Before they became one of the most adorable (and stable!) married couples in Hollywood, Krasinski had to pop the question to Blunt. The proposal went down back in 2009 and, while the details are still unclear, it sounds like it was pretty low-key.
"It was very casual," Krasinski recalled of his proposal during a September 2009 interview with Access Hollywood. "I was nervous and the whole nine yards."
Not only did she say yes, but Krasinski revealed Blunt was brought to tears by his proposal. Apparently, she wasn't the only one crying, either. "She did cry after I cried and we cried and then everyone around us was crying," he recalled. "Then, I think people weren't really sure what was going on, but they were crying because we were crying. But it was great. At the end of the day she said yes which is great. It's a big part of this whole thing."
Hailey Baldwin & Justin Bieber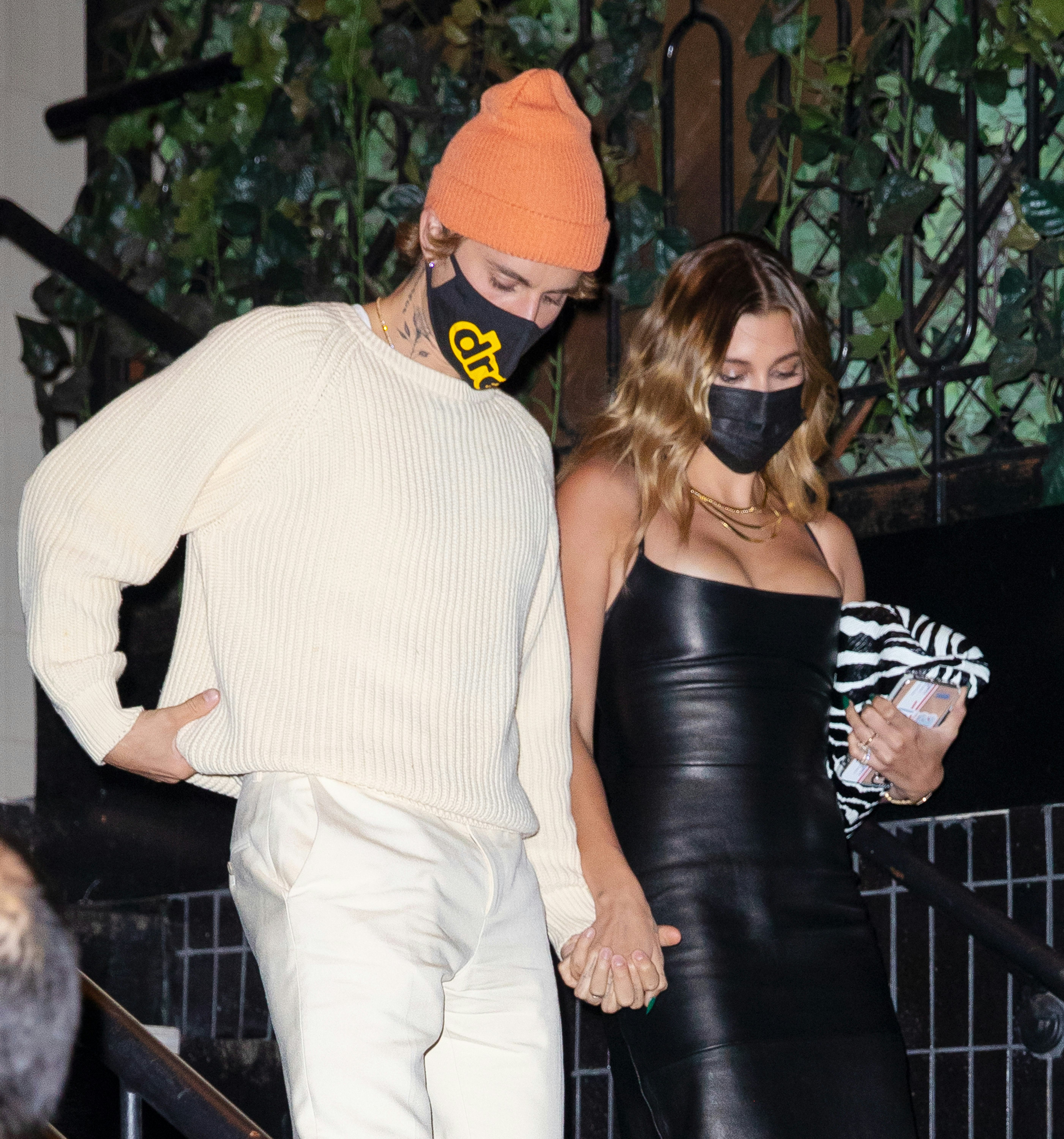 During a February 2019 interview with Vogue, Baldwin revealed her proposal from Bieber was actually surprisingly low-key. "We were alone in a house, just the two of us," she revealed. "It was very special."
She didn't provide much detail outside of that, but I think it's safe to assume she said yes considering they've now been married for two years.
Megan Rapinoe & Sue Bird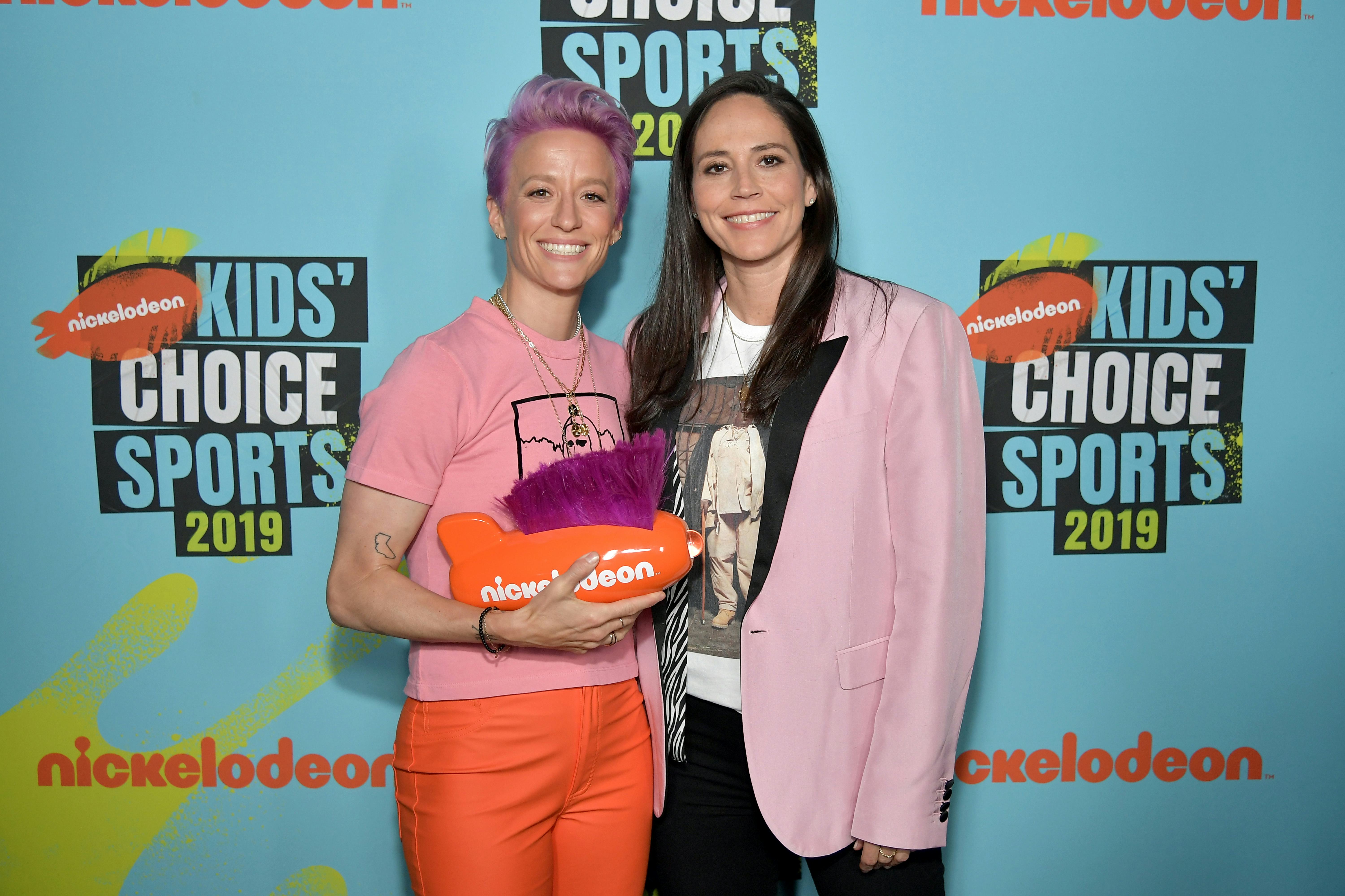 Rapinoe opened up about her proposal to Sue Bird during a Nov. 9 appearance on The Tonight Show With Jimmy Fallon. "Well, in true and typical Megan fashion, I really do plan things, and I do think about them," she told Fallon. "I just don't actually have a plan so I had been thinking about it for a while, thinking about it really every day for a number of months."
She continued, "I didn't have a special ring. I actually took one of the rings off my fingers and gave it to Sue. And I didn't know exactly when I was gonna do it but just, like, the perfect moment presented itself."
The moment did look pretty much as perfect as moments get:
https://www.instagram.com/p/CG_GSVFhsYm/
https://www.instagram.com/p/CG_GSVFhsYm/
"Obviously the photo is beautiful," Rapinoe gushed. "Shout out to our friend Boots for taking the photo. It was really sweet and beautiful and spontaneous, but planned at the same time."
Vanessa Grimaldi & Josh Wolfe
Grimaldi recounted her fairytale-like proposal story for People during an Aug. 10 interview. According to Grimaldi, Wolfe popped the question on top of the Saint-Louis Gate "in what was an intimate, beautiful moment that was candle-lit." To really top off the fairytale vibes, there was also an accordion player present who performed songs, including "A Whole New World" from Aladdin, for the married-couple-to-be. She gushed, "It was absolutely beautiful!"
Hilary Duff & Matthew Koma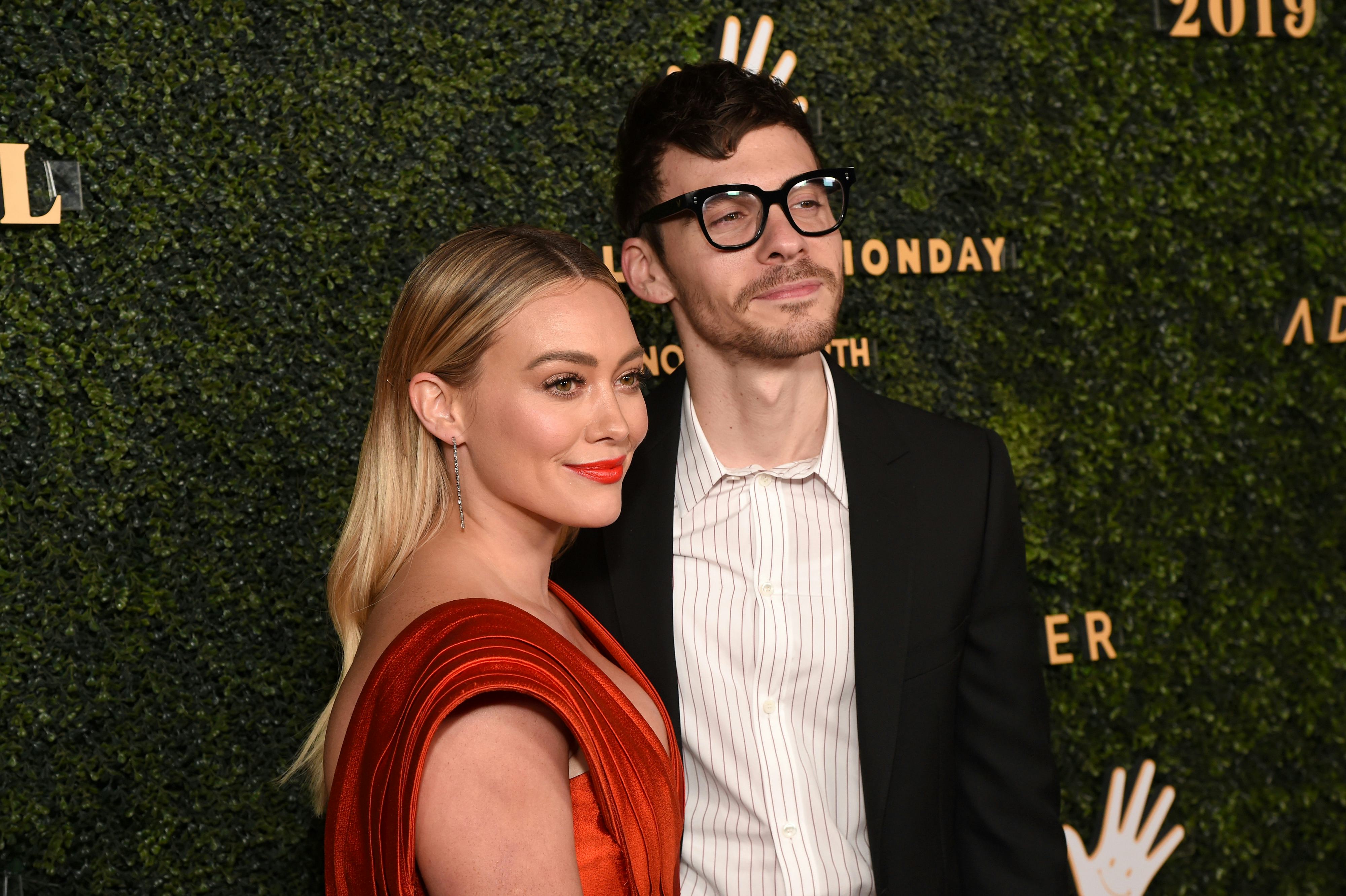 OK, I'm not one to pick favorites but this one might be my favorite on the list. "I came home from work on a random Tuesday, and he's like 'Let's go for a walk. Let's go check out this park,'" Duff told Brides of her proposal during a June 2019 interview. "We were living in Williamsburg and I was like 'I'm so tired.' We just started [watching] Game of Thrones, and I just wanted to eat dinner in bed and watch Game of Thrones. And he's like 'No, no, let's go on a walk.'"
She finally agreed to go for a walk so long as she could wear sweatpants. "So we go, we find this gorgeous park and he presents me with this book that he said he's been working on for a while," Duff continued. "He's like 'It's our story' and he had this amazing guy, Shane, do all of these illustrations. And he was like 'We are going to forget things along the way so we need to constantly fill this out so our kids can know our story.'" At the end of the book, Koma surprised Duff by including a little compartment on the last page that Duff would peal open to find her engagement ring.
"It was so sweet. It was so sweet," she gushed. "He got down on one knee and he's like 'I forget everything I'm supposed to say but you're my best friend.' It was so sweet."
Chrissy Teigen & John Legend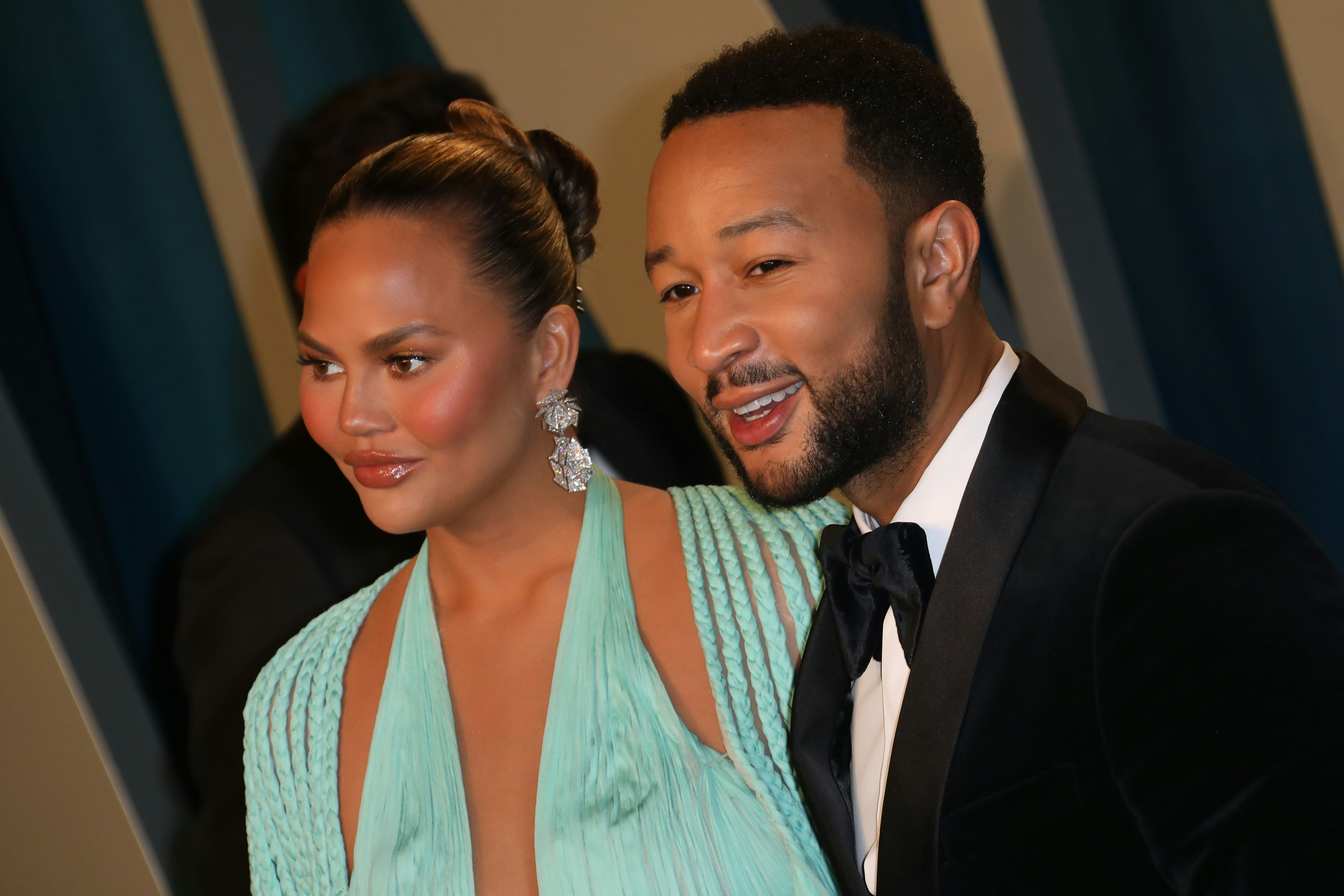 Legend popped the question to Teigen during a trip to the Maldives back in December of 2011. But he hit a snag when airport security asked to see his luggage before he even managed to execute his proposal.
"Chrissy was standing right next to me and I was, like, 'Oh, my God. I've hid it so well this whole time. Now as we're just about to get to the Maldives she's going to find out I have a ring in this box and it's going to ruin the surprise and I'll have to get on my knees in the airport,'" he explained, per the Huffington Post, during a 2013 appearance on Oprah's Next Chapter.
To make matters worse, they'd also just gotten into a fight on the way to the airport. "We had opened our presents beforehand, and he had only gotten me a cookbook and a Crock-Pot," Teigen explained on a 2015 episode of FABLife, per the TIME. "So we got into a fight, and I remember him going, 'You just wait!' And I was like, 'Wait for what?'"
Luckily, things started looking up when they got to the Maldives. "We get to the Maldives and he had planned this beautiful Christmas. He knows how much I love Christmas…And this waiter comes out with a silver dome for dessert… So he opens up the dome and a ton of arugula falls out and then I kind of fish in it… And I see the little box and then you know, your heart stops and you get so excited," Teigen recalled. "There was no big grand speech or anything. I think it was just very lovely and sweet."
Nick Jonas & Priyanka Chopra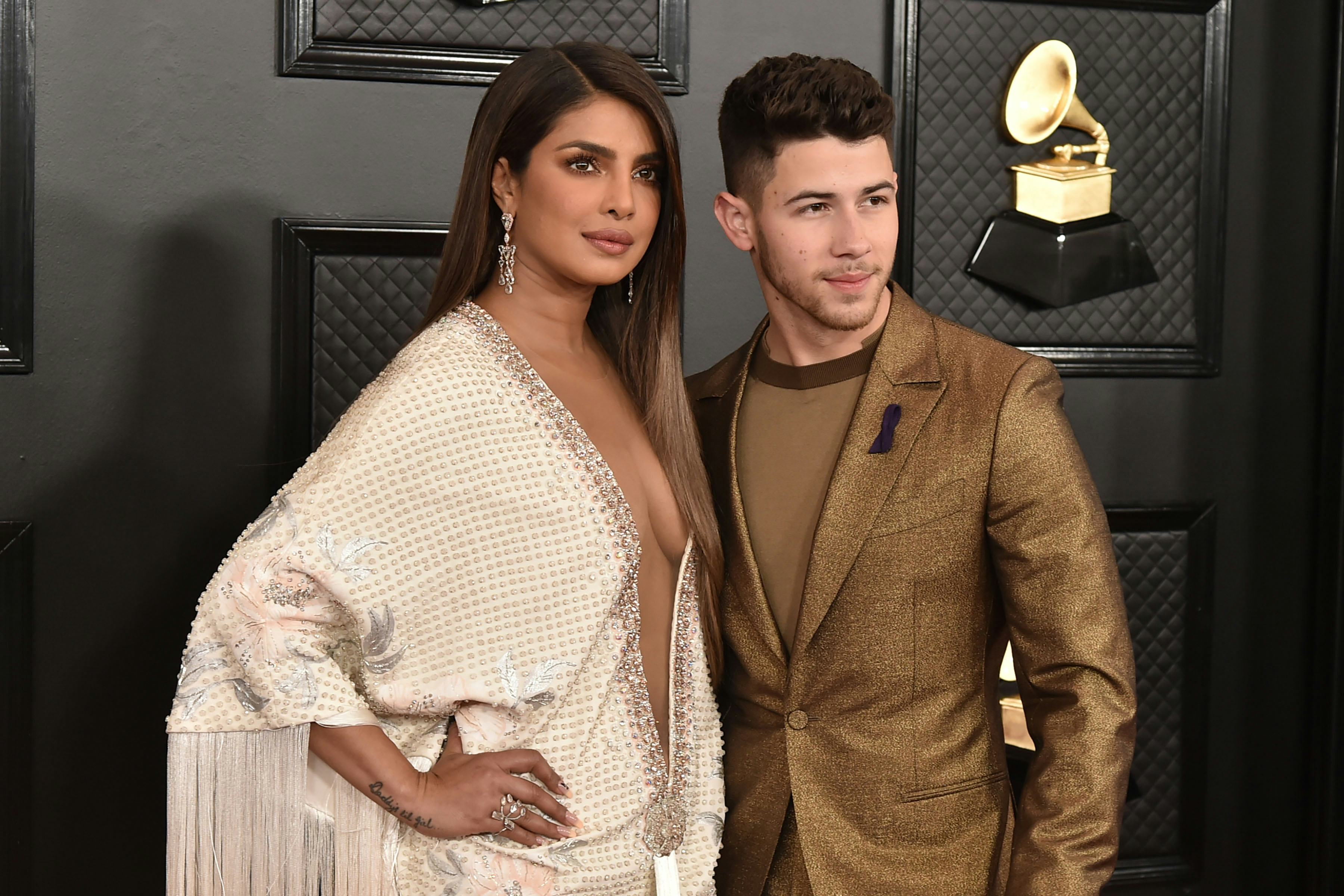 Jonas famously called Chopra's mother to let her know he was going to propose to her daughter just three dates into their relationship. During a December 2018 Vogue interview, Jonas shared their proposal story. After shutting down a London Tiffany & Co store to pick out the perfect ring for Chopra, Jonas took his bride-to-be on a birthday trip to Crete where he planned on popping the question at midnight following her birthday. Why midnight, you ask? Well, he wanted to make sure their engagement anniversary wouldn't coincide with her birthday.
He recalled, "I got down on one knee, again, and I said: 'Will you make me the happiest man in the world and marry me?' No joke — she took about 45 seconds. 45 seconds of silence." Chopra told Vogue she was simply "speechless."
Finally, Jonas followed up: "I'm going to put this ring on your finger now unless you have any objections."
Prince Harry & Meghan Markle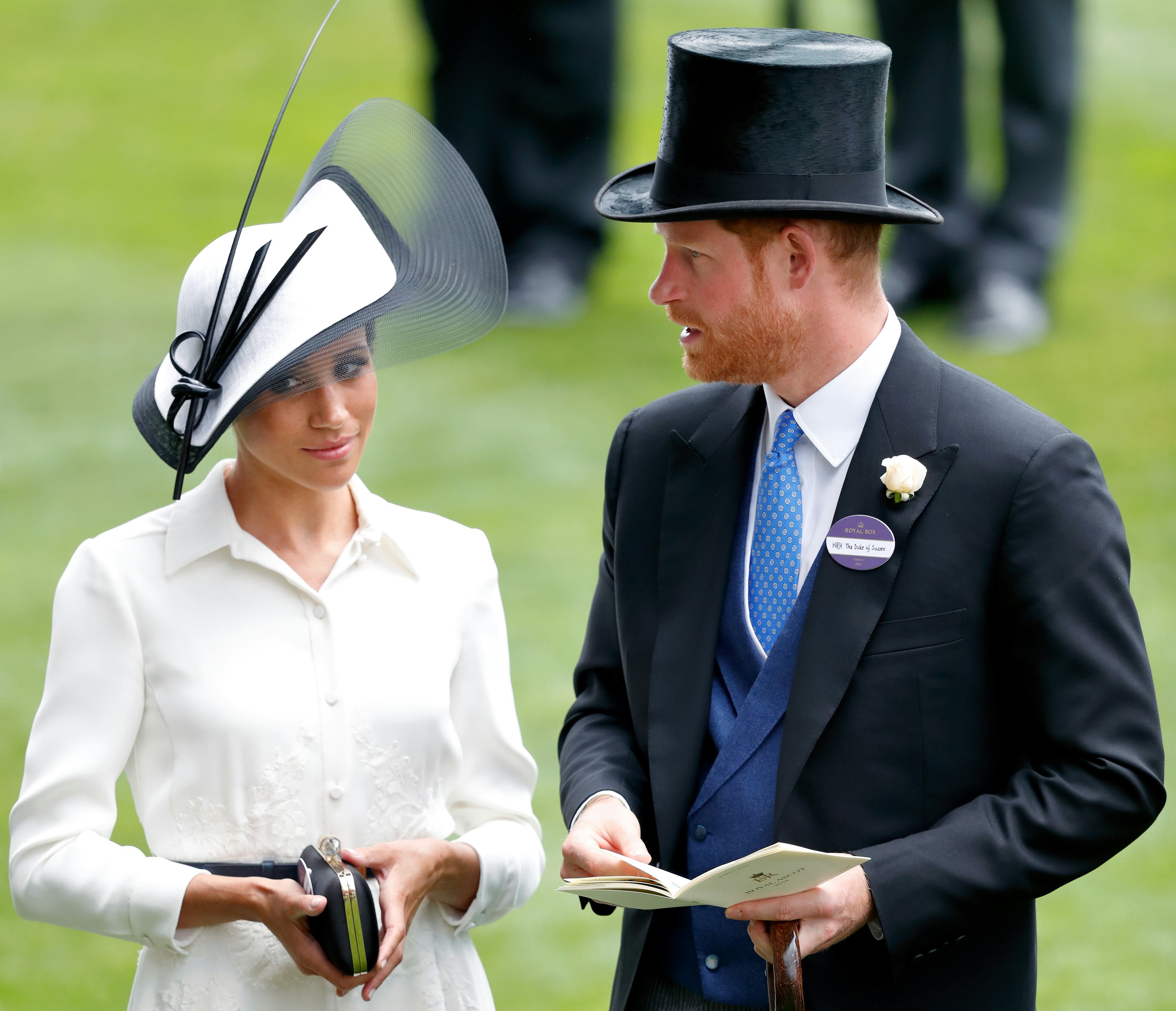 https://www.google.com/search?q=prince+harry+meghan+markle+proposal+story&oq=prince+harry+meghan+markle+proposal+story&aqs=chrome..69i57j33i22i29i30l2.10744j0j4&sourceid=chrome&ie=UTF-8
Yes, they're probably one of the most famous couples on the planet. But their proposal story was surprisingly… low-key. The pair recounted the details during their engagement interview with the BBC. According to Harry, it took place on what was "just a standard, typical night for" them.
"Just a cozy night, it was—what were we doing?" Meghan chimed in, "Roasting chicken and—"
Harry jokingly completed her sentence, "trying to roast a chicken."
"Trying to roast a chicken," Meghan continued. "And it was just— just an amazing surprise, it was so sweet and natural and very romantic. He got on one knee."
Meghan was so excited, she barely let Harry finish proposing.
She recalled, "I was like, 'Can I say yes now?'"
Harry shared, "It was a really nice moment, it was just the two of us and I think I managed to catch her by surprise as well," Prince Harry said.
Offset & Cardi B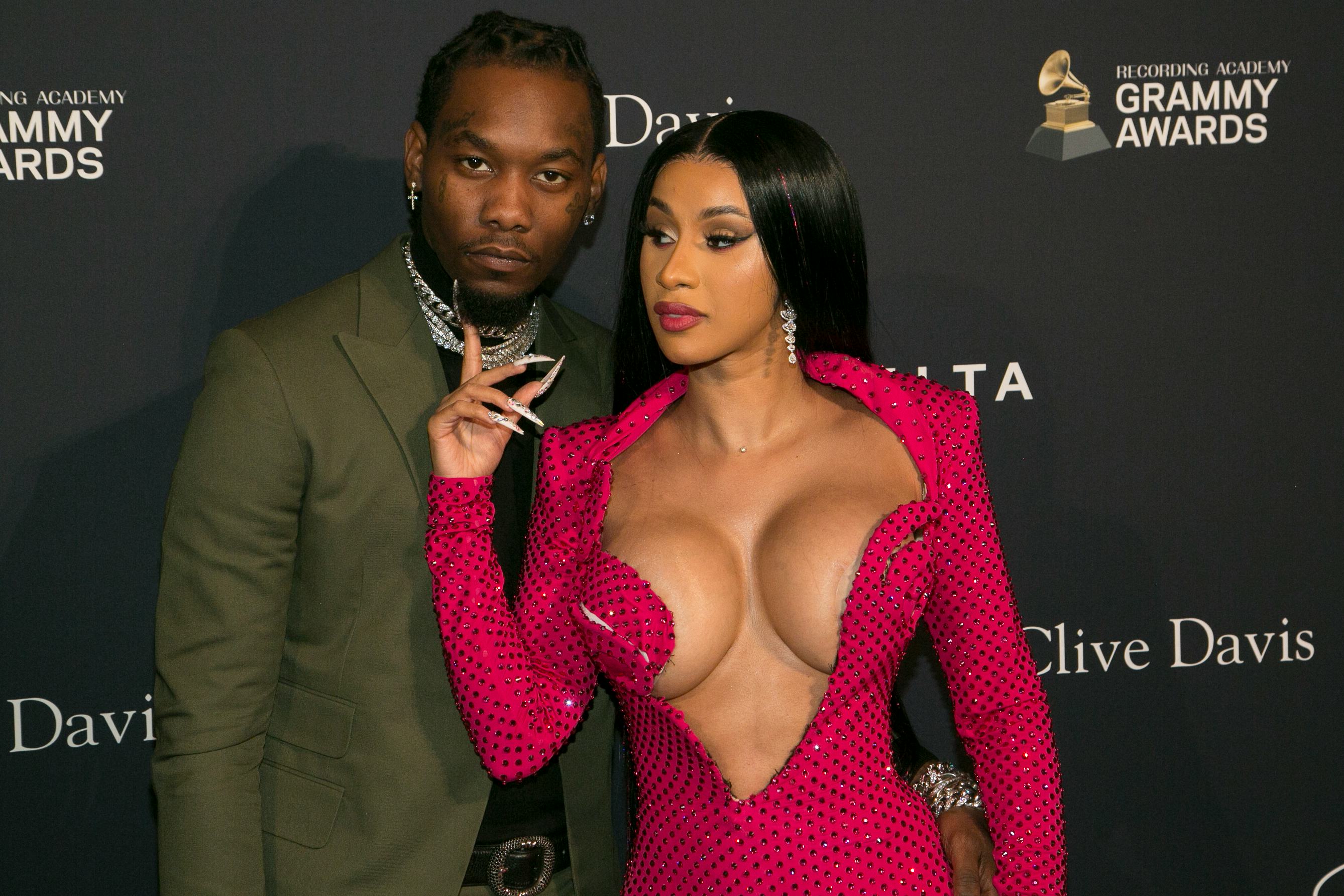 Offset and Cardi B have to take the cake for the most public proposal on the list as Offset asked Cardi to be his bride on stage at Power 99's Powerhouse concert in Philadelphia.
Watch it for yourself here:
Dawww. Honestly, who needs movies when these real-life stories are readily available?
Source: Read Full Article