The 'Real Housewives of Beverly Hills' star also takes to her social media account to pokes fun at rumors suggesting that her actor husband 'beats his women.'
AceShowbiz –Lisa Rinna isn't bothered with rumors surrounding Harry Hamlin. After fans brought up speculations that her husband had a "gay lover," "The Real Housewives of Beverly Hills" star took to social media to poke fun at the gossip.
The 58-year-old reality star addressed the rumors via Instagram Story on Wednesday, October 13. At that time, she posted a screenshot of Bravoaholics' Instagram post that read, "How come the Harry Hamlin cheating rumors at his place in Muskoka, Canada never gets brought up?"
The post didn't go unnoticed by Lisa. She shared a screenshot of the post and wrote, "He's too busy living with his gay lover in the valley while he's cheating in Canada with Trish."
Not stopping there, the mother of Amelia Hamlin also laughed off rumors about Harry's abusive behavior. "Recently read he alledgedly beats his women, and also suspected he is gay/woman hater," so read a comment from one user, to which she replied, "Oh damn he's freaking busy."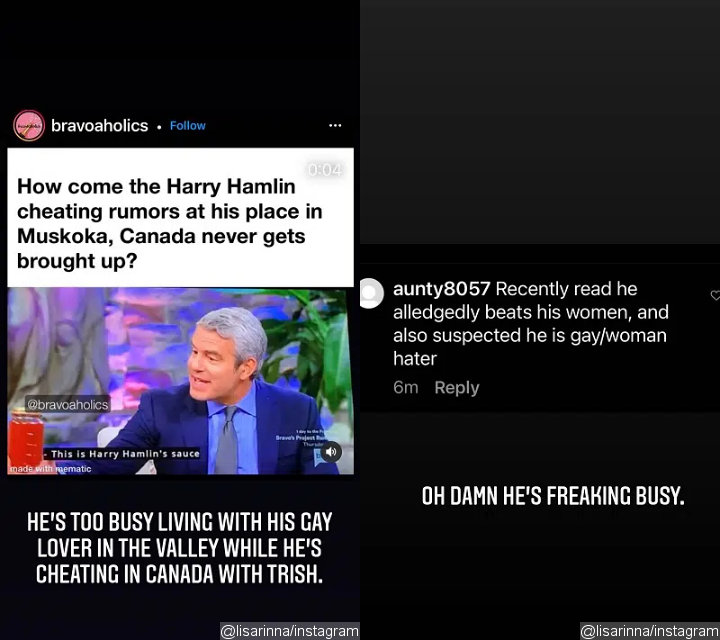 Lisa Rinna addressed rumors surrounding Harry Hamlin.
This was not the first time Lisa poked fun at rumors about Harry's infidelity. In September 2020, she reacted to a since-deleted tweet that read, "My girlfriend f**ked Harry Hamlin in muskoka [Canada] for an entire summer in 2018 – you wanna talk about that @LisaRinna??? Or do you want to talk about his affair with Patricia? #RHOBH."
In response, the "Days of Our Lives" actress shared her spouse's 1987 "Sexiest Man Alive" PEOPLE cover on Instagram. She captioned it, "#Fbf Appreciation Post to my very busy Husband who apparently doesn't live with us, is having a lot of affairs, and is gay. Go Harry F**king Hamlin."
Lisa tied the knot with Harry in 1997. Together, they share two daughters, 20-year-old Amelia and 23-year-old Delilah Belle Hamlin. As for the actor, he is also a father to 41-year-old son Dimitri Hamlin, whom he shares with ex Ursula Andress.
Source: Read Full Article