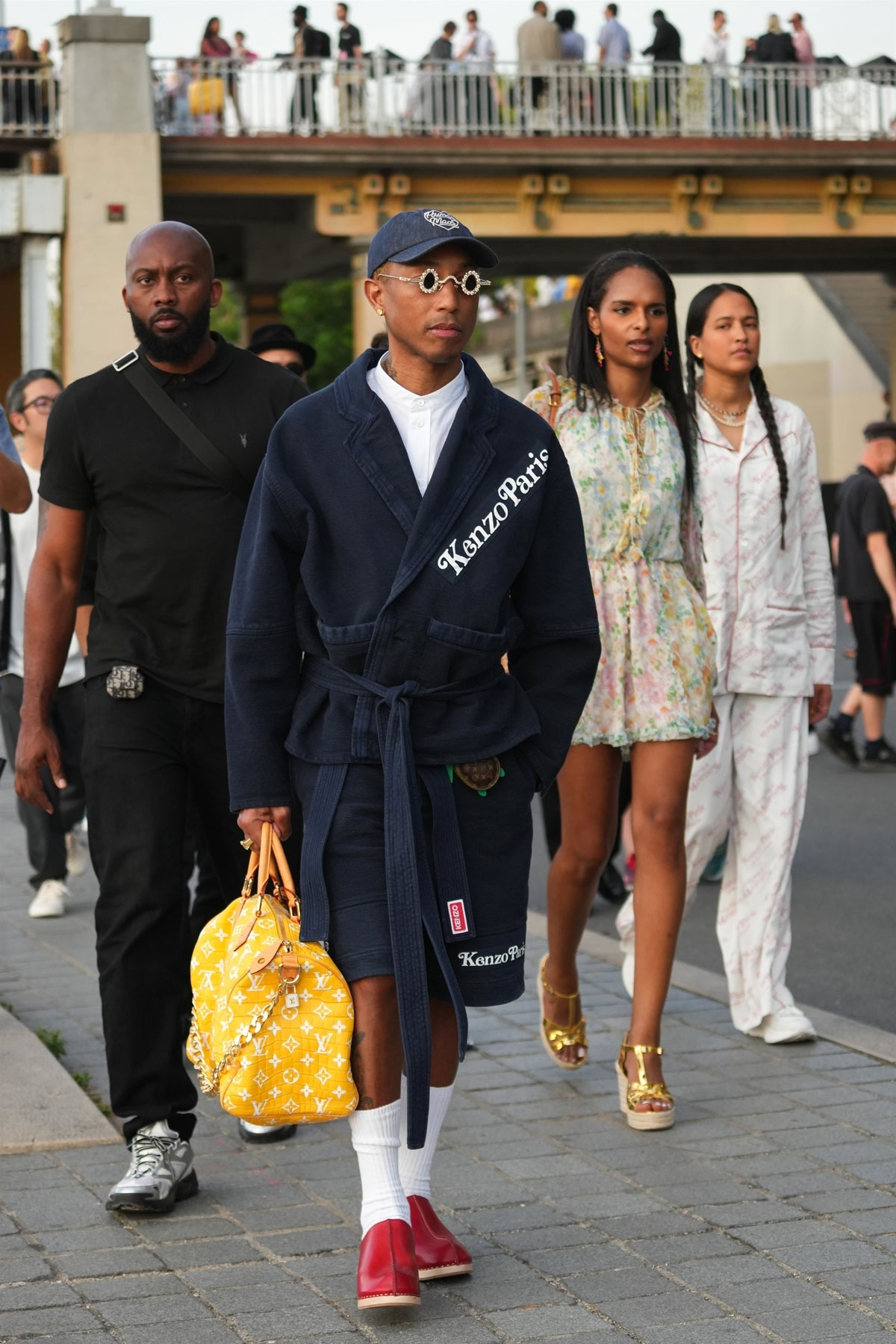 While the rest of us buckle under sustained inflation and high interest rates, the luxury fashion houses have been increasing their prices with a quickness. In 2020, a Chanel classic flap bag was $6500. Now it's over $10,000. I really think a lot of them are shifting their strategies and who they want their customer bases to be. Pharrell Williams is Louis Vuitton's Creative Director for their menswear. He debuted a new version of their classic Speedy bag (the one made famous by Audrey Hepburn before Paris Hilton revived it in the 2000s, what a history!). This one costs a million dollars. Why? It's made of crocodile skin instead of canvas, and has diamond and gold hardware. It's made to order and only available to VIPs, in a range of Crayola-bright colors. Jacob Elordi was at the airport the other day with a green one. Pharrell's own one, that he wore to Paris Fashion Week, is yellow. Athletes like PJ Tucker and LeBron James are wearing it. But honestly? I think the Millionaire bag looks bad, and I'll explain why.
Forget everything about quiet luxury: Pharrell Williams' new Louis Vuitton Speedy is as loud as luxury gets, down to the $1,000,000 price tag.

Sold only on a made-to-order basis, the "Millionaire Speedy" bag elevates the popular silhouette to a whole new level (and price bracket), swapping the commonly-used cotton canvas for crocodile leather, using gold hardware and adding diamond pendants as embellishments.

Available starting January 4, the six-figure accessory can be crafted in one of five colors: red, blue, green, yellow or brown. Williams himself toted the bag in canary yellow around Paris Fashion Week this past season.

Williams was appointed to the head Louis Vuitton's menswear division in February 2023, succeeding the late Virgil Abloh. Ahead of his debut this past summer, he told WWD that handbags would be a focal point of his tenure.
[From Fashionista]
Okay, the reason why I think this bag is going to look bad quickly is that the crocodile leather has less structure to it than the traditional treated canvas. The canvas Speedys will also get kind of misshapen and blob-like over time, but it's already happening–LeBron James' one looks worn out already. The reason why Pharrell's looks good is because he must have put a piece of cardboard in the bottom so that it would hold its shape. Even though this bag isn't a real product and it's mostly marketing, I think this is part of the overall strategy for brands like Chanel and Louis Vuitton. The dirty secret about the luxury houses is that most of their money comes from the middle-to-slightly-wealthy classes buying leather goods, fragrances and cosmetics. A lot of regular people, if they cared enough, could save up for a few years to buy a Louis Vuitton or Gucci bag. Middle class people buy these luxury goods to feel secure in their own class status–we want to have the trappings of wealth, if we can't have the reality. People will always buy things (if they can) that reinforce their identities or help them enact a powerful fantasy. The brands knew this and they pursued a pricing strategy to match for certain parts of their product lines. But the aggressive price hikes, along with a million dollar bag as a stunt, telegraph to me that the luxury houses are now chasing a different customer base: the truly wealthy. They don't want to be perceived as accessible to someone who makes, say, $100,000 a year. They want the uber-rich. But do the uber-rich want them? I've crossed paths with that kind of person, and at least the Old Money uber-rich never carry ostentatious bags around. They have a scuffed plain black handbag from Tod's that they got in 2004, or their grandma's Hermes Kelly. The uber-wealthy don't need to prove themselves, so they don't need to buy a million dollar bag. That's my take, but I'm cynical.
https://www.instagram.com/p/CyzD6QUu6pN/
https://www.instagram.com/p/Ct83_ECtDwr/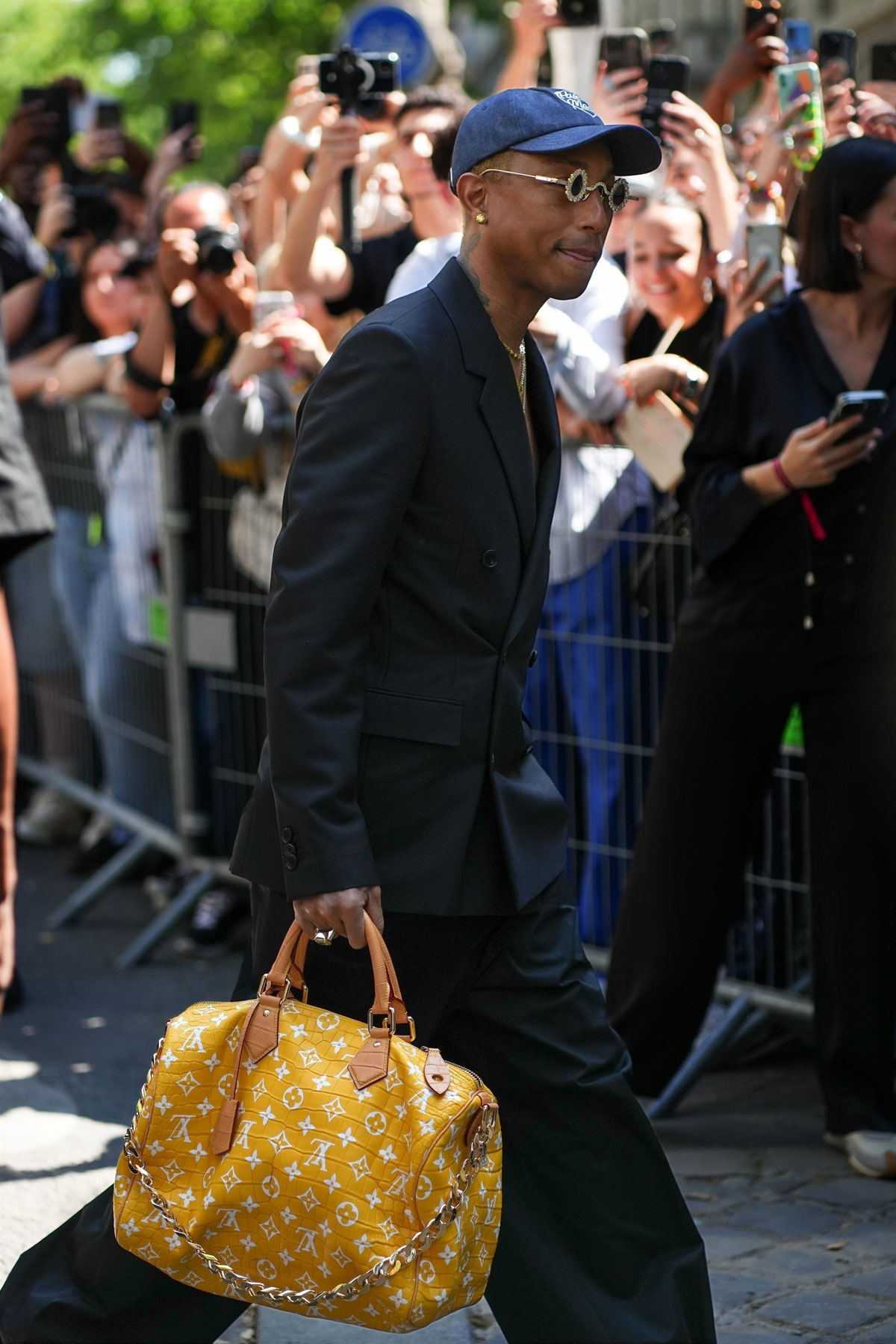 photos credit: Backgrid and via Instagram
Source: Read Full Article