Artist and designer Coolrain Lee sees the world through a lens that's equal parts thoughtful and playful. His Coolrain Studios website reads "NO LIFE WITHOUT TOY," and he's become world-renowned thanks to his highly detailed art toys that show everything from conceptual creations to detailed, cartoon-inspired iterations of street culture stalwarts like Virgil Abloh, Jerry Lorenzo and Salehe Bembury.
One key facet of Coolrain's creations are the highly-detailed sneakers he makes, which both adorn the feet of his figures and stand alone as their own full-sized artworks. These creations have earned him collaborations with the world's biggest sneaker brands —
Seunghoon Jeong/Hypebeast Kr
What's your personal history with the Air Max 1?
When Nike first held Air Max Day in 2014, I was working on my Spaceman Project [an astronaut figure wearing Air Max], and was very interested in the Air Max 1 "3.26" as well as the Air Max Lunar 1. After my interest in those models was piqued, I continued to look into the history of the Air Max 1, as well as learn more about Tinker Hatfield, who, designed the AM1, of course.
That was a very creatively stimulating time for me. Before, art toys were my main interest, but I became fascinated with both sneakers and their designers as well, which solved a lot of my identity concerns as a creator. People who came to the Spaceman Project exhibition intuitively understood the concept of the work and how it tied into sneakers.
How do you decide what sneakers the figures you create will be wearing?
When I create a figure of a designer, even if I haven't met them, I feel like they're a friend! [laughs]. I tend to put them in sneakers that they designed or were known to wear.
How many pairs of sneakers do you own?
I moved last year, and I had about 150 pairs then. I think I'm up to around 200 now, about 20 of which are Air Max 1s. When I work on a project with a brand, I usually receive a lot of samples.1 of 2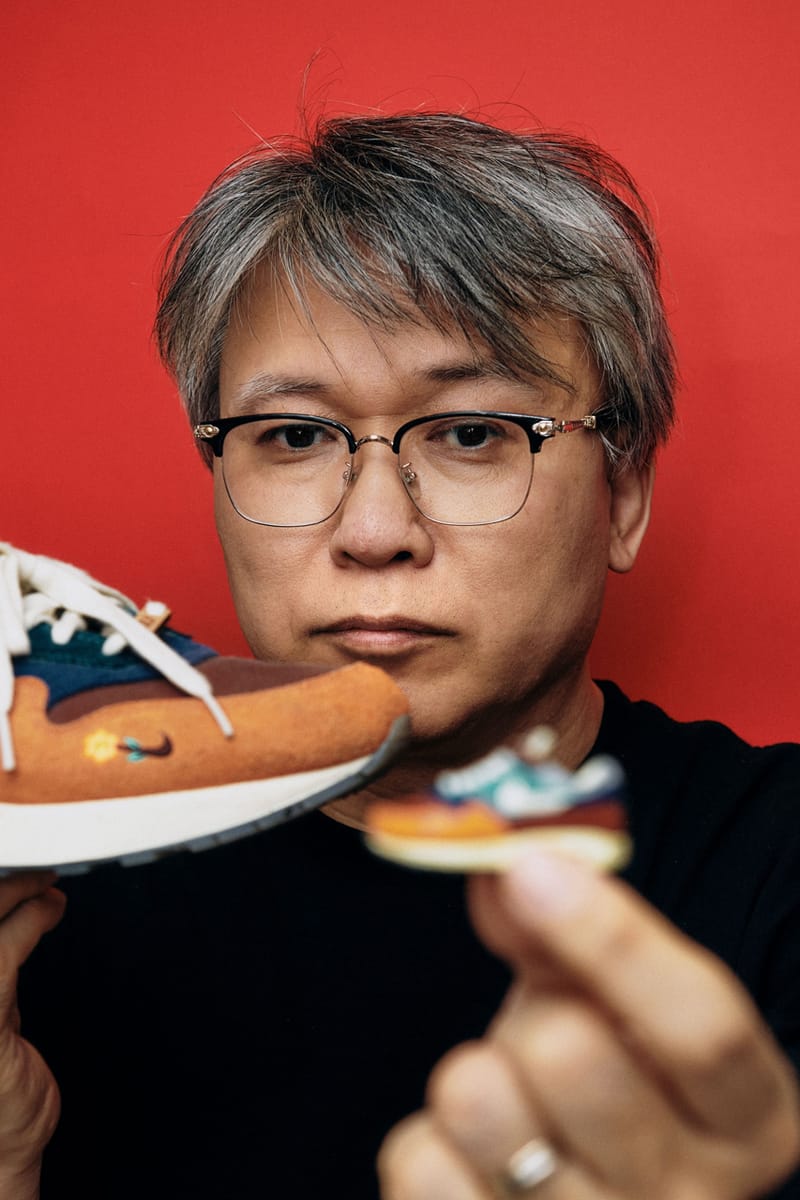 Seunghoon Jeong/Hypebeast Kr2 of 2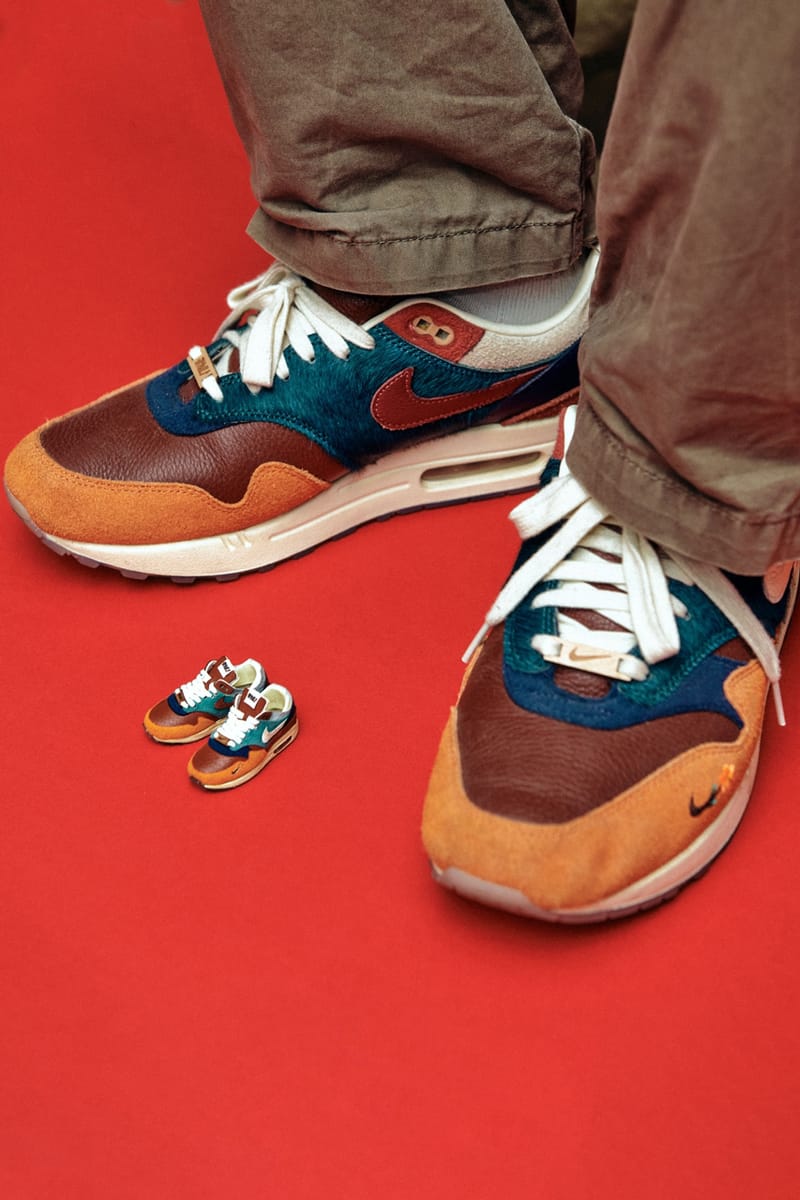 Seunghoon Jeong/Hypebeast Kr
What are some of your favorite pairs in your collection?
My favorite is the [2018] Parra x Nike Air Max 1. I'm a huge fan of Parra — not just sneakers but the art, clothing and accessories he makes as well. I've also got a soft spot for the "3.26" colorway as that was the first one I really liked, and I've got a signed pair of the Sean Wotherspoon x Nike Air Max 1/97 that's special too.
On the other hand, which pair would you like to add to your collection the most?
The original Parra x Nike Air Max 1 from 2005. I've got most of the pairs that I've based my figures off of, but I have to pay resale for the shoes that came out before I started making those figures in earnest. I also would love a pair of the Off-White™ x Nike Air Max 90 from "The Ten." The patterns and materials on all of those pairs are really complex, so if I'm going to make a proper figure of it I need that model for a reference point.
What do you think makes the Air Max 1 structurally unique?
If you look at shoes from the '80s, the Air Max 1 has a much more complicated structure than most of the others. The Dunk and Air Jordan 1 are both somewhat simple and symmetrical by comparison. I think the purpose of its unique design, besides to show its technology, of course, was to make the lateral side of the foot more comfortable. I've disassembled lots of pairs, and that's how it seems to me.1 of 2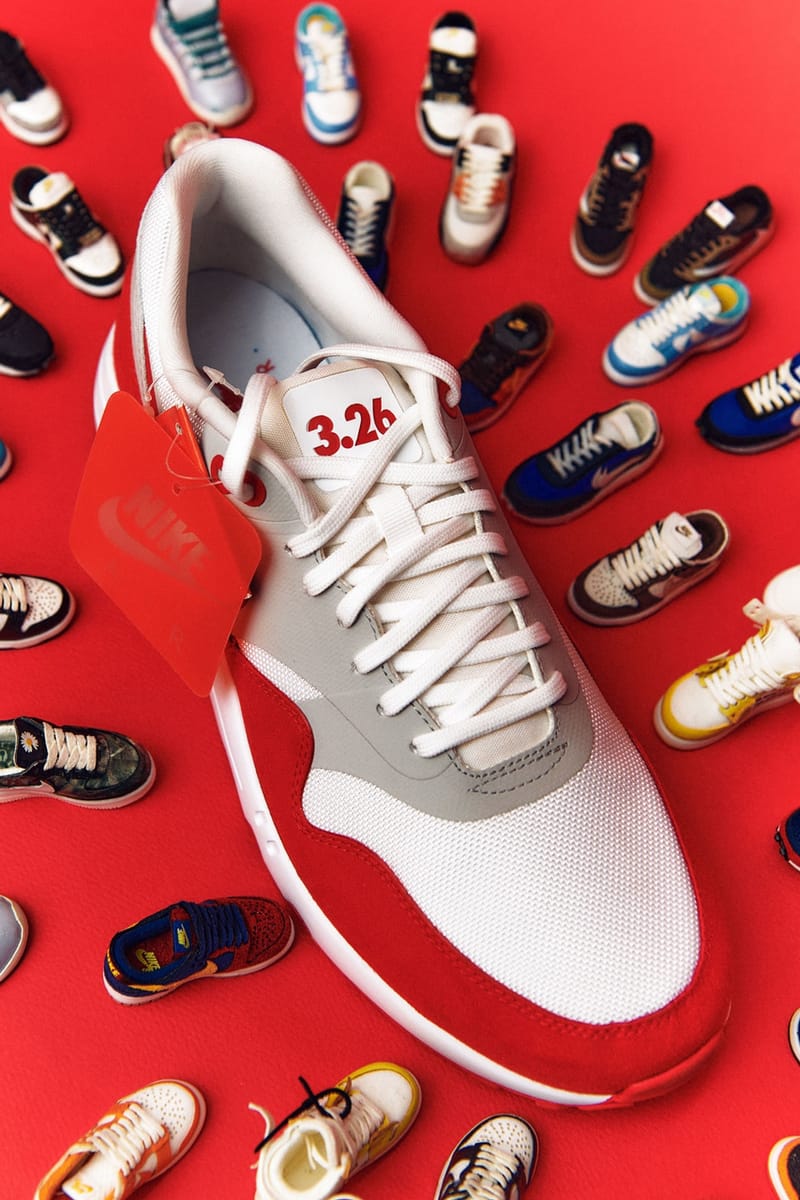 Seunghoon Jeong/Hypebeast Kr2 of 2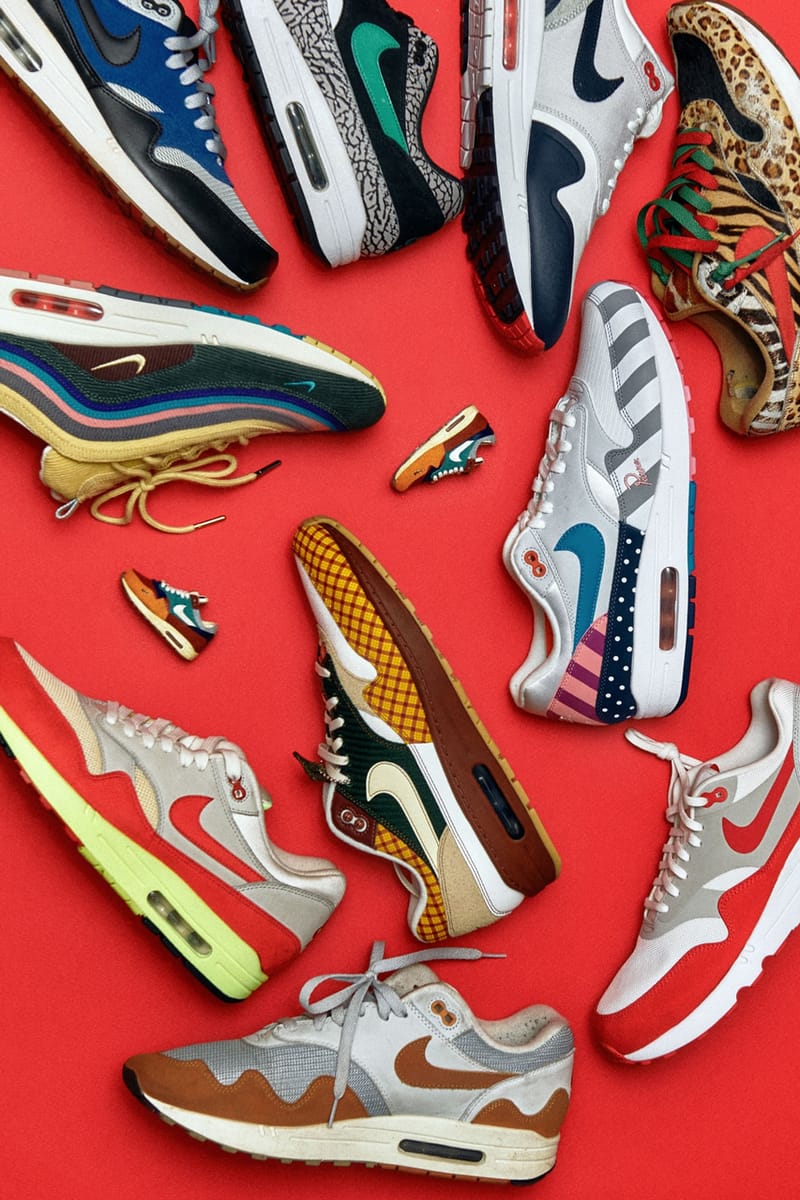 Seunghoon Jeong/Hypebeast Kr
On the topic of "structurally unique," are there any sneaker characteristics that are particularly difficult to embody in your figures?
If the outsole is complicated or the upper is more layered, the sneaker will take me a long time to make. Funnily enough, one thing I've noticed is that the time it takes me to make my models seems directly proportionate to the original release price of the shoe they're based on. The Air Footscape Woven is a great example: I have to weave its upper by hand for my figures, and it takes about three times as long to make as other shoes do.
The Air Max 1 is the first shoe with visible Air, of course — but what's the first sneaker that you made on a figure?
It would have been a skate shoe, probably one from DC Shoes or Gravis. The art toy movement began in Hong Kong in the late '90s, and most of the initial subjects were from subcultures like hip-hop and skateboarding, so I was making a lot of skater-inspired figures wearing skate shoes. The first time I worked with Nike was in 2008, when they had a celebration of the Dunk's 23rd anniversary. I made over 100 different models!
What's the process of making sneaker figurines like?
It's fairly similar to making actual sneakers. I'll put masking tape on a shoe tree, then draw a design and tear off the masking tape for the upper. Then, I'll make a drawing of the sneaker and cover that upper with fabric cut to match its shape. The sole's a bit more complicated: I'll make a 3D model of it based off an actual product, and in the case of the Air Max 1 I'll pour transparent resin into a silicone mold to get the Air details. Fortunately, the decade-plus I spent working as a 3D animator helps with that, though it doesn't aid much in other areas [laughs]. The main difference between actual shoes and the figures that I make is that I stretch the overall width of my figures a bit to give them a cute, playful feeling. 1 of 3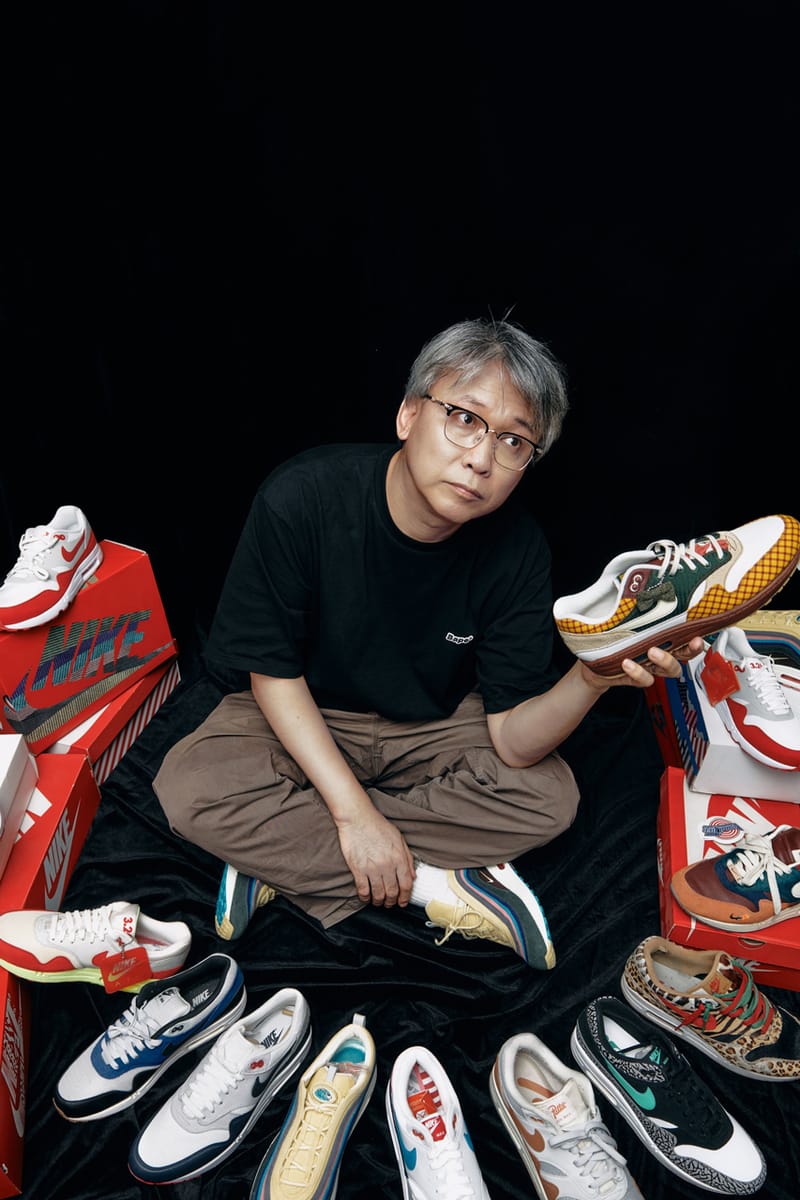 Seunghoon Jeong/Hypebeast Kr2 of 3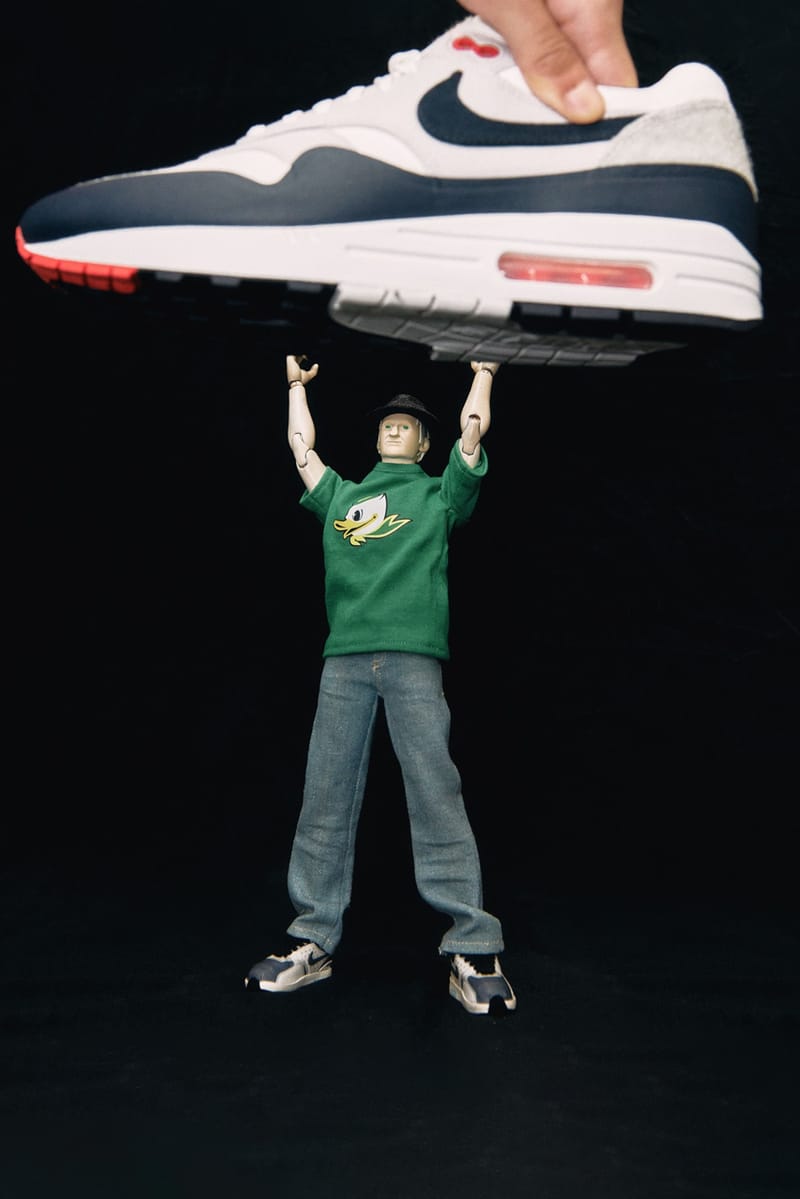 Seunghoon Jeong/Hypebeast Kr3 of 3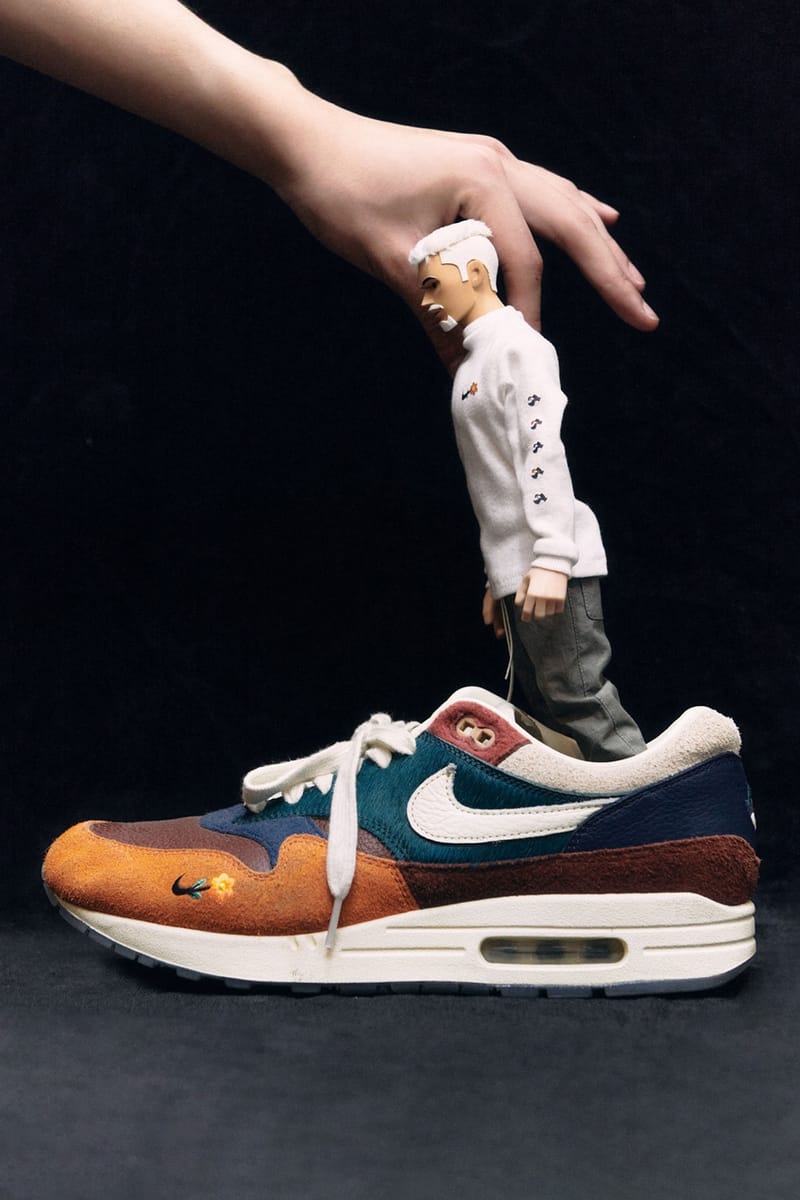 Seunghoon Jeong/Hypebeast Kr
You recently collaborated with seven eight under on the X-1 sneaker. What was that process like as compared to your artworks? Did you face any new challenges?
Designing the exterior of the sneakers wasn't too hard, as all the practice I had with my models was helpful. Picking the materials was a bit more challenging, though. I wanted to use Tyvek, which was easier said than done as we had to find a particularly durable iteration of it. Thankfully, seven eight under was a big help sourcing the materials and getting the look just right. The sneakers sold out, so the project definitely ended well!
You've met a lot of luminaries like Virgil Abloh and Jerry Lorenzo, and been able to give them your figures as gifts. What are some of the best stories from those experiences?
Honestly, getting on a video call with Tinker Hatfield. I didn't get to meet Tinker in person, but he's the master and speaking with him was an amazing moment. A funny story I have was meeting Antonio Colombo, the chairman of [Italian bicycle brand] Cinelli. I sent him a bicycle figure as a gift, and shortly after that I met him when he made a surprise visit to one of my exhibitions. He was the nicest person I've ever met, like an affection-filled grandfather. He actually gave me a Cinelli bike in return. It was worth about ₩1.8 million [roughly $1,373 USD], but it was still a loss for me: a custom figure is more expensive [laughs].
What does the future hold for Coolrain Lee? Is there anything specific you'd like to make next?
I want to create an exhibition that spotlights sneaker culture in general by showcasing both the shoes and the people that power it. Although most people know about Nike Air Max, not everyone knows who created it, how it was made or why it was made. I'd like to have a place where people who both know those stories and don't know those stories can come and enjoy my creations.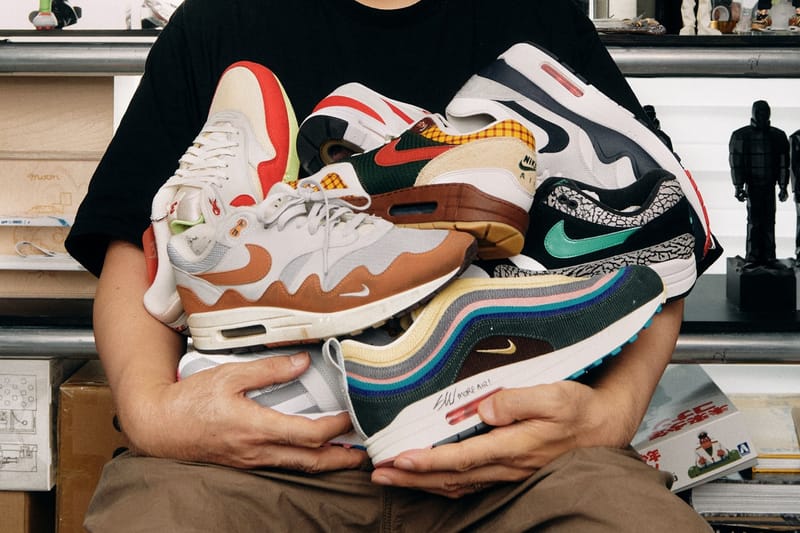 Seunghoon Jeong/Hypebeast Kr
---
This installment of Sole Mates is a condensed transcription and translation of an original article from Hypebeast Korea, which was first written in Korean and was translated using Google Translate.
Source: Read Full Article