The year is 2020, but thanks to Brad Pitt and Jennifer Aniston, I am spiritually living in the '90s. Like, I'm one emotional crisis away from buying low-rise cargo pants and a pair of Steve Madden slides, that's all I'm saying!!!!
Anyway, it's been 84 years since Brad and Jen had the most dramatic divorce ever (truly, Miley and Liam, whomst?), and now they're quite literally partying like it's 1999. Fans are convinced these two are getting back together, so let's all familiarize ourselves with deets about their relationship real quick, mmkay?
Circa 1998
Jennifer and Brad are set up on a dinner date by their agents and sparks fly all over the place. Jennifer tells Diane Sawyer, "It was weird…That was a really easy evening. That was really fun."
September 9, 1999
Brad and Jen hit their first red carpet together for the premiere of Fight Club where she somehow manages to pull off this shirt: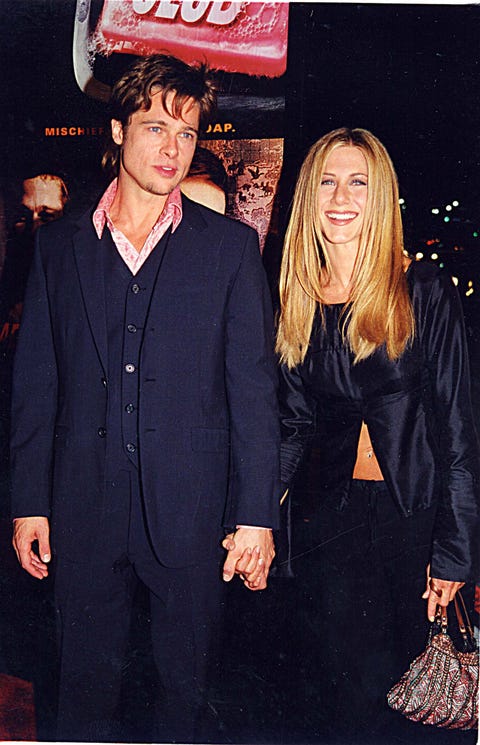 September 12, 1999
The couple make an iconic first Emmys appearance looking over-the-moon happy and in love: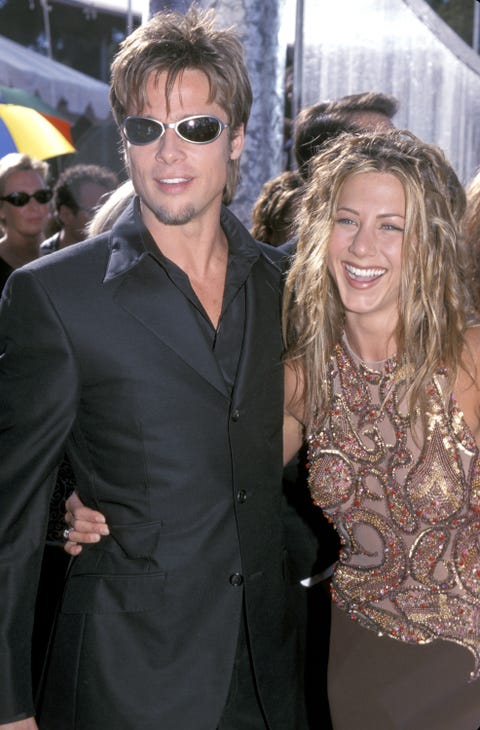 November 21, 1999
Brad and Jen make it clear that they're engaged when he shows off her ring on stage with Sting (lol, the '90s). He even sings, "We're going to Vegas, we're gonna get wed / So fill her up, son, don't be staring / Yeah, that's a real diamond she be wearing." Cool, cool.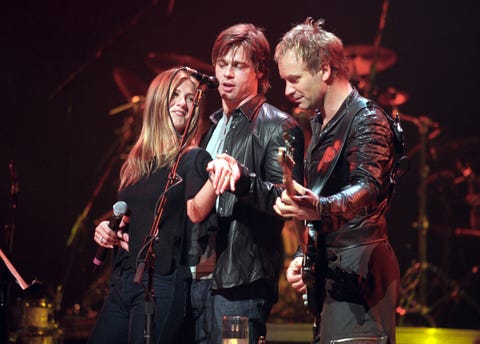 July 29, 2000
The couple get married in a giant Malibu ceremony with 200 guests, 50,000 flowers, four bands, a gospel choir, and fireworks.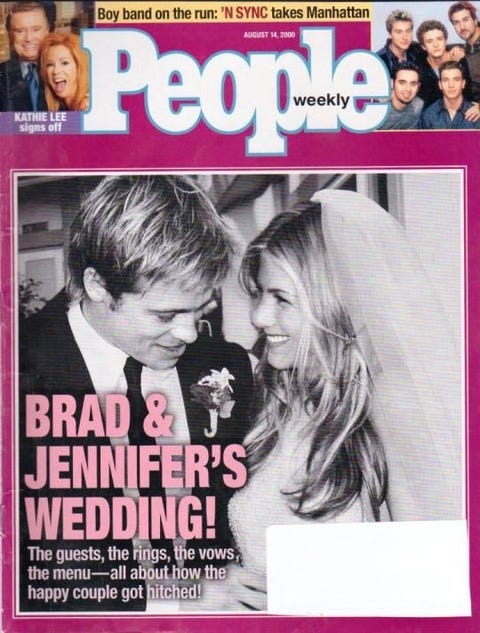 November 22, 2001
Brad shows up in an episode of Friends with absolutely unacceptable frosted tips that I will NEVER forgive him for:
January 1, 2005
People reports that Brad and Jen spend New Year's vacationing in the Caribbean with Courteney Cox and David Arquette. A source tells the magazine, "I never saw them touch during the entire meal." But when they noticed photographers, "They put their arms around each other and had these big smiles on their faces like they were incredibly happy. It was the opposite of the couple I'd seen inside."
January 7, 2005
Brad and Jen announce their separation in a joint statement to People:
May 9, 2005
Photos come out of Brad and Angelina Jolie chilling out on the beach, pretty much confirming rumors of their relationship. Jennifer eventually speaks out about the pics in 2006 interview with Vanity Fair, saying: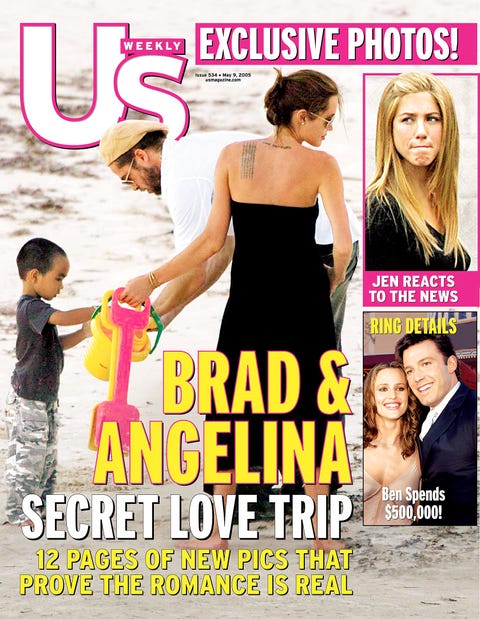 Circa May 2005
Angelina denies cheating with Brad during an interview with Marie Claire, saying: "To be intimate with a married man, when my own father cheated on my mother, is not something I could forgive. I could not, could not look at myself in the morning if I did that."
She also claims: "I am not dating anybody. I think the next man I get involved with would have to become Mad's father, and that's a high bar as far as I'm concerned. I'm not anticipating that coming anytime soon." (Obviously, we all know Brad and Angie went on to date and get married, sooooo.)
October 2, 2005
Brad and Jen finalize their divorce, and People reports that Jen tells Oprah Winfrey living alone is "pretty fantastic" and that she's looking forward to the "unknown" because she loves "the discovery of what will be happening and just kind of sitting back and not knowing."
September 15, 2011
Brad gives the shadiest interview EVER to Parade, basically insulting his marriage to Jen:
Also September 15, 2011
Brad issues an apology for his Parade interview:
January 21, 2015
Jennifer implies Brad never actually did anything wrong, low-key shutting down cheating rumors. "We're not in daily communication," she tells the Hollywood Reporter. "But we wish nothing but wonderful things for each other. Nobody did anything wrong. You know what I mean? It was just, like, sometimes things [happen]. If the world only could just stop with the stupid, soap-opera bullshit. There's no story. I mean, at this point it's starting to become—please, give more credit to these human beings."
February 16, 2018
A source tells Entertainment Tonight that Brad and Jen have stayed in touch since their split: "They have each other's cell phone numbers and communicate from time to time. This is nothing new. Jen and [Brad] have remained friendly."
December 14, 2019
Entertainment Tonight reports that Brad shows up to Jen's holiday party and is legit the last to leave. "Brad Pitt arrived at Jennifer Aniston's holiday party a little after 7 p.m. on Saturday," a source said.. "He was among the first to arrive and the second-to-last guest to leave around 11 p.m." I mean…!!!!!!!!!!!
December 24, 2019
Us Weekly reports that Brad and Jen have decided to ~bury the past~ with a source musing: "A reason Brad and Jen get along so well now is that they've agreed to bury the past and not analyze what went wrong. They're both looking forward, not back."
"He's taken responsibility," the source continues. "He's tried to make amends. He didn't realize the magnitude of the hurt he caused Jen at the time. He was so swept up in Angelina Jolie, he couldn't see outside that tunnel."
December 26, 2019
Another Us Weekly source comes out of the woodwork and says, "Brad and Jen have a wonderful connection that might seem flirtatious at times. They dig each other's sense of humor and have an infectious energy when they're together, but they insist things are purely platonic and nothing more than that."
Sure, Jan!
January 19, 2020
Brad and Jen celebrate their wins at the Screen Actors Guild Awards and this picture happens: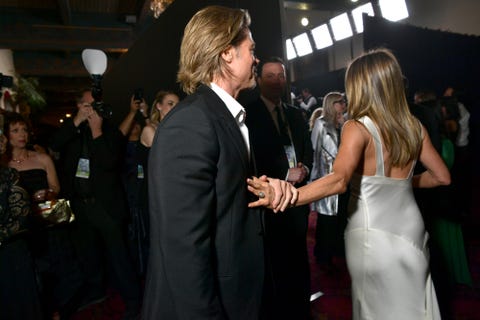 I AM UNWELL!!!!!
January 22, 2020
Despite the obvious chemistry radiating from that picture, a People source claimed "it was an emotional night" and added, "She is happy to have Brad back in her life as a friend, but that's it."
Bah humbug.
September 17, 2020
Brad and Jen join forces for a table read of Fast Times at Ridgemont High, and wow, even I'm blushing at this exchange:
Source: Read Full Article