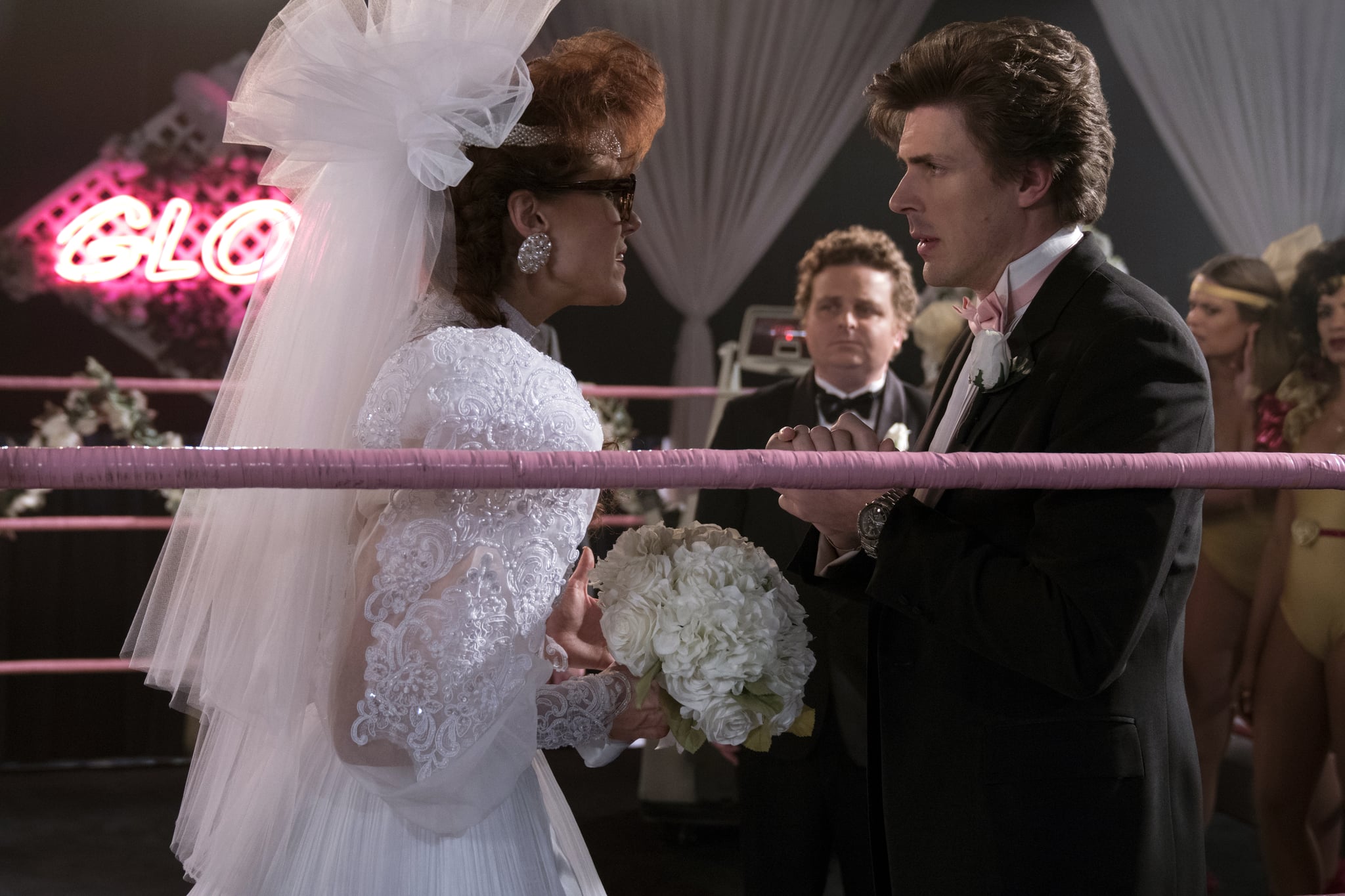 Netflix's GLOW is back for a third season set in the glitz and glam of Las Vegas, but fans may still be reeling from the previous season's finale involving the wedding of Sebastian "Bash" Howard (Chris Lowell) and Rhonda "Britannica" Richardson (Kate Nash). The union comes as a surprise to the show's characters since Bash doesn't display romantic feelings for Rhonda until after their marriage — a development that leaves the audience in doubt about his motivations. However, we'd argue the unspoken reason behind Bash and Rhonda's wedding goes far beyond what we see on the screen.
Think back to "Rosalie," the penultimate episode of the second season. Rhonda announces to her fellow wrestlers that she doesn't have a social security number and that she's been working "off the grid," so that she can stay in the US rather than return to her native England. When her castmates urge her to apply for a work visa, the request is denied and she's ordered to leave the country. That's when Carmen "Machu Picchu" Wade (Britney Young) comes up with the idea of having Rhonda marry Cupcake, one of her biggest fans, in the ring during their finale — a move that will not only help Rhonda but also jazz up GLOW's finale for potential investors.
In that same episode, Bash learns that his butler and confidant, Florian, has died from pneumonia related to an AIDS diagnosis. The news of Florian's death leaves Bash physically shaken and unable to focus, suggesting their relationship goes deeper than friendship. So as the second season moves forward to the final episode, it is clear that Bash doesn't want to be alone or cope with his conflicting feelings. He even mentions sleeping on the floor of Carmen and Rhonda's room to avoid being alone.
By the time Rhonda's wedding to Cupcake rolls around, Bash seizes the situation as an opportunity to draw focus away from his own problems. He objects to the marriage and asks Rhonda to accept his proposal instead. He says it's silly for her to marry a stranger when he can make her happy. However, the reaction of those around them, particularly Carmen, lets us know something greater is afoot.
So while the wedding-in-the-ring idea arises to prevent Rhonda from being deported, her marriage to Bash is also meant as a healing moment for a man who is afraid to be alone and who may not want to admit what lies behind the feelings for his lost friend.
Source: Read Full Article