Triple tourbillon specialist Purnell has collaborated with READYMADE on three limited-edition watches creating straps from upcycled WWII US military fabric.
The Purnell x Readymade Escape II consists of three versions of Purnell's Escape II watch, which feature twin Spherions, the brand's triple-axis tourbillons.
Here the Spherions have been given contrasting neon orange and green coatings, while the three 48mm case variations are made from transparent sapphire crystal, Purnell's proprietary opaque White Purnell Microfiber (WPM) composite and carbon, with just five pieces being produced in each material.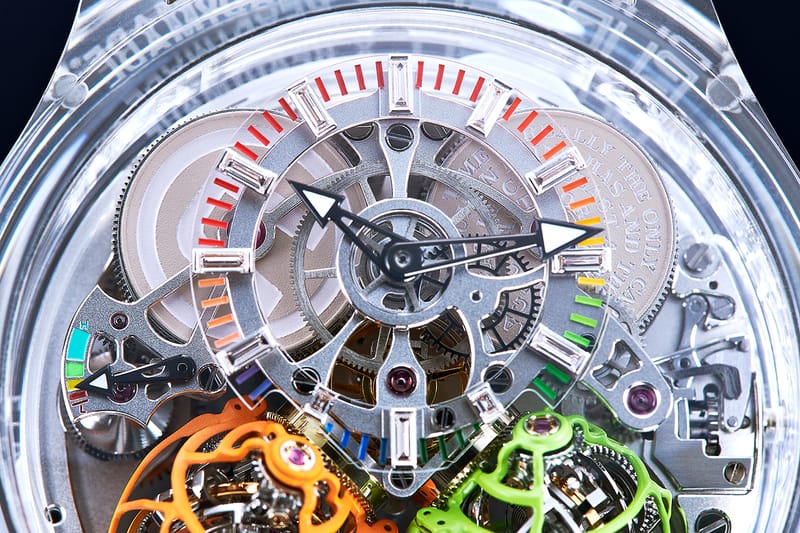 The watches feature a sapphire dial with hand-painted rainbow minute track and baguette-cut diamond indexes and are secured on custom straps made from vintage WWII-era US Military tent and duffel bag canvas.
Purnell has engraved the uppermost right barrel – one of four powering the watch – with a quote from Thomas Edison reading "time is really the only capital that any human being has and the thing that he can least afford to waste or lose" while the Readymade logo appears on the opposite barrel, crown, caseback and buckle.
The Purnell x Readymade Escape II pieces are available now via Purnell, priced CHF 455,000 (approximately $487,900 USD) for the Carbon model, CHF 460,000 (approximately $493,000 USD) for the WPM model and CHF 1.23M (approximately $1.31M USD) for the sapphire crystal model.
In other watch news, Greubel Forsey builds double balance movement into new convex case.
Source: Read Full Article