THE SHOPHOUSE Hong Kong has lent its space to London-based artist goldsmith Joy BC and photographer, Chris Rhodes' joint exhibit, POMODORO. Joy has worked with predominantly noble metal and other precious metals throughout her career. Her work is heavily inspired by ancient mythologies, allowing her to explore contemporary issues through a unique lens. With each hand-crafted artifact, the piece tells a story that begs audiences to reflect on the hidden meaning behind the still life.
Rhodes, a photographer who seeks to find the beauty in mundanity, often searches for the simplicity in his objects in natural light. When Joy's pieces found their way to Chris' objects of choice, the two artists saw a collaboration that not only enriched viewers' reflections of the solo pieces but, the amalgamation of the body of works offer a new way of observing and redefining classical art.
The exhibit focuses on the juxtaposition between Joy's pieces and Chris' photographs. HYPEBEAST dives further into the artistic intent behind the POMODORO exhibit in conversation with Joy and Chris below.
How did you both embark on this joint venture?
Joy: A few years ago, through a friend,I discovered Chris Rhodes' poetic work. Chris shot a piece of mine a while back for AnOther magazine. We had discussed for a long time wanting to develop some work together. So, when TSH asked me to do a show, I had the idea of exploring the 'still-life' as a genre and Chris was just the perfect match for that.
Chris: As Joy mentioned, I photographed some of her pieces for a magazine commission back in 2016 and I was very much taken by them. It was a rather large project I was shooting, but Joy's pieces lingered in my mind. We had discussed working together ever since. I had been working on a still life project on the subject of time and texture when Joy approached me about the exhibition. Our collaboration has evolved through this and I am very grateful. It is an inspiring way to develop one's practice.
Joy, take us through what POMODORO means to you. When creating your wearable art, 
how has ancient mythology influenced your exploration of contemporary issues?
Pomodoro means tomato in Italian — I am half Italian — and tomatoes are my absolute favorite thing to eat, but I also think they are really beautiful. Tomatoes may seem like an ordinary thing, but just 500 years ago they were imported from the Americas and displayed as curiosities. One of my most loved still-life paintings is Caravaggio's basket of fruit (1596). It is not ostentatious, rather, it is quite modest in its size and depicting everyday fruits which were available at the time. Some of the grapes, pear and fig were painted overripe with decay and wormholes. The painting was groundbreaking at the time. POMODORO calls into question and continues a centuries-long tradition of still life.
All of my works are loaded with narratives. From the myth of Medusa to the folklore of Yamanba. I am inspired by how there are often many threads that run parallel in global storytelling. The characters may change, but many of the issues, pleasures, fears and fantasies of our ancestors are not so dissimilar to what we desire and fear today. Then there is also research which I do based on science and nature and looking at facts that would seem like fiction. Did you know there is a turtle that survives from drinking the tears of turtles in the Amazon? I discovered this whilst researching tears.
The images Rhodes created are his iteration of some of these narratives, or an instinctual composition determined by various factors. Some may seem more surreal than others, but that is also up to the viewer to interpret the work how they wish. 1 of 2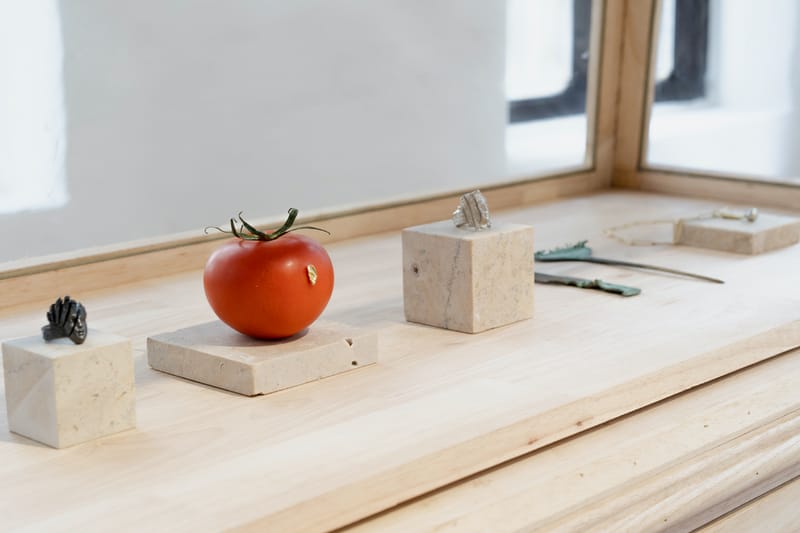 The Shophouse2 of 2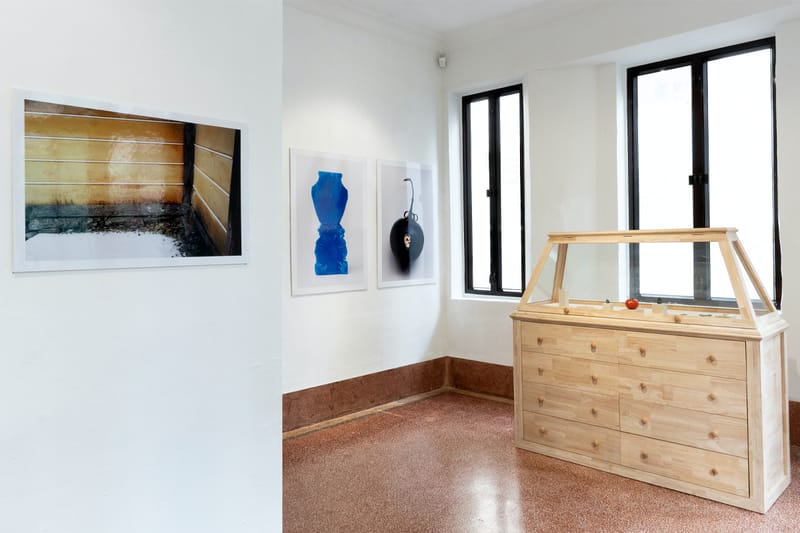 The Shophouse
Chris, what drew you to Joy's work? Your art often seeks to find beauty in mundanity, 
how does this hold true in the photographs presented in this exhibit?
As a still-life photographer, I found the pieces very satisfying to compose with. They are not just ornate jewelry, they are objects in their own right. They tell a story and have character. What also drew me to Joy's work was tactility. They are heavy and have immense detail. You can see the traces of her hands within the work. Like looking at a painting, you see the brush strokes. There is something honest in her pieces and I enjoy their figurative quality. I think it is this very humane aspect as well as the sense of an object that made me photographically relate.
How would you describe the amalgamation of Joy's jewels and your 
photography in this exhibit? What perspectives do you hope audiences will gain?
Chris: I photograph what feels natural, instinctive and real. There are certain things I am drawn to within my photography and themes and codes that you can find within my images, however, my work really stems from the subtleties of everyday moments rather than anything too epic or too grand. I don't conceptualize my images so much, but I am drawn to light and form, and it is something I could explore for hours on end. I hope the viewers appreciate these simple moments as much as I do.
How do Chris's photographs of your work aid in communicating your artistic 
intent? Which photograph is your favorite?
Joy: Chris has an understanding of light which I find profoundly beautiful. It also has something reminiscent of Italian baroque paintings in the chiaroscuro style. It doesn't shout 'look at me!' but rather draws you in and holds you there, suspending everything else that is going on around. I couldn't choose a favorite – there are so many I love for different reasons. There is an artistic understanding between myself and Rhodes which I can't put in words. But I am sure people can see it in the photographs. However, in my studio, I have the photograph of the candle with the Precious Tear ring hung on my wall. This is partly for the personal reasons that are very precious to me; symbolically it is holding an eternal light for my late friend Freya Murphey.
Chris, which one of Joy's pieces do you resonate with the most?
The Fragment ring. Its beauty struck me. It has such preciousness yet on the other hand roughness to it. It echoes my imagery.1 of 2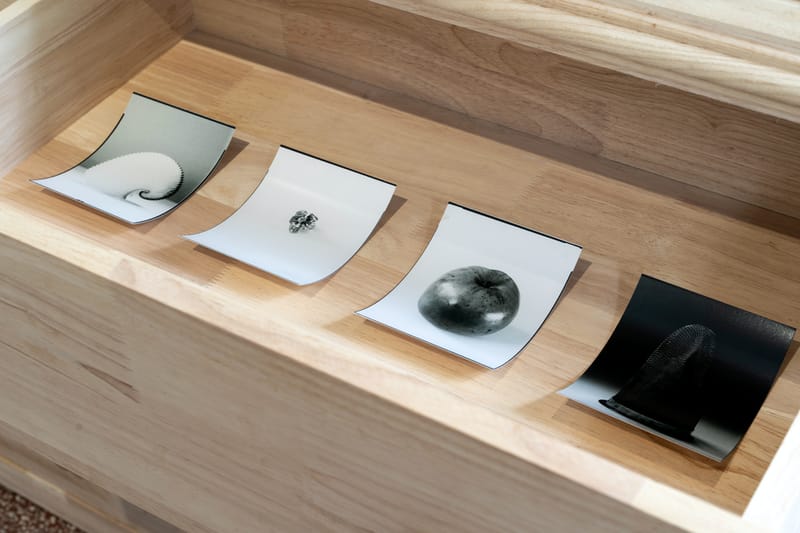 The Shophouse2 of 2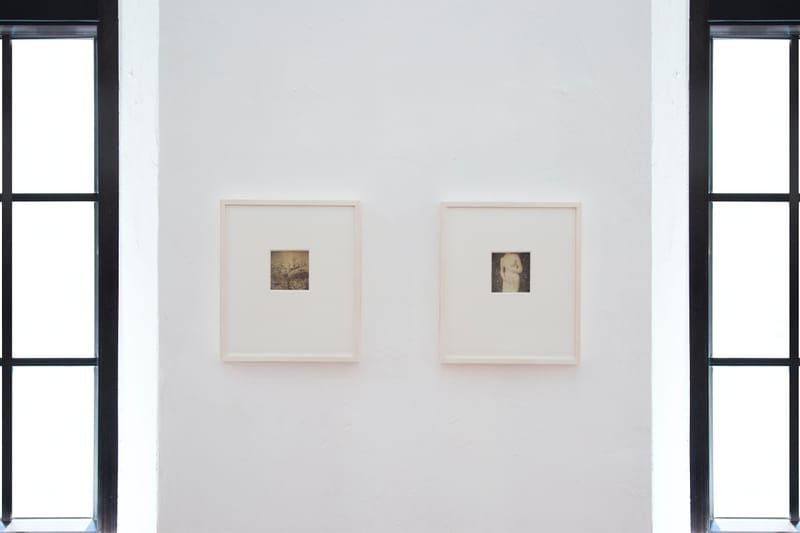 The Shophouse
The exhibit showcases the complexities of Joy's pieces through Chris's 
photography. Can you dive deeper into the social commentaries that are fortified 
throughout the exhibit?
Joy: We are constantly bombarded with digital images. Whether that is on social feeds, television, shop fronts, billboards – you name it – we are predominantly a visual culture. But in all that visual noise – something fundamental is lost. We have often become numb to the deeper contexts and don't give things enough time. Both myself and Rhodes believe in the slow methods and doing things a certain way. This exhibition presents real printed photographs, bronze object d'arts and wearable artworks. All my pieces are handmade – nothing is CAD (computer-assisted design) which is what is used for the most part within the Jewellery industry. The works are lovingly and painstakingly made with the utmost care and attention to detail. If you hold and touch the pieces you will also feel the quality and the weight they have which gives them an unmistakable presence.
The black and white still-life images are one of a kind that are hand developed — for example, the "cure di bua," which translates as "heart of the buffalo" tomato. The real human touch is throughout this exhibition. I encourage those reading this to go see it in person. Don't just look at it through a screen. Go ask to try one of the pieces on, and get really close to the photographs. If we could be there in person, we would be. In an age where digital communications have taken precedence, make sure you take time to be present in real life.
What do you hope to explore next in your individual works?
Joy: I am currently researching the Female Japanese divers Ama-san. I am a swimmer myself and have always found a calling from the sea. I am so in awe of how long these women can hold their breath for and the physical endurance it requires. There are woodblock prints dating back to the Edo period which I have been looking at and a photobook by Nakamura Yoshimizu. It is an important example of these incredible women. I am currently drawing and starting to carve forms based on their diving. The ama-san dived for all different bounty of the sea, including uni, seaweed and oysters. In their haul, they would sometimes find pearls. Mikimoto worked closely with the ama-san so that he could start experimenting with making the cultured pearl. The ama-san brought him all sorts of bi-valves to see which yielded the most beautiful pearls. So, cultured pearls originated from wild ones. This in itself I think is very loaded. This research will run deep. It can take me years to develop a work.
Chris: I have just returned from a photography trip to Ireland, a country where I have a family history. I am moving away from the streets a little to consider the human history within our interiors. Especially English and Irish interiors, which are very particular. A lot of the induvial personality that was displayed within interiors in past seems to be slowly fading. I used to stay in traditional bed and breakfasts as I would enjoy to stay in people's homes and photograph them, within the last few years there seem to be less and less as generations move on and perhaps consumption moves in.
POMODORO runs from August 25 to October 3, 2021 at THE SHOPHOUSE.
THE SHOPHOUSE Hong Kong
4 Second Lane
Tai Hang
Hong Kong
Source: Read Full Article