It's nice to have friends in high places and it's even nicer to have friends who are billionaire heiresses. Australian Olympian Ian Thorpe, who has been mourning the loss of his ex-partner Ryan Channing, joined friend Francesca Packer for a trip to Bora Bora aboard the family yacht, the Arctic P.
Ian Thorpe gave his social media followers a peek at his island getaway.Credit:Instagram
Emerald City can reveal Francesca's BFF Stew Bergs, Todd Aitken and Adam Beydoun were also on board, rallying around the five-time gold medallist aboard the 88-metre floating palace.
The group appeared to lap up island life with plenty of swimming, sunbathing and long lunching. Double Bay royalty and Palmer and Penn boutique owners Josh Penn and Ben Palmer, who were also holidaying in French Polynesia, swung by the Arctic P to join in the gigayacht fun.
While most of the group returned to Sydney and Thorpe travelled on to Hungary to attend the 2022 FINA World Aquatics Championships, the holiday was just getting started for the hostess. The 26-year-old heiress, who is usually based in London, was spied back in Sydney before she joined her mum Gretel Packer for her European summer sojourn. Emerald City understands the mother and daughter have jetted off to Italy and will set sail on the Arctic P, which was docked in Sardinia. Meanwhile, a freshly cashed-up James Packer will sail away for his European summer on the Mediterranean with his $200 million runabout IJE.
Detox queen accused of child sex abuse linked to rag trader
Double Bay naturopath Savannah Daisley, known for her detox company Smart Cleanse, faced Waverley Local Court last week where she was charged with four counts of having sexual intercourse with a 14-year-old child.
Double Bay naturopath Savannah Daisley grew up in the high society world of horse racing and went on to become a beloved detox queen.Credit:internet
The 45-year-old was arrested on May 20 last year. She was denied bail last week and will remain behind bars for at least six weeks accused of aggravated sexual assault of a child. The alleged victim was aged between 14 and 16, court documents show.
Police have also taken an interim apprehended violence order out against Daisley on behalf of the alleged victim. Daisley has strenuously denied the allegations and intends to plead not guilty. She will be held on remand at Silverwater Women's Correctional Centre until her matter is mentioned in Manly Court on August 23.
The mother-of-two is the daughter of horse trainer Ross Daisley and no stranger to mingling with Sydney elite, having rung in the New Year with Wassim Gazal – one half of rag trade group Hotsprings, which co-owns the P.E. Nation and Rebecca Valance labels.
Her Smart Cleanse detox kit – a 14-day dairy-free, organic and alkaline diet that costs $199.99 – is stocked at major retailer Priceline and Mr Vitamin. Last month the vocal influencer shared her struggles with alcohol use on her Instagram page. "223 DAYS ALCOHOL FREE". The post continued: "For those of you who know how tough it is to stop, I've been there. But stopping and letting go has been one of the best, most uplifting decisions I have ever made". However, by Friday morning, her social media accounts were no longer accessible.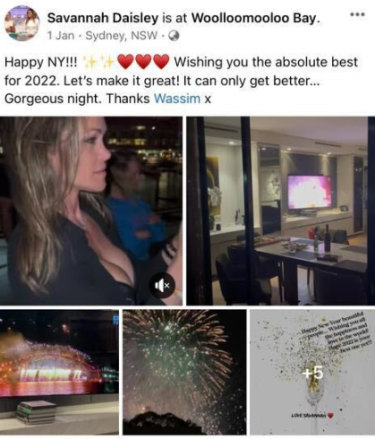 Savannah Daisley rang in the New Year with hotsprings co-founder Wassim Gazal.Credit:Facebook
Celebrity chefs gone fishing
Against a backdrop of rising produce prices, a flooded restaurant, venue renovations and television commitments, celebrity chef and cookbook author Matt Moran managed to host Sydney media to his North Bondi Fish restaurant to launch a winter collaboration with Kepos Street Kitchen and its award-winning chef, Michael Rantissi.
Matt Moran will join Hells Kitchen star and celebrity chef Gordon Ramsay on an Icelandic fishing trip.Credit:
Now due for a holiday, the celebrated restaurateur won't be leaving Sydney to escape the cold snap, instead he will join seven-time Michelin star chef Gordon Ramsay for a fishing trip to Iceland.
The pair are understood to be travelling with a number of international mates who will fly into the Nordic island nation aboard Ramsay's private jet.
Like Ramsay, Moran has done his fair share of reality cooking shows including Family Food Fight, My Kitchen Rules, and, until recently, The Great Australian Bake Off.
Emerald City understands the 53-year-old and fellow host and chef Maggie Beer have parted ways with the Foxtel series after six seasons.
However, fans of the famed chef can look forward to seeing him on screen in the future, having recently filmed episodes for a cameo on The Block currently in production in Victoria.
Most Viewed in Culture
From our partners
Source: Read Full Article