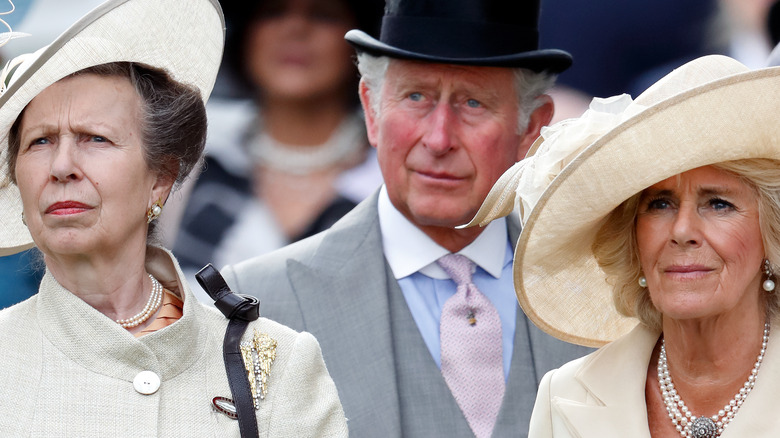 The royal family all but demands attention. Their lives — both private and public — are of massive intrigue, and while they spend copious amounts of energy on maintaining their squeaky clean personal images, they've all been dealt their fair share of drama. One such dynamic that absolutely oozes attention is the relationship between Princess Anne — Queen Elizabeth's only daughter — and Camilla Parker-Bowles. Camilla married Prince Charles, the heir to the throne, in 2005, but her relationship with Anne goes back way farther than that. So how did these two meet? What did their early lives consist of?
For anyone remotely aware of royal ins and outs, it's most likely already known that Camilla ran with the royal crowd from a young age. She was a London debutante back in the 1960s, and given her close proximity with the city's social scene, she brushed elbows with the royals at polo matches and other high-class events. She met Charles in 1970, through Anne we might add, and the rest is history.
But, for two women who are at the core of the royal family, Camilla and Anne have had their fair share of ups and downs. This is the truth about Princess Anne's relationship with Camilla Parker-Bowles.
Camilla Parker-Bowles and Prince Charles met through Princess Anne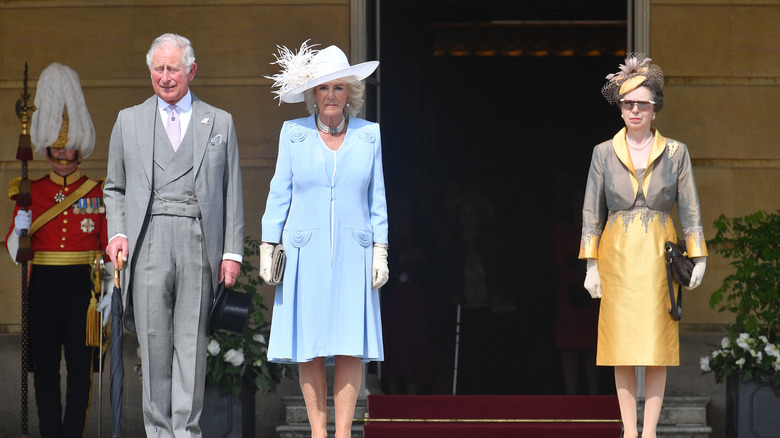 There's nothing better than meeting a potential significant other through mutual friends, or is there? As noted by Express, Camilla Parker-Bowles met her future husband, Prince Charles, through Princess Anne — the situation, however, was not as peachy as it seems. Royal author Penny Junor told Express that it was through Anne's relationship with Andrew Parker-Bowles that Camilla and Charles met, and, thus, their "little fling" began.
We'll get into Anne's relationship with Andrew in a bit, but what did the initial melting pot between the royals and both Parker-Bowles look like? As noted by Town & Country, Camilla and Charles met at a polo match (surprise, surprise) in 1970, and Camilla was quick with her remarks. She reportedly said, "My great-grandmother was the mistress of your great-great-grandfather. I feel we have something in common." Yes, she was that bold. Of course, Anne was involved with Andrew at the time, and Charles left soon after for his Royal Navy service. When he came back, Camilla was engaged to Andrew, which undoubtedly left both the prince and princess rather snubbed.
Princess Anne was not particularly welcoming to Camilla Parker-Bowles or to Diana Spencer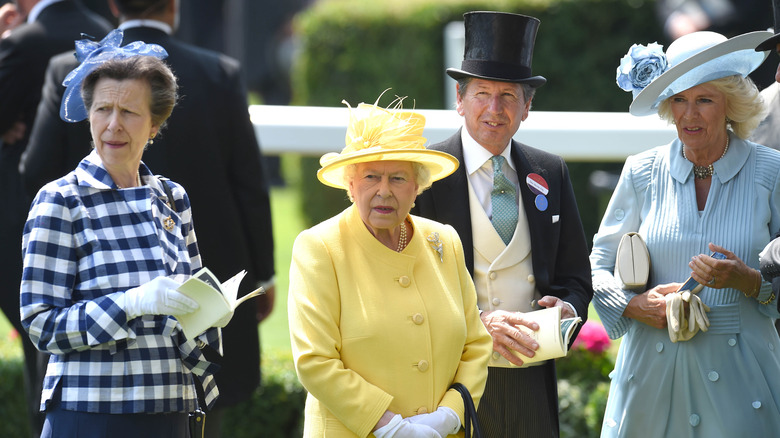 When Camilla Parker-Bowles and Prince Charles married in 2005, Princess Anne reportedly gave Camilla the cold shoulder. It should be noted that a number of the royals weren't thrilled about the nuptials, and Queen Elizabeth didn't even attend the ceremony. Body language expert Judi James told Express that after their wedding, members of the royal family looked less than enthused about the new couple. "At the poses after their wedding the Queen and Philip stood back and away from the couple on the steps, which prevented any happy family photographs being taken and it looks very much as though Anne is equally unwilling to look anything more than frosty here, too," James said. 
Not exactly a warm welcome, but it should be noted that Anne was rather standoffish to Princess Diana Spencer, too. As noted by E! News, Anne "had no time for Diana" and often found her relationship with the media irritating. Anne reportedly had (and still has) a "much more traditional approach to monarchy and royal duty," which could explain her frosty behavior to Diana and her less-than-welcoming behavior toward Camilla.
Does Princess Anne have to curtsy to Camilla Parker-Bowles?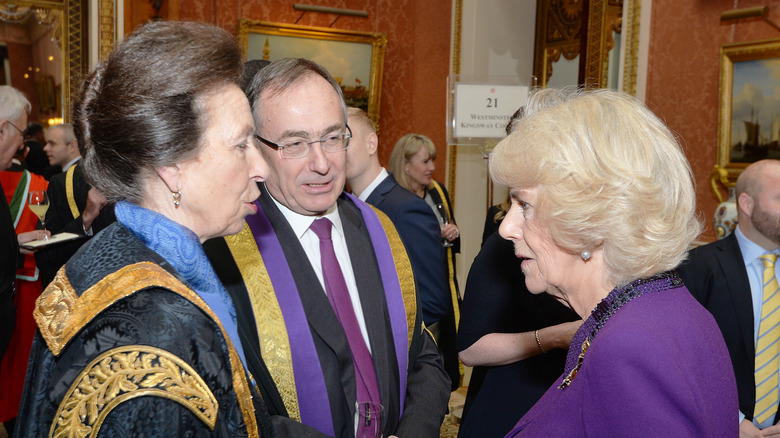 There are a lot of rules, stipulations, and protocols that have to be followed by the royals, and it becomes even more confusing when the idea of succession comes into view. We all know that Prince Charles is the heir, but where does that leave Camilla Parker-Bowles? After all, she is married to him, so when he becomes king, will she become queen? Will Princess Anne have to curtsy to her? It's hard to say.
As noted by The Telegraph, Queen Elizabeth altered the Order of Precedence "on blood principles," meaning that because Camilla is not a royal by blood, she will never be able to demand a curtsy from either Anne or Princess Alexandra when Charles is not around. Did Elizabeth change this rule intentionally with Camilla in mind? It's difficult to say, but the two have had a rather contentious relationship in the past, so nothing is off the table. As far as Camilla's title and rank over Anne is concerned, her son, Tom Parker-Bowles, shed some light on the situation. "I honestly don't know if Mum will be called queen. That hasn't been decided," he told The Times.
Princess Anne was initially involved with Camilla Parker-Bowles' husband in the early 1970s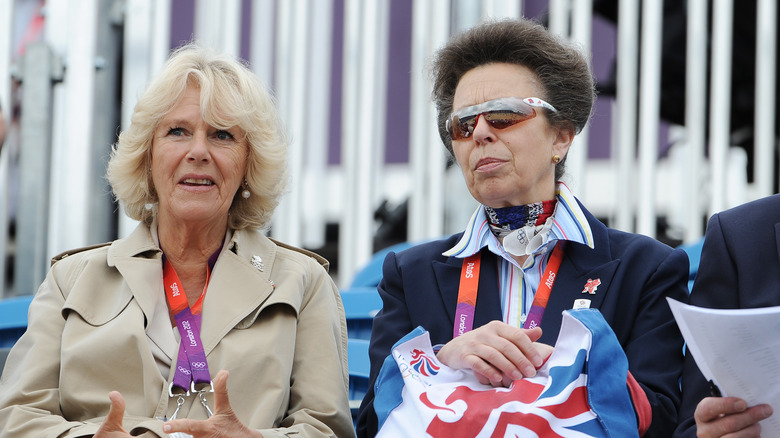 Camilla Parker-Bowles and Princess Anne haven't had the easiest relationship, and that could be thanks to their involvement with the same man. Sally Bedell Smith, Prince Charles' biographer, told Town & Country that Anne and Andrew Parker-Bowles were romantically involved in the 1970s. The two were reportedly quite taken with each other, but the royal family put their foot down when the idea of marriage came into play. Why? Andrew was Catholic, and, as a member of the Church of England, Anne wasn't allowed to marry him. That's not to say that their relationship dwindled, but Andrew did meet Camilla and he popped the question.
As noted by Independent, Andrew and Camilla were married on July 4, 1973 at the Guards Chapel, and their reception was held at St. James's Palace. A number of royals were in attendance, including the Queen Mother, Princess Margaret, and, you guessed it, Anne. Was there a twinge of jealousy? No one will really ever know, but given the speedy timeline of Andrew and Camilla's relationship — and the hastiness of it following the romance between Andrew and Anne — it's hard not to jump to conclusions.
Things were reportedly very cold between Anne and Camilla after she married Prince Charles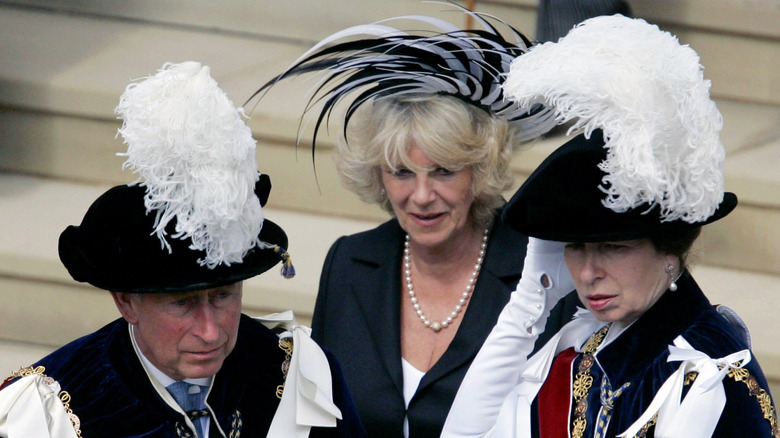 Princess Anne was not particularly welcoming to either Diana Spencer or Camilla Parker-Bowles, as aforementioned, but how much of that did Camilla clue into? According to royal author Penny Junor, Camilla was well aware of Anne's cold demeanor and was rather "intimidated" by the princess for years following her marriage to Prince Charles. As noted by The News, "Anne's chilly conduct was extremely nerve-racking for Camilla," in part because issues from the past had not yet been resolved.
Nothing complicates matters more than romance, and from when Junor assessed, Anne took some time to warm up to the idea of having the woman who married one of her loves around. "The affair between Andrew and Anne came to nothing but I think they were hugely fond of each other. And they remain hugely fond of each other. And I think Camilla has always had a bit of a problem with that, partly because of the affair," Junor said. She continued by saying that Anne has been known for her "abrasive" demeanor, and given the personal history between the women, Camilla has appeared to be intimidated by her for quite some time.
This expert asserted that Camilla Parker-Bowles is insecure around Princess Anne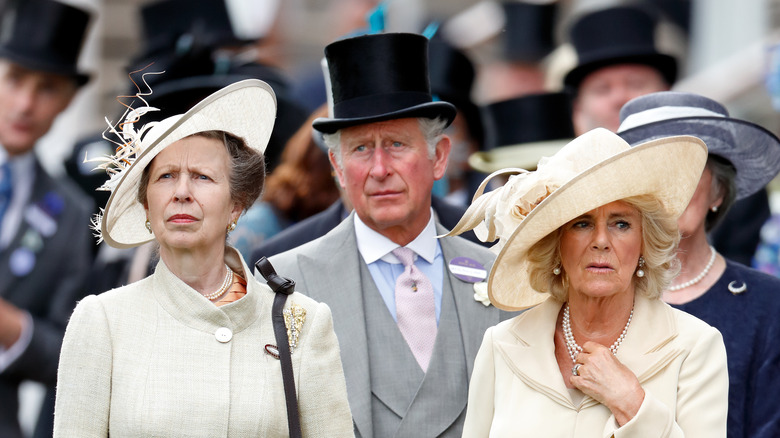 Camilla Parker-Bowles might be married to the heir to the British throne, but it certainly seems as though Princess Anne — who is 15th in line to the throne — has the upper hand. As noted by Express, Anne started her life as a working royal at the young age of 18, so her responsibilities have been a consistent component of her life. Camilla only formally joined the royal family in 2005, so even on the very basic level of timing, Anne runs circles around her. This is fairly obvious based on the dynamic between the two, and body language expert Darren Stanton told Express that Camilla's insecurity around Anne is very obvious, even to this day.
Commenting on Anne's "strong" presence, Stanton said that the daughter of Queen Elizabeth is by far the "dominant character" between her and Camilla, and it's clear that her unwavering persona has rocked Camilla's confidence. Also bringing in Sophie, Countess of Wessex, into the picture, Stanton asserted that while Anne and Sophie can carry their own, Camilla still suffers from "insecurity." While all pictured together, it is painstakingly clear that Anne has the upper hand.
Camilla Parker-Bowles was said to have done this to get back at her husband and Princess Anne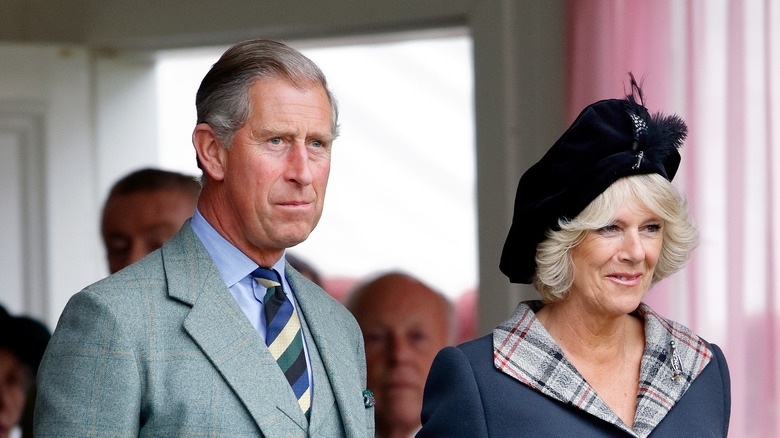 We all know the famous cheating scandal that rocked the royal family, but what if we told you that Camilla Parker-Bowles set her sights on Prince Charles because of Princess Anne? Leading royal biographer Penny Junor asserted that Camilla got with Charles in order to spite her then-boyfriend, Andrew Parker-Bowles, who was, by all accounts, still romantically attached to Anne. It was allegedly a "tit-for-tat" situation, according to The News, and if it hadn't been for Andrew's infidelity, Camilla might have never pursued a relationship with Charles.
While speaking at the Henley Literary Festival, Junor asserted that Camilla was "passionately in love" with Andrew, but his romance with Anne and other women pushed her over the edge, as noted by the Daily Mail. Camilla reportedly caught Andrew cheating, slashed his tires, and wrote a message to him on his car in lipstick. She then reportedly set her gaze on Charles, and the rest is history. "When she was introduced to Charles … she thought 'Andrew is at the moment off with Princess Anne, you know her brother, teach Andrew a lesson.' So she had a fling with Charles," Junor said. Talk about drama.
Camilla Parker-Bowles' ex is the godfather of Princess Anne's daughter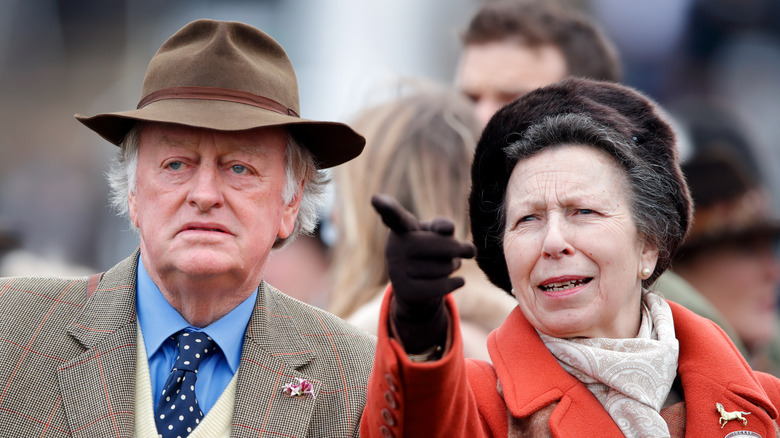 You'd think that if you had a rather taboo relationship — in this case, Princess Anne and Andrew Parker-Bowles — you'd do everything you could to distance yourself from it. But, despite the drama and the presence of Camilla Parker-Bowles in the royal family, Anne is still very close to Andrew. In fact, as noted by Harper's Bazaar, Andrew is the godfather of Zara Phillips, Anne's daughter. And to make matters even more weird, Prince Charles is the godfather of Tom Parker-Bowles, Camilla and Andrew's son. We'll give you a minute to sit with this information, because there's a lot of inter-family dynamics going on.
So, what is it with Andrew that has him so enwrapped in Anne's life, as well as his ex's? Harper's Bazaar noted that Andrew had a very close relationship with the royals since childhood, as his father was a good friend of the Queen Mother's. Andrew was even a page boy at Queen Elizabeth's 1953 coronation. By all means, the relationship between Camilla and Anne has yet another layer of complication to it, as there are a lot of exes, a lot of history, and a lot of drama to afford.
Questions about the monarchy's future revolve around Camilla Parker-Bowles and Princess Anne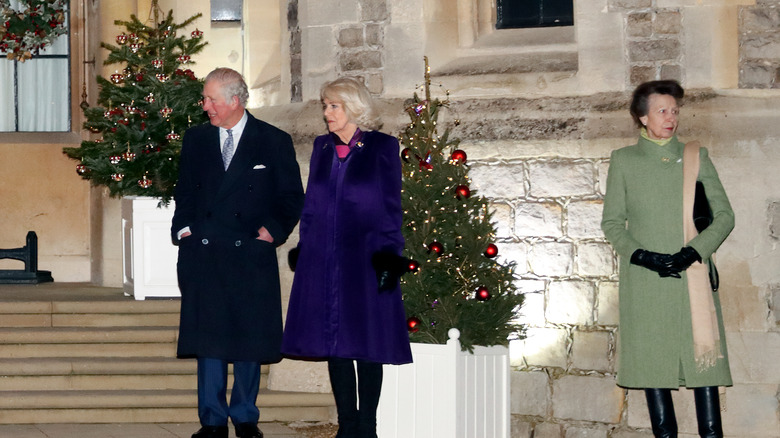 Prince Harry and Meghan Markle have been in the news a lot lately, in part because their future within the royal family is up in the air. Prince Charles, who is all but acting as king even though he's not technically on the throne yet, has taken the steps to shrink the size of the royal family, and while Harry and Meghan are almost certainly on the outs, questions about the monarchy and Camilla Parker-Bowles' influence are arising — and Princess Anne reportedly has something to say about it. 
A royal insider told New Idea that, "Anne has always found Camilla opportunistic and, with her and Prince Charles' roles being widened in 2021, she's really throwing her weight around." The insider continued by sharing that Anne has gotten frustrated with the dynamic, as she "rarely gets any alone time with her brother" to share her thoughts. It was also reported that Camilla wants Anne to simply let go of any past resentments toward her, but that the princess is still holding on to rooted grudges. Time will tell how Camilla will help shape the future of the monarchy and where Anne will fit into it.
Princess Anne and Camilla Parker-Bowles have this mutual goal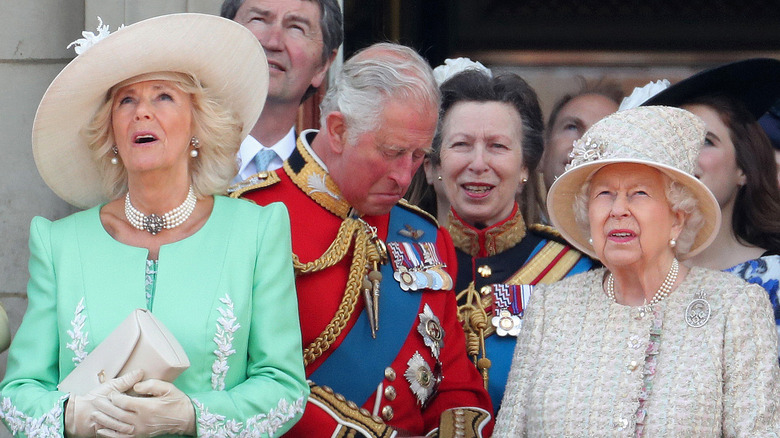 It's clear that there is some very historically-rooted tension between Princess Anne and Camilla Parker-Bowles, but, according to body language expert Judi James, they may have come to a place of understanding, as they are both trying to support and maintain the monarchy. In the wake of Prince Philip's death, the already assertive Prince Charles once again stepped up to the plate, bringing his wife and sister along with him. James told Express that while "the relationship between Anne and Camilla might have been difficult," they appear to be making strides toward understanding. "Senior royals do [seem] to have closed ranks around the Queen recently, creating an elite squad of Charles, Camilla and Anne, Kate and William and Edward and Sophie," James said. 
James further explained that there will most likely always be distance between Camilla and Anne, as well as between Anne and Charles, but all of them have seemingly put aside their differences in order to get the job done, as it were. "They are beginning to look as though shared goals in terms of their … desire to sustain the image of the royal firm have brought them closer together," James said.
Princess Anne reportedly paved the way for Camilla and Charles to get married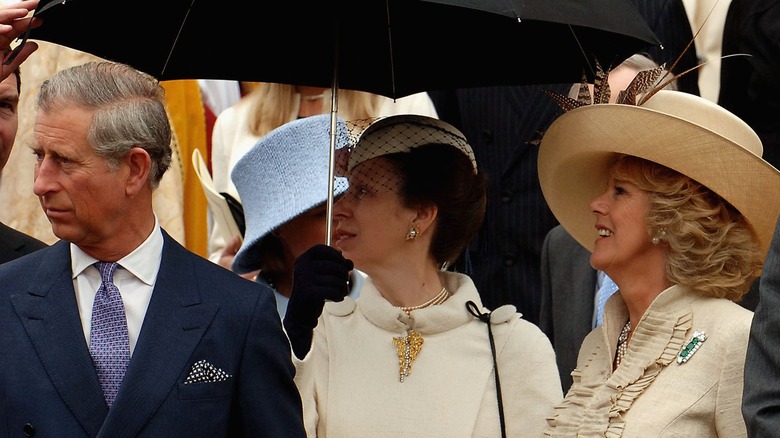 Romantic relationships have seemingly put Princess Anne and Camilla Parker-Bowles at odds, but the princess undoubtedly helped Camilla and Prince Charles when it came to asserting their relationship. As asserted by Express, Anne was the first royal to not only divorce her spouse, but then to marry the man she had an affair with. Here are the details. While married to Mark Phillips, Anne cheated on him with Timothy Lawrence. She subsequently filed for divorce from Phillips in 1992, and, very soon after, got married to Lawrence. 
This by no means was a traditional thing to ever happen in the otherwise morally upright royal family, but it's very safe to say that her trailblazing ways helped Camilla out enormously. Camilla was famously Charles' mistress, as the two maintained their relationship throughout Charles' marriage to Diana Spencer. After divorcing Diana and navigating her tragic death, Charles married Camilla in 2005. It's safe to say that, without Anne, Camilla would have had no precedent to rely on when it came to marrying the man she loved. So while these two have certainly had their ups and downs, they have helped each other in a way.
Princess Anne and Camilla Parker-Bowles have shared some lighthearted moments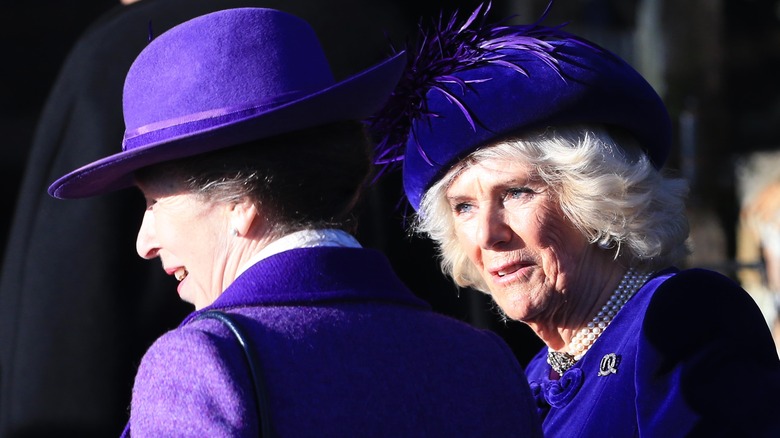 For all the history, all the drama, all the awkward moments, and all the tense body language, Camilla Parker-Bowles and Princess Anne have fortunately been able to share some lighthearted moments. As noted by Express, both Camilla and Anne attended the royal family Christmas Day church service in 2019, and, by coincidence, had both chosen to wear very striking purple outfits. Anne reportedly approached the church's entrance and joined Camilla, who very quickly noticed that they both were dressed in the same bold color. "Camilla pointed this out with a fun, elbowing gesture aimed at Anne and the two women laughed together," expert Judi James noted. 
James also pointed to the fact that observing a jovial Anne in public is a rare occasion. "With any other royal but Anne this might have been unimportant," James said, but the moment allowed for a rather pleasant interaction between the two women. Time will tell just how things progress between Camilla and Anne, especially after Charles becomes king, but, for all their history together, these two seem to have one thing in mind: the future and stability of the monarchy.
Source: Read Full Article