It's hardly been a secret that Kanye West and Kim Kardashian weren't on the best terms for a while before Kim called time on their seven-year marriage. In the weeks and months before it was confirmed in February that Kim had filed for divorce from the father of her four children, the two were hit with multiple rumors suggesting their marriage was very much on the rocks.
An insider claimed to Page Six in January that Kim was "done" with their marriage and suggested West, in turn, was "completely over the entire family" and supposedly wanted "nothing to do with them" anymore.
E! also reported that month that things were all but over for the famous parents, claiming that "he's focusing on his world and she is focusing on her world" and that "Kim wants to feel at peace going into this new chapter of her life and is focused on herself and her children." The insider also denied that there was any drama between the twosome, adding, "Kim and Kanye have no bad blood and they are very cordial."
But now a report is apparently revealing more about what really went on in the couple's marriage — and it includes some bombshell cheating rumors. Did West really cheat on Kim? Read on for what we know about these shocking allegations.
Kanye West appeared to allude to cheating on Kim Kardashian in his music
According to a September report, Kanye West may have allegedly cheated on Kim Kardashian while they were married. At least that's what sources are telling Page Six. The outlet claimed that West's supposed unfaithfulness was the inspiration for the song "Hurricane" on his much-anticipated first album since their split, "Donda."
The site claimed that the rapper apparently strayed sometime after their first two children, North and Saint, were born (so after December 2015 but before January 2018) and alleged that the track "is in a way his testimony of everything he did wrong and taking accountability for their marriage breakdown." They added that West is supposedly "referring to his infidelity during his marriage with Kim."
Some particularly telling lyrics include, "Here I go actin' too rich/Here I go with a new chick/And I know what the truth is/Still playin' after two kids/It's a lot to digest when your life always movin'." However, if the rapper really did step out on Kim, it doesn't appear have been the reason she called time on their marriage. The couple went on to have two more children, Chicago in 2018 and Psalm in 2019, and stayed married for years after.
Notably, Kim has also supported West amid the release of his album, "Donda." Kim even made a surprise appearance in Chicago in August when she appeared on stage alongside him in a white wedding dress and veil.
Kim Kardashian and Kanye West have been hit with cheating rumors multiple times before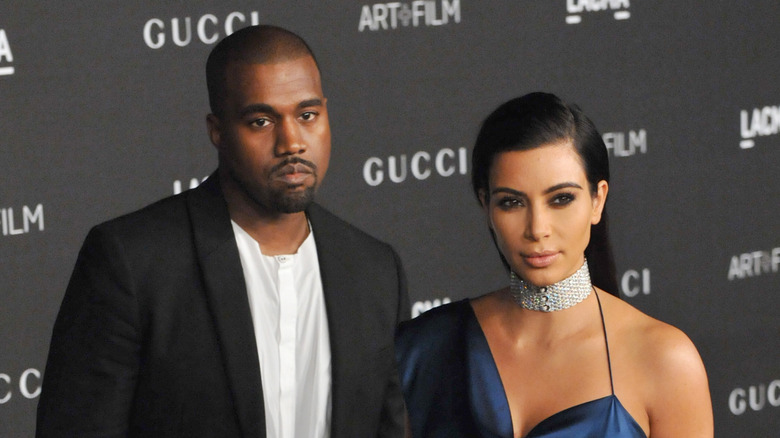 The latest round of cheating allegations aren't the first time Kim Kardashian and Kanye West have been accused of not being faithful in their marriage.
In August 2018, an unverified Twitter thread went viral suggesting Kim may have had a romantic relationship with Drake. West called out the rumors and his fellow rapper in a since deleted Instagram post. He wrote (via Rolling Stone), "The fact that it's people making rumors or thinking that you f**ked my wife and you not saying nothing and you carrying it like that. That don't sit well with my spirit." Kim also chimed in, hitting back on Twitter, "@drake Never threaten my husband or our family. He paved the way for there to be a Drake."
Teyana Taylor was even dragged into the couple's marriage in 2018 after Mirror alleged the former "Keeping Up with the Kardashians" star was supposedly "concerned about her [husband's] friendship" with the married star and claimed it was "causing mounting tension." However, Suggest's Gossip Cop shut down all that speculation, claiming the report was an "untruthful picture that doesn't match reality."
The internet also went wild in January after a bizarre rumor went viral claiming West had allegedly had an affair with YouTuber and makeup mogul Jeffree Star. Star denied the claims multiple times, including in a YouTube video where he called the rumor "the dumbest s**t I think I've ever read my entire life."
Source: Read Full Article