Taylor Swift is the queen of breakup songs. No matter what you are feeling — sadness, anger, confusion — Swift has a song that will put what you're feeling into words. You can cry to some of them, like "Last Kiss," or you can relish in others, like the pop-anthem breakup tune, "We Are Never Ever Getting Back Together."
While Swift sings for everyone all over the world, making them feel less alone after a split, Swift does not hold back when it comes to talking about her exes in her songs. In fact, some of her songs have been so obvious that fans were able to decipher the song's meaning and which ex Swift was singing about. For example, "Dear John" was pointedly about John Mayer, "Better Than Revenge" was supposedly about Joe Jonas, and "Back to December" was rumored to focus on "Twilight" heartthrob Taylor Lautner.
Yet, in 2012, when Taylor Swift released the feel-good, upbeat, breakup song, "We Are Never Ever Getting Back Together," fans had a more difficult time figuring out which relationship Swift was referencing. She never completely confirmed who the song is about, but with some digging, there is strong speculation that the lyrics describe one relationship in particular. Keep reading to find out who the song is about.
Here's what 'We Are Never Ever Getting Back Together' is really about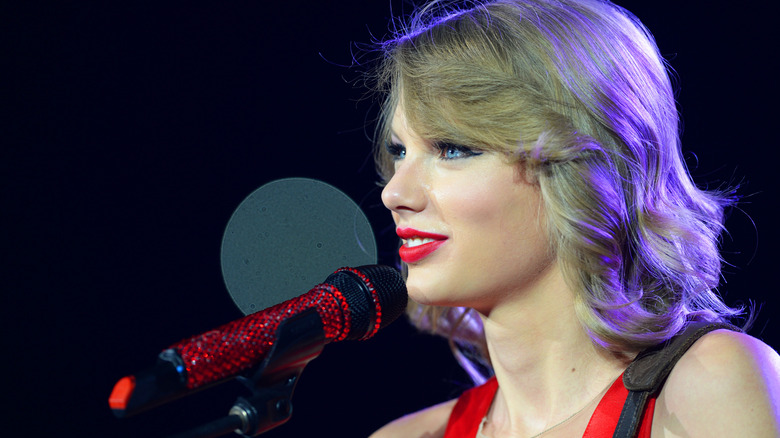 Taylor Swift was clearly pointed with the meaning of the song when she not-so-subtly assured she was not getting back together with her ex. But she was not as pointed with who "We Are Never Ever Getting Back Together" was about. In an interview at the 2012 iHeartRadio Music Festival (via Billboard), Swift never quite confirms who the song is about, but she does begin to talk about the origin of the song.
Swift explained, "We were in the studio and this guy walked in who was a friend of my ex's and he just started, he introduced himself and made some comment about how he heard I was going to get back together with my ex, and after he left I was talking about it … and I was just like we are never, ever, ever getting back together." She continued explaining she then picked up a guitar and began writing the song then and there.
Obviously, Swift never said who she wrote the song about, but there is strong speculation the song is about Jake Gyllenhaal. Yet, if Swift herself never confirmed the song being about Gyllenhaal, why are fans leaning towards that hypothesis?
Is the song really about Jake Gyllenhaal?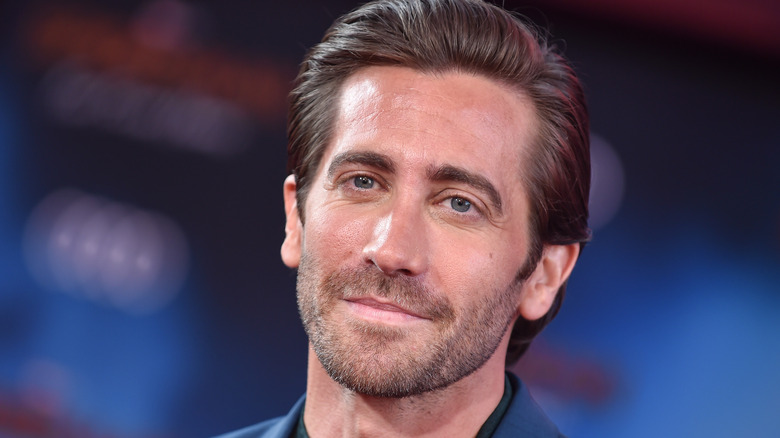 Here is where the Swiftie detectives come in. According to HuffPost, Taylor Swift's music video for "We Are Never Ever Getting Back Together" gives all the signs we need. In said music video, Swift's "boyfriend" wears a navy blue puffer vest, which is extremely similar to one Jake Gyllenhaal wore on one of his dates with Swift.
The clues do not stop there, though. During the video, her on-camera boyfriend puts a scarf around her neck. Fans claim this scarf is a replica from the time Swift was photographed wearing Gyllenhaal's scarf. And one of the more important clues is that Swift and Gyllenhaal did have an on-again, off-again relationship. According to HuffPost, the two broke up in January 2011, before cozying up again a few days later in Nashville. Overall, she and Gyllenhaal were together for only three seemingly tumultuous months, when she was 21 and he was 30 (via Capital FM).
Whether the song was really about Gyllenhaal or not remains up for debate. But what doesn't is the meaning because, if you didn't catch it the first time, they are never, ever getting back together. As Swift told Rolling Stone, "It was sort of a metaphor for how messy a real break up is."
Source: Read Full Article