1. Millie Bobbie Brown (Eleven) said that the hardest scene to film during Season 3 was at the end of Episode 8 when she confronts Billy. She had to be extremely emotional in such close proximity to him since he had her pinned down.
2. Dacre Montgomery (Billy) said they both lost their voices at the end of shooting that scene because of all the screaming they had to do.
3. Dacre also said that scene was technically hard to shoot because both actors wanted to give it their all, but he also didn't want to crush Millie with his weight.
4. Millie had to learn how to throw herself backwards in order to capture the scene where she infiltrates Billy's memories, which made her nauseous.
5. Dacre is a method actor, so he would always walk around set looking intimidating and evil, according to Millie.
6. Dacre actually nailed his American accent (he's Australian) when studying at drama school, and he had a podcast he'd listen to that helped him perfect it.
7. Millie and Sadie Sink (Max) have an off-screen friendship as well as an on-screen friendship.
8. During one of the final scenes, we hear Hopper's letter to Eleven. Millie said they'd actually pre-recorded David Harbour (Hopper) reading it, but she didn't want to rehearse or hear it at all. So her reaction is based on her raw emotions while hearing it.
9. The hospital scene took two nights to shoot.
10. Natalia Dyer and Charlie Heaton (Nancy and Jonathan) are actually dating in real life.
11. Natalia (Nancy) said the flats she wore while running around the hospital were really hard to run in.
12. The scene where Charlie (Jonathan) breaks the vase over Tom's head in the hospital was practiced many times with breakaway glass — which is easier and safer to use for filming.
13. The woman who stunt doubles for Natalia also doubles for Millie.
14. Natalie said while filming, all the flickering lights in the hospital made her nauseous after a while.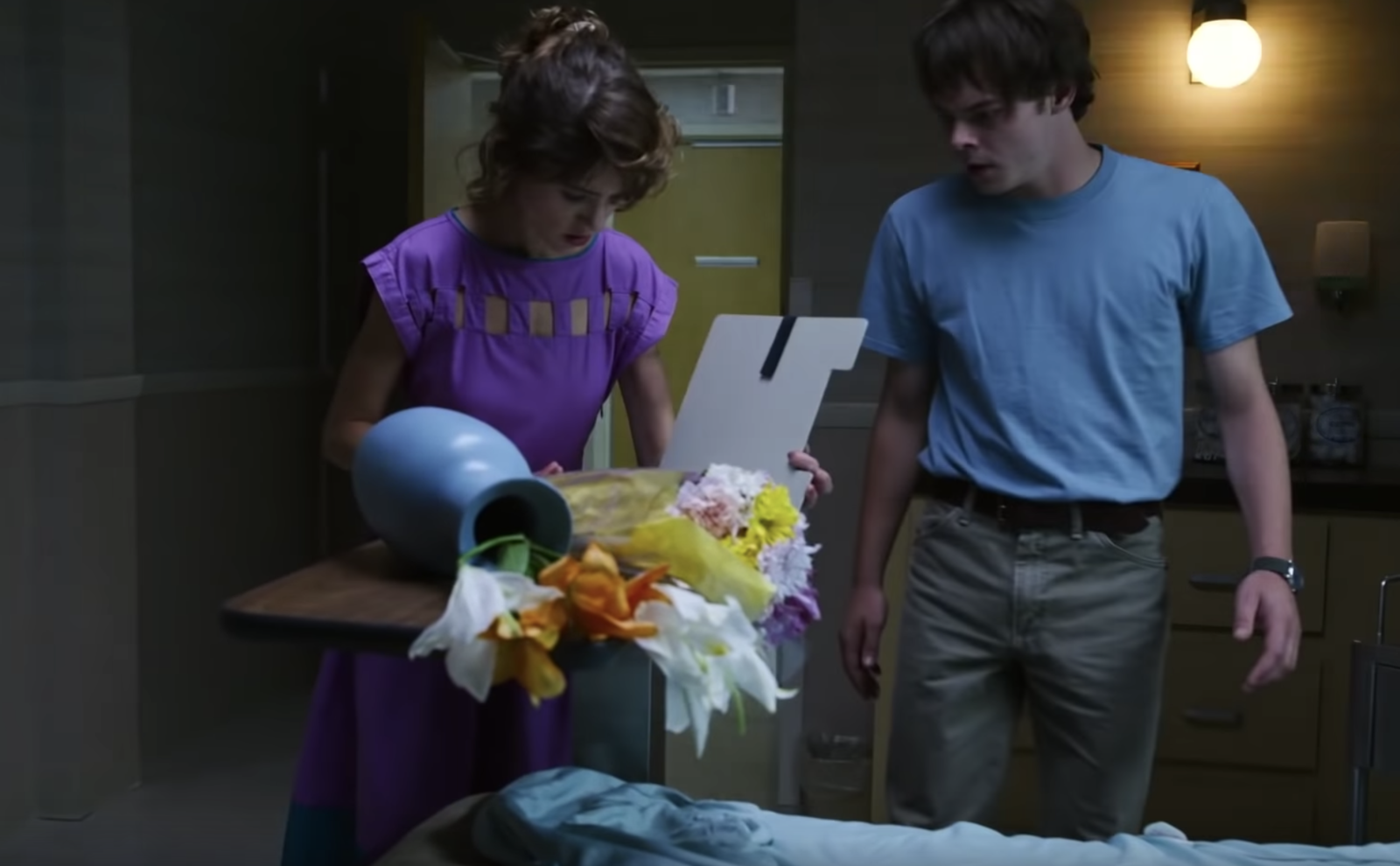 15. Joe Keery, (Steve) Maya Hawke, (Robin) Gaton Matarazzo, (Dustin) and Priah Ferguson (Erica) all had a very good time together on set — and everyone always showed up on time.
16. Millie said that the blood that comes out of Eleven's nose isn't usually CGI (only when they're in a rush). It's actually a fake blood formula that took a while to perfect, and she injects it up her nose before they begin filming.
17. Even though Joe and Maya spent the whole season shooting in their Scoops Ahoy uniform, Maya said there's actually a few versions of the same costume.
18. When Joe was initially reading his scripts, he kept thinking to himself that surely at some point he would change clothes.
19. Eventually, when he was in his trailer on his first day, he put on the uniform and thought, "Oh, Jesus, am I ready for a billion people to see me in this dinky sailor uniform?" But it grew on him!
20. If you're wondering about all the '80s products and props you saw, Joe said that they bought a lot from sellers on eBay.
21. The voices from the actors you heard coming through the Walkie Talkies were done in post. They actually didn't speak the lines through them while filming, and someone off set would read the parts that would come through the Walkie Talkie.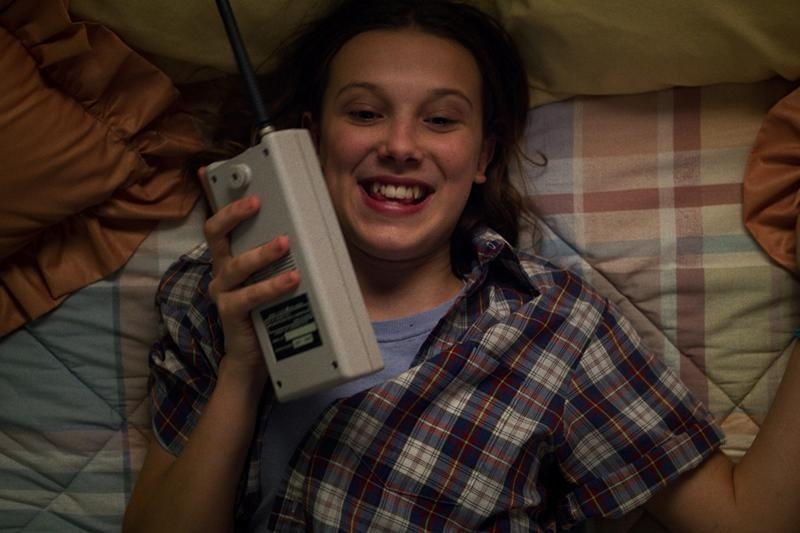 22. To help the actors get into an emotional or terrified headspace, the Duffer Brothers said that sometimes they play music that fits the mood.
23. The Starcourt Mall is actually a real, working mall. The show bought a piece of the mall to redo for filming.
24. People were also shopping in areas that weren't roped off while they were filming certain scenes.
25. On set, the kids started sliding down the space between the escalators at the mall, and the production team wasn't thrilled about it.
26. Millie said she's stolen socks from the Stranger Things set, while Noah Schnapp (Will) stole underwear.
27. Millie also said that her kissing scenes with Finn Wolfhard (Mike) came easily since they both felt like they were in a comfortable and safe environment.
28. They both added that there wasn't anything awkward about shooting those kissing scenes, either!
29. Millie always cries when a Stranger Things season wraps because she loves being on set and getting into her character so much.
30. Some of the lines Mike says to Eleven in the grocery store scene were improvised by Finn, who says he loves playing up the funny, awkward side of Mike.
31. Winona Ryder (Joyce Byers) was really happy to have a majority of her scenes with David (Hopper), but she did miss working with the kids.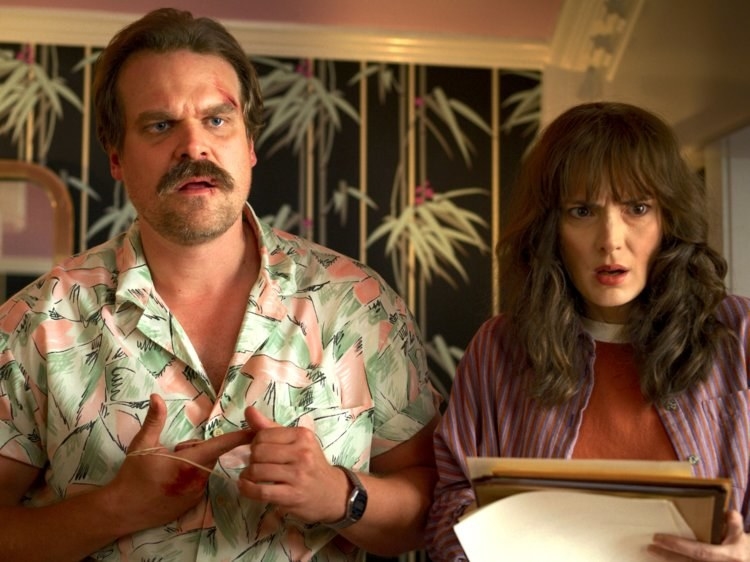 32. The sauna scene with the kids and Dacre (Billy) was shot over a week.
33. Dacre said that he was in the hair and makeup chair for about five hours every day in order to shoot some of his scenes as Billy.
34. Dacre also wears a wig when he plays Billy, in case you thought he got a perm.
35. Joe Keery (Steve) said that it was incredibly easy to work with Maya Hawke (Robin) because it felt really natural.
36. Joe said that shooting being tied up with Maya in the secret Russian facility was hard — only because it took a LONG time to untie and retie when they would take breaks.
37. When asked about Stranger Things 4, Matt Duffer told EW they ideally want to "open up in terms of allowing plotlines into areas outside of Hawkins."
38. And finally, since Stranger Things 3 broke records for Netflix, (40 million people watched in four days) it seems PRETTY likely that they'll renew the show for a fourth season.
Source: Read Full Article