Even for a show like The View, the gossip has been particularly heavy in 2019. Early in the year, as moderator Whoopi Goldberg recovered from pneumonia, people wondered whether she was in fact preparing to host the Oscars. (Joy Behar shot that rumor down on the show.)
By April, following the publication of Ramin Setoodeh's Ladies Who Punch the floodgates had opened wide. If Jenny McCarthy wasn't clarifying (or expanding on) her Barbara Walters stories, Rosie O'Donnell was lighting up Elisabeth Hasselbeck for denying various other tales.
Since then, it seems like the current co-hosts of The View have been trying to get viewers' focused back on the drama happening in real time. The Twitter meltdown by Meghan McCain's husband (May) ranks high on the list; so does Sunny Hostin's back-and-forth with Bethenny Frankel (June).
Now that July is here, a new Hostin and McCain feud has taken center-stage. In most cases (Bella Thorne comments excluded), Whoopi has managed to stay out of the drama. Looking at Whoopi's approach to the media and personal code on the job, it's easy to see how she's done it.
Whoopi declined to contribute to the 'Ladies Who Punch' tell-all.
Ladies Who Punch details one backstage drama after another, but Setoodeh's tell-all lacks one big ingredient: Whoopi Goldberg. Apparently, Whoopi agree to be interviewed for the book when she was thinking about leaving The View.
When she decided she'd stay, she declined to dish about her run that began in 2007. In a May stop at Watch What Happens Live With Andy Cohen, Whoopi seemed entirely uninterested in the book and its still-buzzing impact.
"I didn't talk to the guy, I didn't care about the book," she told Cohen. "What happens for me at work is not for everybody. I don't like talking out of school, and I don't like other people talking out of school. For me, you just have to leave it there."
That approach has served her well. When everyone wanted to know how Whoopi felt about Rosie saying she was "meaner than anybody" to her on TV, Whoopi just shrugged and said, "That's OK." As for the story, it just sounded like another Rosie moment and eventually disappeared.
Whoopi doesn't talk to the media at all about 'The View.'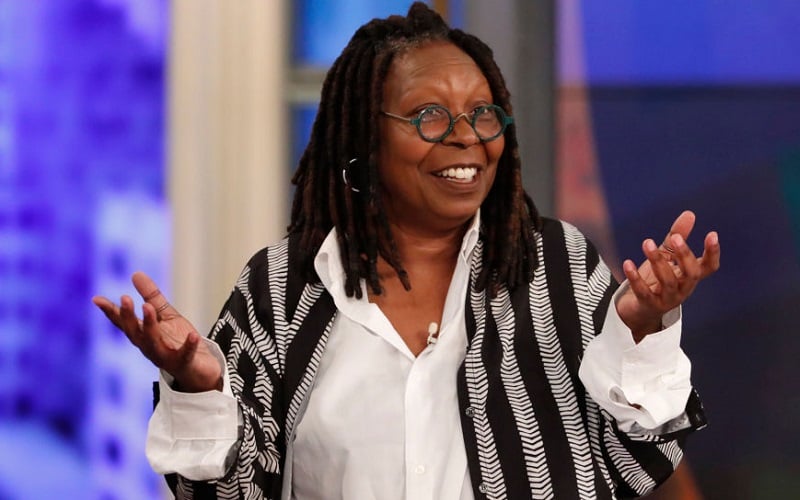 Whoopi's silence didn't start and end with Ladies Who Punch. As Setoodeh noted, Whoopi doesn't really mention the show at all during her frequent public appearances. If someone asks her for a comment, she says nothing (or the closest thing to it).
Those who are active on social media also won't find much to go on as far as Whoopi is concerned. In that respect, you can call her the opposite for McCain, who posts frequently and reportedly scrutinizes what her co-hosts do online.
Meanwhile, Whoopi's role as moderator on The View also has something to do with how she avoids drama. Whenever an on-air fight or McCain meltdown seems imminent, Whoopi tends to quiet things down by saying "We're not going to do this" or cutting to a commercial.
Whether she's using the commercial break as an excuse or not, it's been a great way to cool the heads at the table with her. And an even better way to keep her name out of the headlines. There's enough to go around at The View as it is.
See also: When Whoopi Knew Rosie O'Donnell's Return to 'The View' Would Be a Disaster
Source: Read Full Article