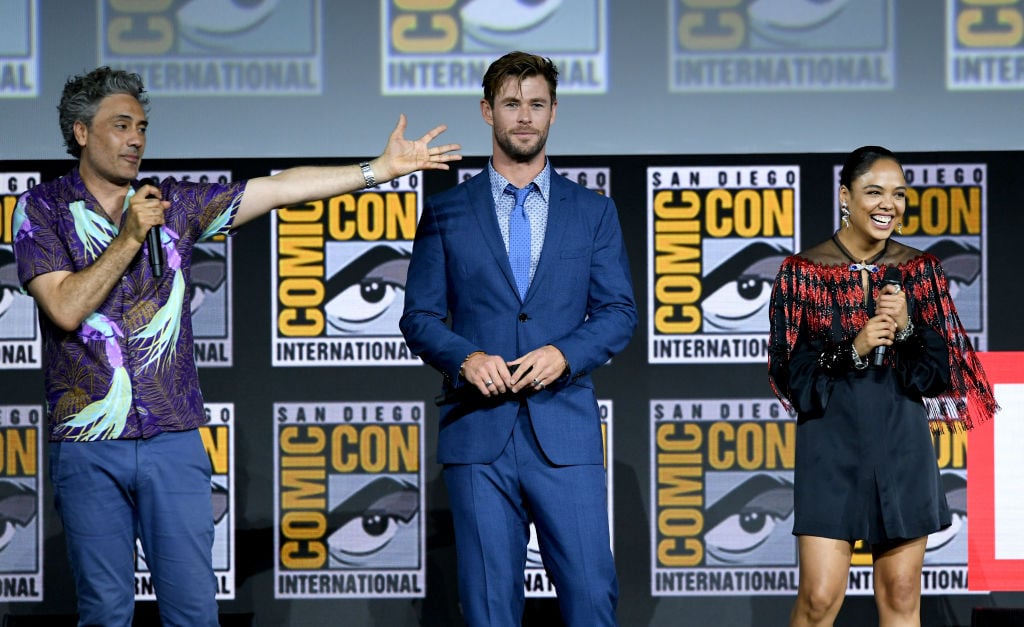 Thor: Ragnarok is regarded as one of the best movies in the MCU to date. After the movie's success, Marvel confirmed director Taika Waititi would also direct the fourth installment in the franchise. Thor: Love and Thunder stars Chris Hemsworth, Tessa Thompson, and Natalie Portman. Following the comics, Portman returns as Jane Foster and becomes Thor, The Goddess of Thunder. While a majority of attention focuses on Portman's role, some fans wonder what role supporting characters from previous movies will play. In particular, Taika Waititi's scene-stealing character, Korg.
Korg will have a larger role in 'Thor: Love and Thunder'
Korg stole the show in both Thor: Ragnarok and Avengers: Endgame. According to HN Entertainment, the character will play more than a supporting character in Thor: Love and Thunder. Waititi often acts in the movies he directs, and in Thor: Ragnarok he played four different characters. In addition to Korg, he played one of the heads of the three-headed alien, Haju. He also provided the motion-capture for Surtur and Hulk.
"I usually put myself in my films," said Waititi.
Out of the films he directed, Waititi appeared in Jojo Rabbit, Eagle vs Shark, Boy, What We Do in the Shadows, Hunt for the Wilderpeople, and Thor: Ragnarok. Because Korg has a larger role in Thor: Love and Thunder, Waititi will write, direct, and star in the film.
Tessa Thompson plays Marvel's first LGBTQ character
For months, Marvel teased one of the characters in the MCU was a member of the LGBTQ community. When Thor: Love and Thunder was announced at the 2019 San Diego Comic-Con, Valkyrie was revealed as that character. Played by Thompson, Avengers: Endgame ended with Valkyrie ruling over Asgard. Thompson is openly bisexual, and told the audience at Comic-Con her character would have an LGBTQ storyline.
"As new king, she needs to find her queen," said Thompson.
In Thor: Ragnarok, Thompson filmed a scene acknowledging Valkyrie is bisexual. Waititi supported showing Valkyrie's sexuality and the scene showed a woman leaving Valkyrie's bedroom. Unfortunately, the scene never made it to the final cut of the movie. 
Kevin Feige also promised the audience at Comic-Con the LGBTQ storyline would be represented in Thor: Love and Thunder and future Marvel films.
"How that impacts the story remains to be seen with that level of representation you'll see across our films," he said.
Marvel fans are excited for 'Thor: Love and Thunder'
Thor: Ragnarok earned a 93 percent score on Rotten Tomatoes, proving Thor: Love and Thunder is in capable hands with Waititi. Jane Foster and Valkyrie's compelling future storylines plus the return of Korg and Thor already have fans excited.
"TAIKA FINISHED THE THOR: LOVE AND THUNDER SCREEN-WRITE. THOR CINEMATIC UNIVERSE HERE WE COME," wrote a Twitter user.
"taika gave us the best version of thor which means everyone who doesn't stan him is tasteless. stan taika waititi and get ready for thor: love and thunder (2021)," wrote another.
Filming for Thor: Love and Thunder starts in 2020 and the movie comes out in theaters Nov. 5, 2021. While that might seem like a long ways away, several Marvel films and TV shows come out within the next two years to fill the time.
Source: Read Full Article