Meanwhile, behind-the-scenes footage shows Ryan Gosling Ken letting out a hilarious scream as Robbie slaps a male actor, who makes an unwanted advance on her.
AceShowbiz –Margot Robbie's Barbie is one who knows how to defend herself. The actress didn't hold herself back when one of her co-stars made an unwanted advance on her during the filming of the live-action movie.
On Tuesday, June 28, the Australian native was spotted filming an intense scene with Ryan Gosling on the beach during which another male actor's character seemed to harass her. The "Suicide Squad" star was seen slapping the other male actor after he reached out for her rear in the scene.
The 31-year-old seemed to give her best punch at the unknown male actor, sending his hat flying. She reportedly rehearsed the slap though, including measuring the distance between her and the actor.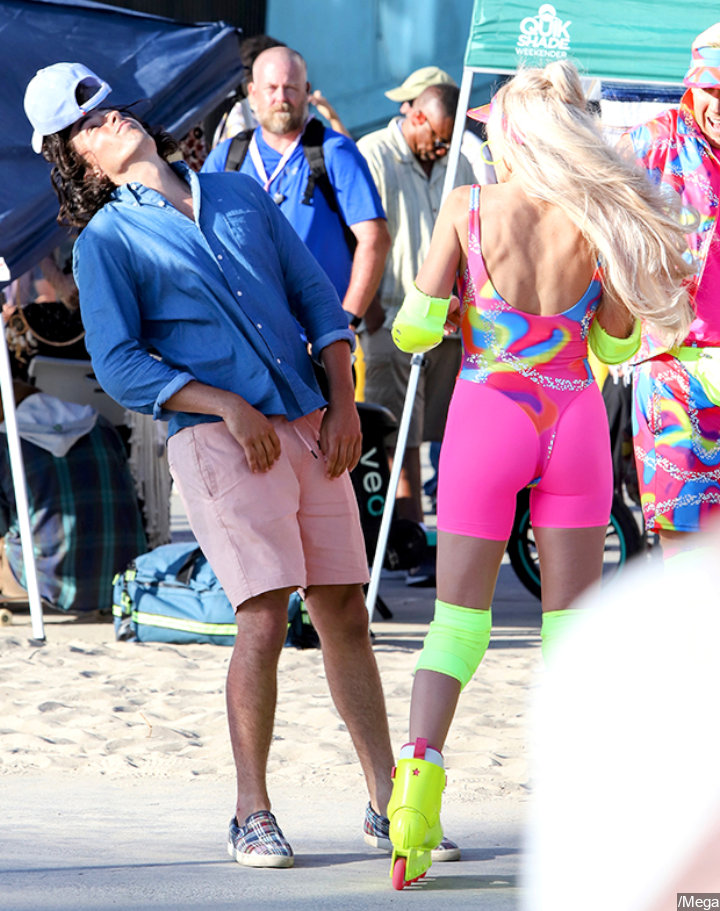 Margot Robbie filmed a scene where he slaps a man who touches her butt on 'Barbie' set.
Meanwhile, behind-the-scenes footage captured Gosling's reaction to the sexual harassment. The Canadian actor showed his comedic skills as he let out a hilarious scream after Robbie punched the man, before they held each other in an embrace as they realized what had just happened.
During the filming, Robbie and Gosling wore matching vibrant-colored outfits. The "I, Tonya" actress was dressed in a tight neon pink outfit with a rainbow tie-dyed design, while her long blonde hair was tied in a high ponytail. Gosling, meanwhile, donned a neon pink tank top underneath a colorful vest and shorts in matching design.
The two roller-bladed with neon yellow skates along the beach in the scene. They both were wearing some protective gears in bright yellow color.
Another set photo, on the other hand, shows Barbie having a bad day. In the image shared on Twitter, the two-time Oscar nominee was seen looking sad as she sat alone with her head down and one of her hands touching her head. She wore a pink outfit with star design.
"Barbie", which is based on Mattel's famous toy characters, is directed by Greta Gerwig from a screenplay written by herself and Noah Baumbach. Principal photography began in March at Warner Bros. Studios, Leavesden in England.
Robbie has said the film's goal was to subvert expectations. "… we like the things that feel a little left of center. Something like Barbie where the IP, the name itself, people immediately have an idea of, 'Oh, Margot is playing Barbie, I know what that is,' but our goal is to be like, 'Whatever you're thinking, we're going to give you something totally different – the thing you didn't know you wanted,' " she told The Hollywood Reporter in April.
She added, "Now, can we truly honor the IP and the fan base and also surprise people? Because if we can do all that and provoke a thoughtful conversation, then we're really firing on all cylinders."
Also starring Kate McKinnon, Alexandra Shipp, America Ferrera, Simu Liu, Will Ferrell and "And Just Like That…" actor Hari Nef, the movie is set to hit U.S. theaters on July 21, 2023.
Source: Read Full Article