The 16-year-old daughter of the Blink-182 drummer and his ex Shanna Moakler posts and deletes a photo of her holding her father's hand while he's lying in what appears to be a hospital bed.
AceShowbiz –Kourtney Kardashian was apparently not the only one of Travis Barker's loved ones that accompanied him to the hospital. His daughter Alabama Barker was actually also by his side during his recent medical emergency.
Taking to her TikTok account to ask fans for prayers, Alabama has posted and deleted a photo of her holding her father's hand, while he was lying in what appears to be a hospital bed. "Please say a prayer," she wrote along with the image.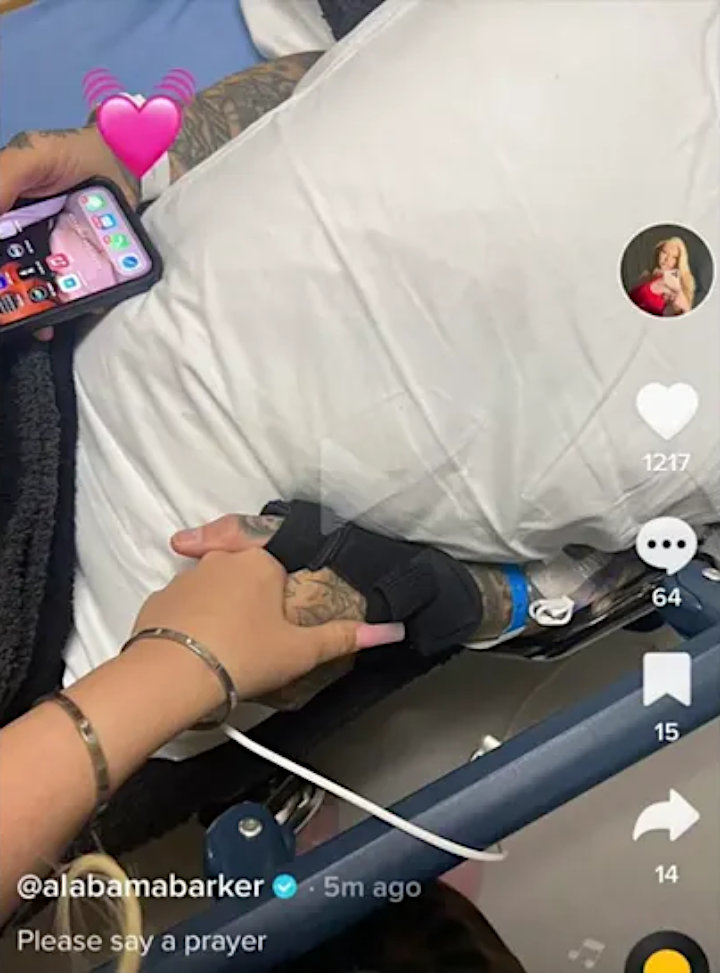 Alabama Barker shared a photo of her father in the hospital.
Travis was rushed to the hospital on Tuesday, June 28 in an ambulance, with his wife Kourtney by his side. He was photographed lying on a stretcher, while the reality TV star, who was seen from the back dressed head-to-toe in black with a hoodie covering her head, followed on foot.
Just hours prior to that, Travis shared a cryptic post on Twitter, which read, "God save me." Meanwhile, his daughter Alabama asked for prayers for her father via her Instagram Story. "Please send your prayers," the 16-year-old girl wrote.
It has since been revealed that the cause of Travis' hospitalization was pancreatitis caused by a colonoscopy. "It was pancreatitis," a source close to the rocker informed PEOPLE. "He was complaining of cramps."
A different source, in the meantime, told Entertainment Tonight, "Travis was sick and had intense pain in his abdomen and it really concerned him and Kourtney. They called 911 and he was rushed to the hospital." The unnamed informant continued elaborating, "After speaking with Travis and running several tests, doctors said Travis is suffering from pancreatitis."
While Kourtney and Alabama stayed with Travis amid his hospitalization, his son Landon Barker was in New York City on Tuesday night. He joined Machine Gun Kelly on stage to perform their collaboration "Die in California" at the rapper's headlining show at Madison Square Garden. Neither Landon nor MGK addressed the news of Travis' hospitalization during the show.
Source: Read Full Article