Seemingly confirming the news of her starring in the upcoming Blitz Bazawule's adaptation of the Broadway musical, the 'Empire' actress reposts and retweets the news of her casting on social media.
AceShowbiz –Taraji P. Henson is the latest addition to the cast of Blitz Bazawule's adaptation of "The Color Purple". The Cookie Lyon depicter on "Empire" will star as Shug Avert in the upcoming Warner Bros. movie.
Variety reported on Tuesday, February 1 that the Oscar-nominated actress will take the role of the flamboyant blues singer, who was first played on the big screen by Margaret Avery in the 1985 film of the same title which was directed by Steven Spielberg. The new film is an adaptation of the Tony-winning Broadway musical, which is a reworking of Alice Walker's original Pulitzer Prize-winning novel.
Taraji, who will be joined by Corey Hawkins and H.E.R. in the cast, appeared to confirm the news on social media. Making use of her Instagram Story, she shared the news of her casting. She also retweeted the news on Twitter.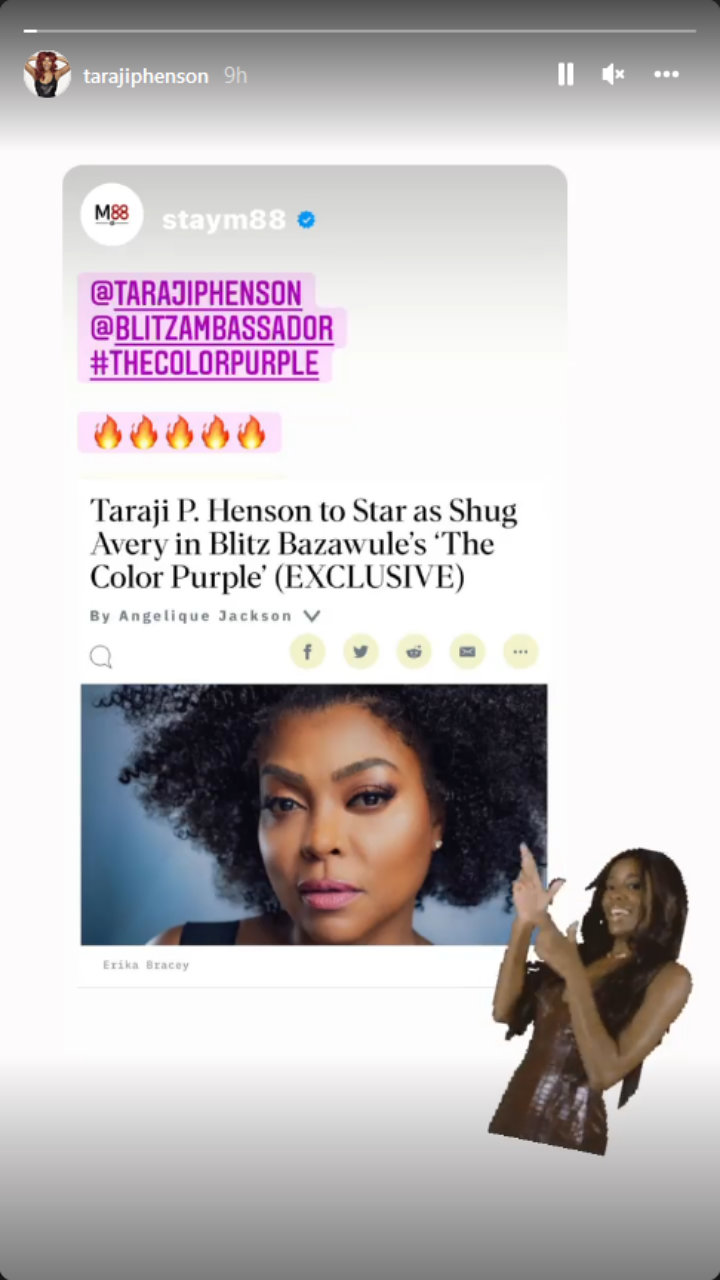 Taraji P. Henson announced that she will star as Shug Avert in 'The Color Purple'.
Taraji is no stranger to starring in musical performances. The actress recently stunned audiences with her singing skill when she played the role of orphanage owner Miss Hannigan in "Annie Live!". Of her character, she told PEOPLE last October, "Playing the villain is always fun. … With Miss Hannigan, there is so much to work with and dig deeper into." She added, "It's just such a fun and iconic character to play."
Variety additionally confirmed that Steven will produce the new version of the musical film alongside Oprah Winfrey, who made her big-screen debut as Sofia in the first movie. Aside from the talk show queen, Steven's film adaptation also starred Whoopi Goldberg and Danny Glover.
It was nominated for 11 Academy Awards and earned Oprah a Best Supporting Actress nod. Then in the 2015 revival, Cynthia Erivo played Celie, for which she won a Tony for Lead Actress in a Musical.
"The Color Purple" follows the lives of several black women, namely Celie Harris, Nettie Harris, Shug Avery and Miss Millie, in the American South in the 1930s. The original Broadway musical of the story debuted in 2005 and earned 11 Tony Award nominations a year later, with actress LaChanze winning a Tony for her role as Celie.
"The Color Purple" is set to be released on December 20, 2023.
Source: Read Full Article