Learning that TV co-stars who spent years working together actually despise each other in real life fills our daily gossip quota. On the flip side, there's something about finding out about famous colleagues who are actually kindred spirits behind the scenes that gives us a big dose of warm fuzzies. Many of us have our office bestie that we can't imagine getting through our 9-5 without, so it shouldn't come as a huge shock that many actors find their closest friends at work. Their job just happens to be very glamorous and can be rewatched again and again.
From playing quarreling sisters in period pieces or bitter enemies during an apocalypse, to portraying best friends on-screen and later launching a rewatch podcast, these friends IRL add another layer to their performance thanks to their natural chemistry off-screen.
Put on your matching friendship bracelet and half-heart necklaces, it's time to look at our favorite television duos who are best friends in real life.
The sisterhood of Michelle Dockery and Laura Carmichael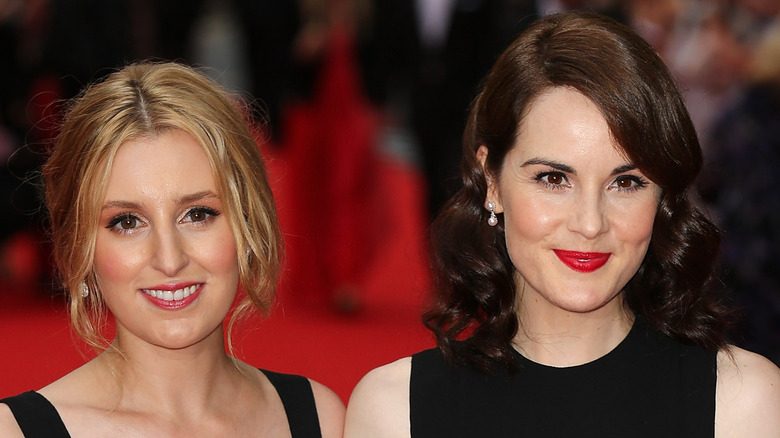 The Crawley sisters may have taken six seasons and a feature film to finally be civil to each other, but in real life, Lady Mary and Lady Edith are better suited for one another than tea time and crustless cucumber sandwiches. Michelle Dockery and Laura Carmichael played dueling sisters for years on the hit BBC series "Downton Abbey" and formed a sisterhood when the cameras weren't rolling — one that thankfully appears to have an absence of snide comments, jealously, and throwing each other under the bus. Er, locomotive.
In 2015, Dockery told the Daily Mail that she and Carmichael had no trouble forming a familial friendship on set. "Laura and I are both from a family of three sisters. She's the middle and I'm the youngest, so there was kind of an instant sisterhood when we first met," said Dockery. "We've grown up together in a way. I mean it's been six years. I was 27 when I started the show, and we bonded very, very quickly."
In an interview with Newsweek shortly before the release of the first Downton Abbey film in 2019, Dockery said she was ecstatic to be reunited with the cast and crew, especially her fictional sister and brother-in-law Branson, played by Allen Leech. "I consider Laura Carmichael (Lady Edith) and Allen Leech my best friends. I wanted to relish it. It was a lot of fun for us all to be doing the film version."
Hilary Duff and Molly Bernard have 'loyalty and love'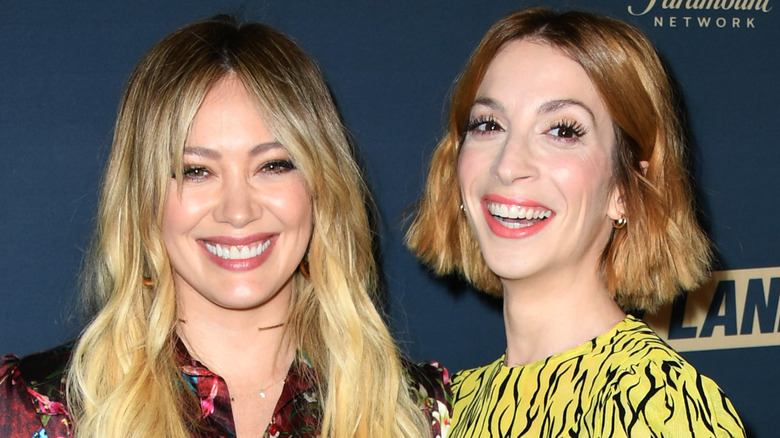 "Younger" fans watched for seven seasons as Liza Miller (Sutton Foster) was caught in a love triangle while trying to pass as someone half her age. But many scenes were quickly stolen by the bond between two other characters, Hilary Duff's Kelsey Peters and her quick-witted bestie Lauren Heller, played by Molly Bernard.
Off-screen, Duff and Bernard formed a tight friendship that has been dotted with some of life's biggest celebrations. In 2019, Bernard officiated Duff's wedding to husband Matthew Koma along with Koma's close friend and actor, Chris Mintz-Plasse.
Bernard is also close with the newlywed's children. Not only is she, as she shared with People, the godmother to Duff and Koma's daughter Banks, but she also assisted Duff in delivering her second daughter. Following the birth of Mae in 2021, Duff posted a tribute on Instagram to all those who helped the actor welcome her third child into the world. "My little Molly is an extraordinary doula who sat with me when I needed to be still and quiet," wrote Duff.
"She's the person I always call when I need an honest answer to something. Even if I don't want to hear it, I know I need to call Hilary because she will ground me. She always shows up," Bernard told Mama Mia in 2021. "We are each other's reliable, steadfast pal. I am like that in all of my friendships, sometimes to a fault, but with Hilary and I, loyalty and love are the most important things.
Juno Temple and Hannah Waddington's 'effortless' bond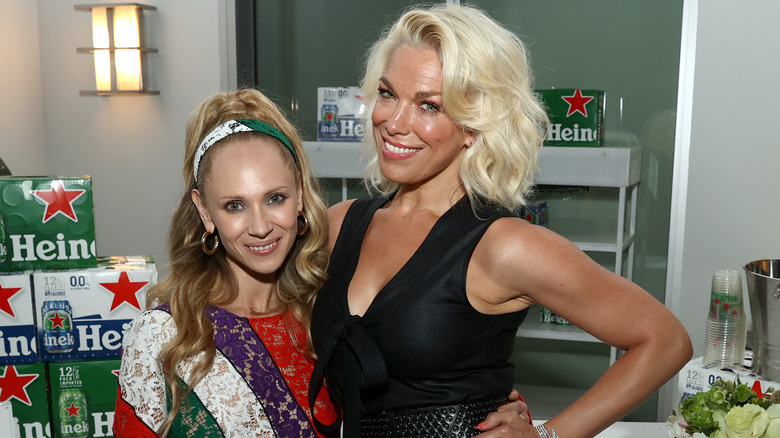 Apple TV's feel-good comedy "Ted Lasso" has struck a chord with fans thanks to its perfect partnering of unlikely duos. Lead by Jason Sudeikis as the fun-loving American football coach Ted Lasso who is hired to help a struggling soccer —er, sorry — football team in the UK, one of the standout partnerships has been between affluent business woman and team owner Rebecca (Hannah Waddingham) and model/frequent football player girlfriend Keeley (Juno Temple). The characters have not only formed a surprising friendship on-screen, but off-screen as well.
"It was the most strange thing," Waddington told Variety in 2021 of her relationship with Temple. "It was just completely natural and effortless … and it's been like that ever since, both on screen and off." The former "Game of Thrones" star even refers to Temple as a "fairy godmother unicorn" to her daughter.
While Temple has been part of several successful projects in the past, none of them had the same reach and recognition as "Ted Lasso," which earned an incredible 20 Emmy nominations after its first season. Temple told Variety that she's thankful to have her real deal friend by her side for the ride. "I haven't really processed it yet … but to get to do it with Hannah, it feels safe," she said.
Zach Braff and Donald Faison are friends and neighbors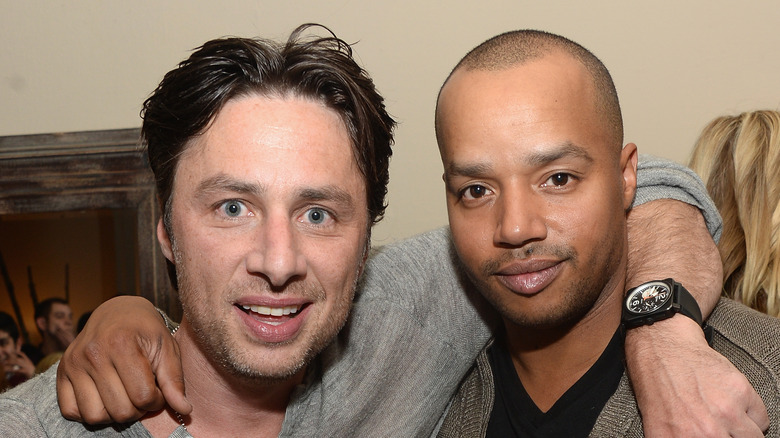 There are few examples of on-screen best friends mirroring their TV characters more closely than Zach Braff and Donald Faison. The pair played besties JD and Turk for nine seasons on "Scrubs," but their kinship lasted long after the cameras stopped rolling.
The on-screen duo, whose friendship inspired the single "Guy Love," have continued to be #friendshipgoals since the series ended in 2010. As Martha Stewart Weddings noted, Faison met his future wife, Cacee Cobb, at Braff's 30th birthday party. When Cobb and Faison wed seven years later, Braff was a groomsman and was later named godfather to the couple's son Rocco.
In a 2021 interview with GQ, the pair discussed why the connection between their characters continues to be embraced by new viewers and how that relationship is mirrored in their real life. "The machismo gets thrown out the window and we get to be who we really are," said Faison. "I'm very comfortable with Zach; he's very comfortable with me. I tell him things I wouldn't tell my wife." Braff pointed out that their real-life dynamic "is pretty much the same, except we don't cut to fantasies and we curse."
When the pandemic began in 2020, Faison and Braff, who, as GQ noted, "live just a few streets away from each other in Los Angeles," delighted fans by announcing their Scrubs rewatch podcast "Fake Doctors, Real Friends," which frequently features the pair discussing their decades-long friendship.
Jenna Fischer and Angela Kinsey went from officemates to best mates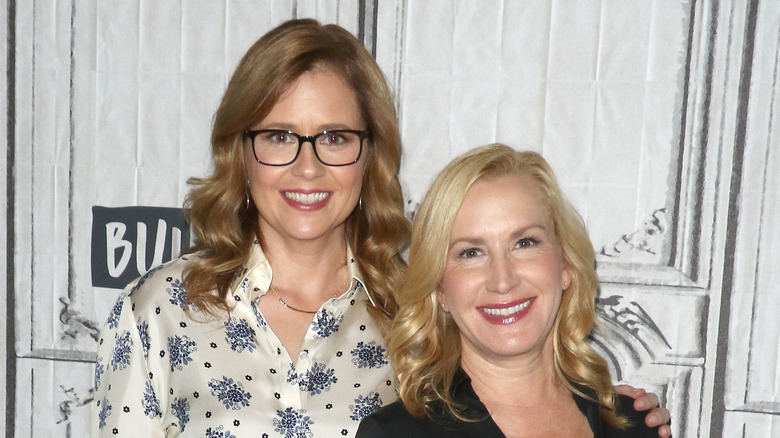 It took nine seasons for Pam and Anglea to finally form a friendship on "The Office," but actors Jenna Fischer and Angela Kinsey wasted no time becoming besties at work. In their 2022 book "Office BFFs: Tales of The Office from Two Best Friends Who Were There", the actors get into how they quickly formed a bond on the set of "The Office" that continues to this day.
Speaking to People about the book, the pair said their casual friendship was solidified after spending a 12-hour shoot together in Season 1. "We were leaving the warehouse and we were so giddy," said Fischer, adding that the pair were spotted by series lead Steve Carell, who told them to cherish their new bond. "We had this really fun friendship. You don't expect to make a friendship like this when you're older."
In 2018, Fischer and Kinsey figured out a way to spend more time together and launched their Office rewatch podcast, "Office Ladies." The show allows the duo to revisit the early days of their kinship, while also filling listeners in on their more current adventures together. "Jenna is my life anchor because it's like, the world doesn't make sense until I can bounce it off her, whatever happens," Kinsey told People. "The big things, the small things. Once I tell it to her, I'm at peace with it, or I can navigate it."
Courteney Cox and Jennifer Aniston are there 'through thick and thin'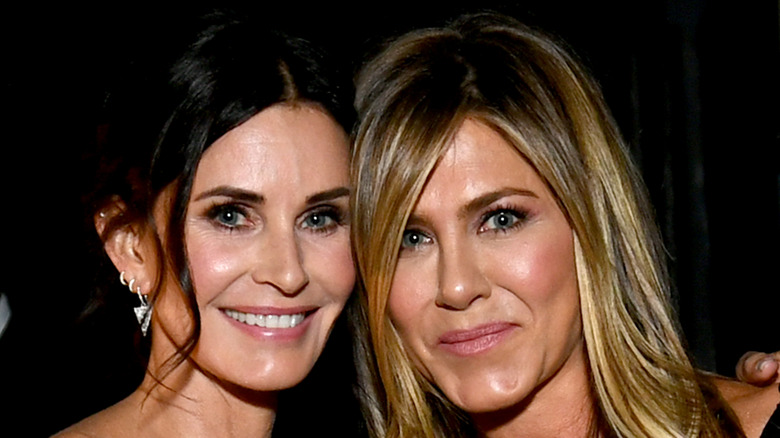 Monica and Rachel's rapport helped solidify "Friends" as one of the most popular and beloved shows of the 1990s, and Courteney Cox and Jennifer Aniston's off-screen friendship remains strong as ever. Not only do the pair frequently post loving tributes to each other on social media, but Aniston happens to be godmother to Cox's daughter, Coco.
"There's absolutely no judgment in Court," Aniston told More magazine in 2014 (via E! News). "You'll never feel scolded. She's extremely fair, ridiculously loyal and fiercely loving. I've slept in her guest bedroom a lot. Without giving away too much of my private stuff, all I can say is she's been there for me through thick and thin."
The pair, who often vacation together and spend the holidays with one another, have supported each other both privately and publicly. As People reported at the time, Cox was Aniston's maid of honor when she wed Justin Theroux in 2015. Along with fellow "Friends" alum Lisa Kudrow, the trio have appeared together several times both off and on screen, including in an Emmys sketch, in a Howard Stern interview, and of course, for the 2021 "Friends" reunion special. 
Sophie Turner and Maisie Williams clicked immediately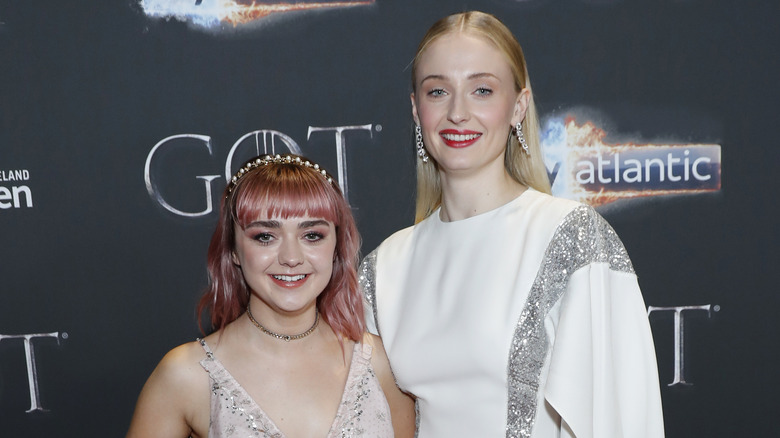 "Game of Thrones" stars Sophie Turner and Maisie Williams played feuding siblings for most of the HBO drama, eventually becoming the powerful Stark sister duo that brought down the Night King. The pair met during a chemistry read as preteens for "GoT" in 2009, and as Turner shared in a Rolling Stone interview, they were best friends from that first meeting. "I thought Sophie was the coolest thing I'd ever seen," said Williams.
In 2017, Turner described Williams as "her rock" to W Magazine. "Maisie and I have the purest form of true, true friendship," she said. "We are kind of the only two people who know what it feels like to go through this very scenario from pretty much the same background, and ending up where we are and kind of finding ourselves as we go. I think that's why people respond so well to our friendship, I guess. They see the true, pure love between us."
Turner told Dr. Phil in a 2019 episode of his podcast that she opened up to Williams about her depression during their teen years. "She was my best friend, and she was the only one I really told about all of it," she shared.
They're there for each other for both the personal and professional. In a 2021 interview with Grazia, Williams credited Turner with helping decide to join the X-Men universe in "The New Mutants." "It's so wonderful having Sophie as a friend and a voice of reason," said Williams.
Ilana Glazer and Abbi Jacobson went from improv pals to TV stars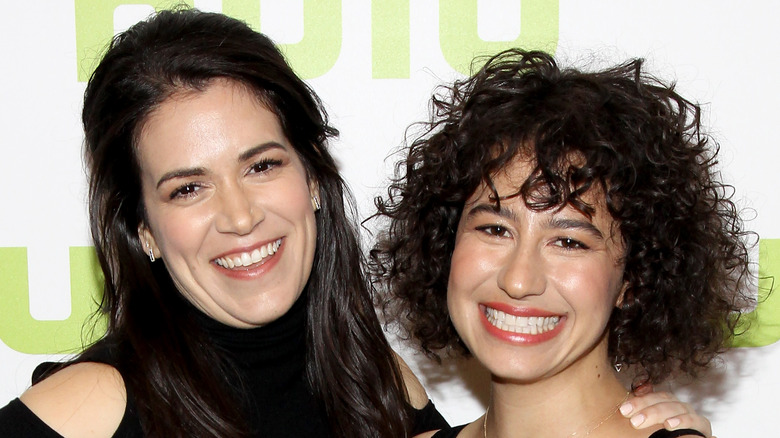 "Broad City" creators and stars Ilana Glazer and Abbi Jacobson played pseudo-versions of themselves on five seasons of the groundbreaking comedy and took many cues from their real relationship. After meeting in an improv class, the pair quickly bonded and worked together on a web series that would eventually catch the eye of future "Broad City" producer Amy Poehler.
In a 2016 interview with Bustle, Jacobson described the pair's friendship as "immediate." Recounting their first time hanging out together after an improv class, Jacobson said, "I remember we sat at the bar and just talked the night away. I have a lot of amazing friends in my life that happen to be women, but Ilana was the first one in New York that really felt important. I guess we were right."
The pair have remained "fronds to the ond" since the final season of "Broad City" aired in 2019, with Jacobson telling an SXSW audience (via IndieWire) that it's "meta experience for us saying goodbye to us" as both actors have continued appearing in films and TV shows outside of the "BC" universe. Thankfully, fans still see the pair together, often popping up on each other's social accounts. In 2021, Jacobson happily celebrated Glazer's pregnancy with a sweet belly kiss and paid tribute to her on-screen and real life bestie with a birthday post.
Sam Richardson and Tim Robinson's friendship was a key part of their series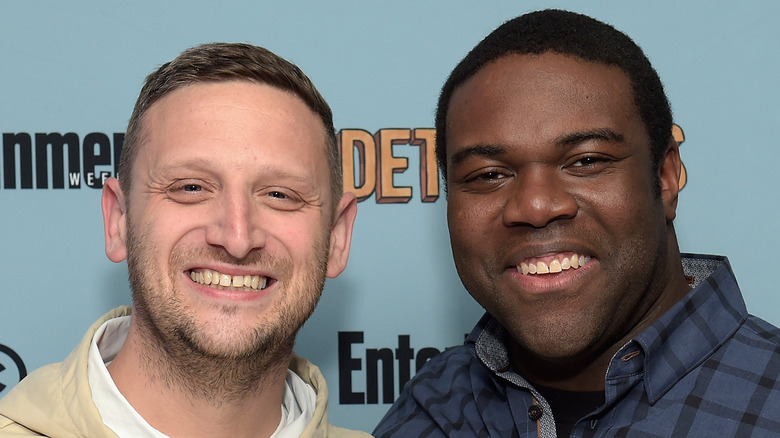 Like Abbi Jacobson and Ilana Glazer, Sam Richardson and Tim Robinson's friendship predated their buddy comedy series and became the inspiration for "Detroiters." Also like the "Broad City" creators, the pair met in a comedy classroom: As they shared with Men's Health, Robinson taught one of Richardson's classes at Second City in Detroit.
Speaking to the publication in 2019, Robinson and Richardson said they became fast friends and spent years hanging out while rising in the comedy ranks together and eventually moving to Chicago at the same time. Their relationship remained intact while filming "Detroiters" and continued after the Comedy Central series ended after two seasons. "We'll definitely still get drunk and be like, 'You're my number-one guy. You're my best friend in the world. Just got to let you know,'" said Richardson. "I just think there's no airs between us. There's no fear of lost masculinity. It's very secure in that."
While speaking to Sam Jones on "Off Camera" in 2017, Richardson said that he and Robinson wanted Detroit and their friendship to be the two main focal points of their show. "From the get-go, [the show] has to be about us and our friendship, about how much we love each other." As you can see over on ol' social media, their love includes sharing annual birthday tributes, spending the holidays together, and the occasional matching ensemble.
Eugene Levy and Catherine O'Hara go way back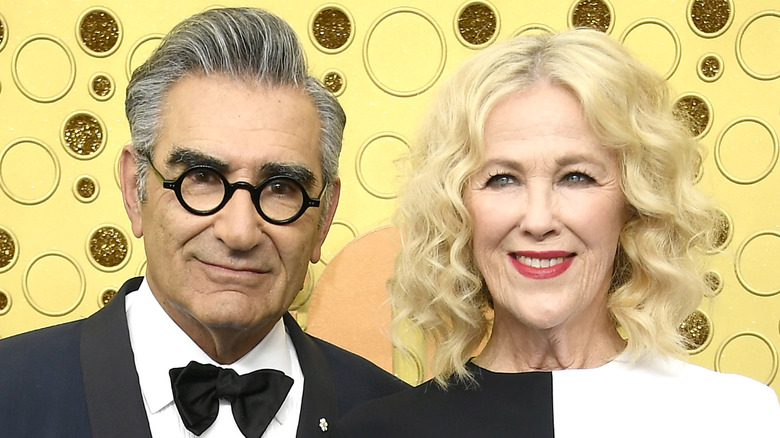 TV fans fell in love with the delightfully out-of-touch Rose family led by Johnny Rose and Moira Rose over six seasons of "Schitt's Creek". The series ended on a high, not only sweeping all four major acting categories in the same year at the 2020 Emmy Awards, but being the first comedy series to do just that. Longtime fans of Eugene Levy and Catherine O'Hara likely weren't surprised by the on-screen duo's immediate chemistry since their film career and friendship goes back decades.
Levy and O'Hara were preparing to premiere the first season of "Schitt's Creek" when they sat down with BuzzFeed in 2014 to discuss their 40-year friendship. The pair met while Levy was in the cast of Second City and O'Hara was a waitress at the club. Having starred together in "SCTV" and later several Christopher Guest films, including "For Your Consideration" and "Best In Show," O'Hara said she thinks audiences like it when co-stars are friends when the cameras aren't rolling. "I like knowing when people know each other and have a history; that comes across on screen," she shared. "I think it's fun for people to see."
While speaking to The Guardian in 2021, O'Hara said that the pair's mutual friend Martin Short lovingly refers to Levy as "Lambie" "because he's the sweetest man in the world. I don't want to set the poor man up — he's human, of course. But he's one of the good guys."
Hilarie Burton and Sophia Bush found friendship behind the scenes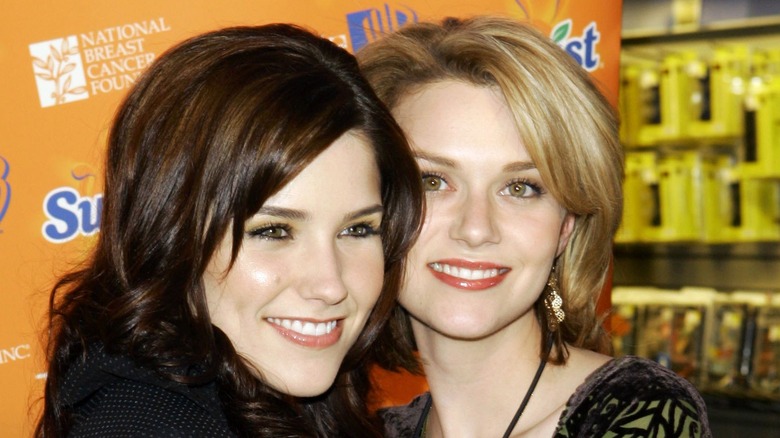 "One Tree Hill" began as a show about two half-brothers competing to be their small town's biggest basketball stars, but the teen drama's female friendship quickly became a major focal point over eight seasons. Cast members Hilarie Burton and Sophia Bush may have played characters that often competed for the attention of the same boys, but off-screen the duo formed a supportive bond that has endured.
The women, along with fellow "OTH" co-star Bethany Joy Lenz, launched a "One Tree Hill" rewatch podcast in 2021 and have been delighting fans with stories of their continued friendship, even bringing Bush to tears on her birthday with a sweet shout-out on "Today" after the series launched. "I think something that we really cherish — Hilarie and I were talking about this not too long ago — is just having, interestingly enough, as we've all gotten older, having our friendships deepen even more," Bush told Us Weekly in 2020.
Burton spoke about the pair's close bond during a 2020 episode of the "Chicks In The Office" podcast, saying her bond with Bush is especially important considering how "OTH" writers apparently tried to pit the women in the cast against each other. "There's so much comparison that, as a young person, it's hard to navigate," said Burton. "And she and I now can look back at it and be like 'All those b*****ds. No, no no. We're the love story.' So yeah, the female friendships were important on that show."
Jeffrey Dean Morgan and Norman Reedus are 'brothers always'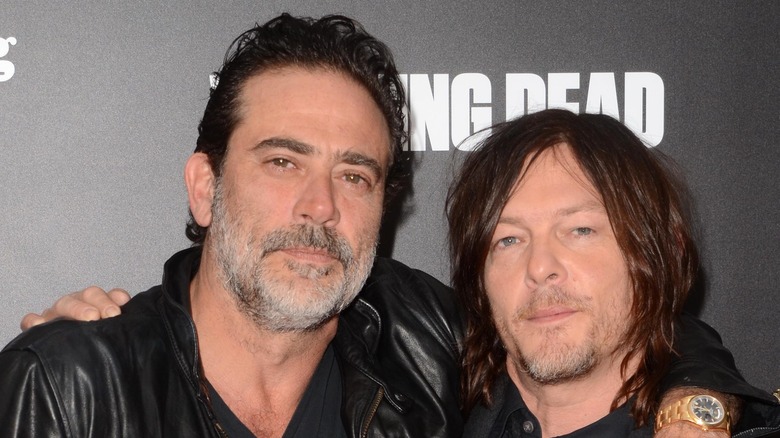 Jeffrey Dean Morgan's villainous Negan didn't make many friends when he showed up in Season 6 of "The Walking Dead," but behind the scenes, Morgan quickly bonded with Norman Reedus, who had been played by fan favorite Daryl Dixon since Season 1.
Speaking to Peter Travers in 2016, Morgan said the duo's mutual love of motorcycles brought them together. "I spend a lot of time with Norman … And we spend a lot of time on the roads," he said. "It's kind of a great way to unwind and we have that in common. So I talk to him daily."
When the second half of Season 10 of "TWD" premiered in 2020, Morgan shared a tribute on Instagram to his co-star and friend to celebrate the new episodes. "The adventures we've shared over the years, some of the greatest of my life….these pics from our rides, and travels, from Georgia to damn near every corner of this planet," wrote Morgan. "Thru good and bad… work, and life… brothers always."
During a 2017 appearance on "Jimmy Kimmel Live!", Morgan shared that the two live near each other and even got tattoos together. "I spend probably more time with him than I do my family," he said.
Bryan Cranston and Aaron Paul are anything but bad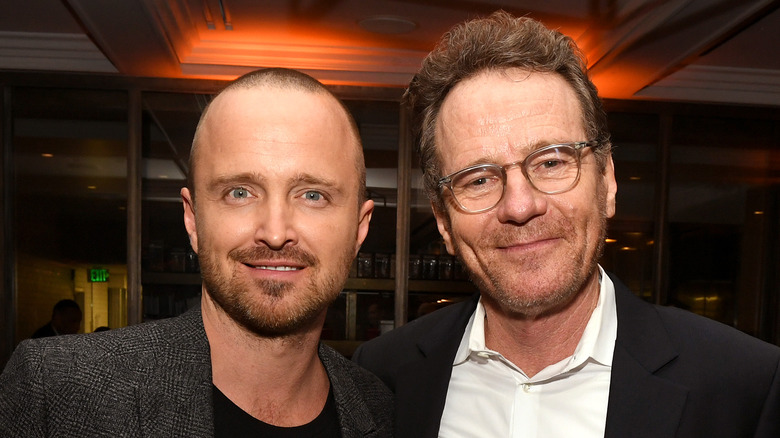 In the words of Jesse Pinkman, yeah science, friend! Okay, we may have taken some liberties there, but it's no stretch to say that "Breaking Bad" co-stars Bryan Cranston, who played science teacher turned drug kingpin Walter White, and Aaron Paul, who played White's former student and future business partner Jesse, formed a tight bond that has continued after White's death. (Is he dead? Is he not? That's a whole different discussion.)
During the filming of "Breaking Bad," Cranston and Paul became award show darlings, consistently thanking each other when picking up Emmys, including three consecutive wins for Cranston. In 2013, Paul paid homage to his co-star when Cranston was given a star on the Hollywood Walk of Fame. "I couldn't be more proud of the man," wrote Paul on his Instagram. "Thanks for teaching me so much my friend."
After the series ended, the pair continued their friendship and launched a much more above board partnership compared to their on-screen characters by unveiling the Dos Hombres mezcal brand together in 2019.
Speaking to People in 2020, Cranston said he and Paul quickly connected on set. "The storylines gave us opportunities to bond," he said. "And I was attracted to his character as a human being, which is really sound and remarkable. He's a really good person."
Dulé Hill and James Roday Rodriguez are like family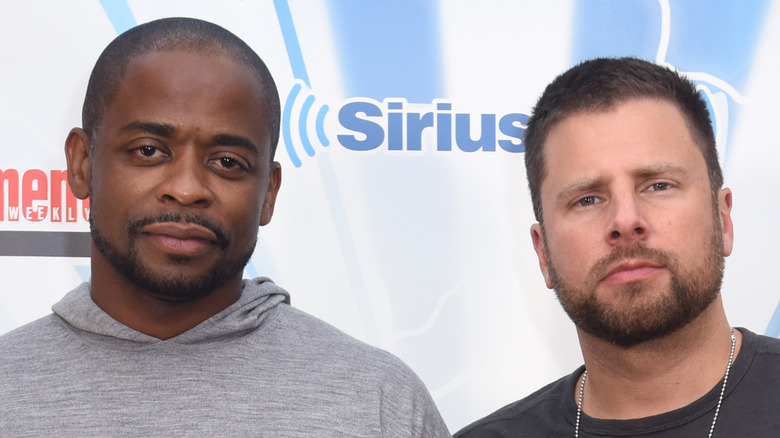 It doesn't take a person with a heightened psychological intelligence to see that "Psych" co-stars Dulé Hill and James Roday Rodriguez are just as close in real life as their on-screen characters. The sleeper hit was so beloved by fans, largely thanks to Hill and Rodriguez's chemistry, that several films have been made since the series ended in 2014.
We don't doubt that Hill and Rodriguez have been happy to reunite on-screen following the show's finale since the pair have remained close. In 2018, Hill married fellow "Psych" actor Jazmyn Simon and picked Rodriguez to be one of his groomsmen, as noted by Brides.
In a 2020 joint interview with Collider, the pair praised each other's abilities as actors, with Hill saying he knew right away that he had a strong bond with Rodriguez. "From the pilot, and even when I was auditioning for the role, I realized that he was a comedic genius, and to be able to play with him, all these years, and learn and grow and evolve within myself, as a comedic actor, has been a joy," he said.
When the two appeared on Today in 2020 to promote the second "Psych" movie, Hill said he and Rodriguez "have forged more than a friendship and … really are brothers."
Source: Read Full Article