Back in 2006, The Pioneer Woman was just an average blogger — albeit one with a captivating love story and a knack for good storytelling — writing about how she met her husband, and how that derailed her plans to move to Chicago and go to law school. Back then, her site was called "Confessions of a Pioneer Woman," and had the subtitle "from black heels to tractor wheels."
Before long, Ree Drummond began telling stories about life on the working ranch she and her husband Ladd live and work on. She amusingly wrote about going from a committed vegetarian to someone preparing steak for the ranch hands. She wrote about homeschooling her kids, per the Los Angeles Times. Her folksy, down-home personality found an audience, and before long, a cookbook was on the market and the Food Network came calling.
On a personal front, Ree has been married to Ladd Drummond since 1996 and they have four kids plus "a bonus kid," per Taste of Country. Let's take a look at the whole pioneer family. 
Ree Drummond's oldest child, Alex got married in May 2021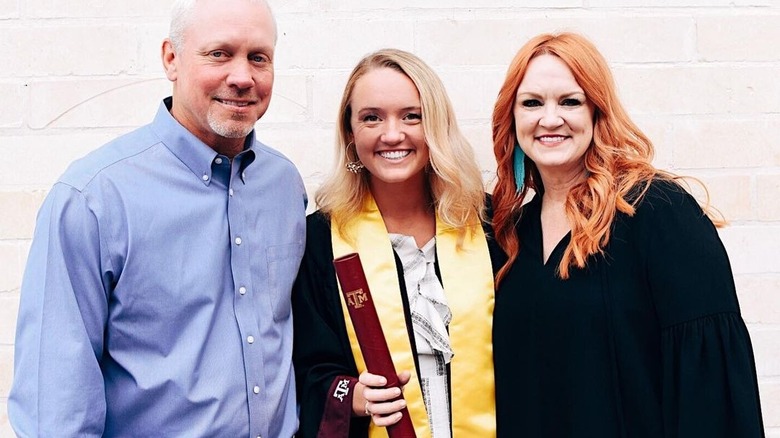 Ree and Ladd Drummond's eldest child, a daughter named Alex, was born in 1997, per IMDb. She attended Texas A&M University where she met her friend-turned-boyfriend-turned-fiance-turned-husband, Mauricio Scott. She graduated in 2019 and lives and works in Dallas today, per the Pioneer Woman. Alex and Mauricio married on her parents' ranch in May. The newlyweds honeymooned in the Maldives.
After she graduated from college, Alex worked for a consulting firm in Dallas for a year. These days, Alex helps her mother film her Food Network show, helps out with Pioneer Woman marketing, photoshoots, products, and apparel, according to the Pioneer Woman. Mauricio, meanwhile, works for a technology consulting company. Since they live in Dallas and the Drummond ranch is in Pawhuska, Oklahoma, Alex works remotely and travels to the ranch when needed — or, when she just wants to see her parents.
Daughter Paige is a student at the University of Arkansas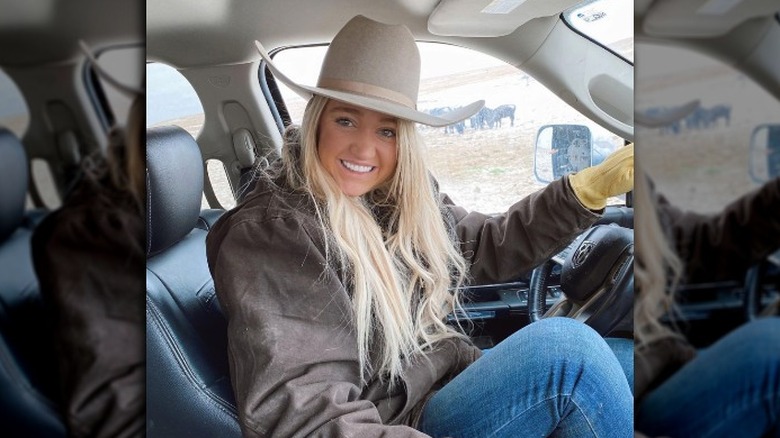 Ree and Ladd Drummond's second child, Paige, was born in October 1999, per IMDb. She's in her junior year at the University of Arkansas, where she's a member of the Kappa Kappa Gamma sorority, per Yahoo. Greek life apparently runs in the family —  her mother was a Pi Beta Phi at the University of Southern California. When she's not busy at college or with Kappa Kappa Gamma, Paige likes to go snowboarding in Vail, Colorado with her family and friends, according to the Pioneer Woman.
Paige did have a teenage run-in with the law. In 2019, Paige was arrested for having and consuming alcohol. She was charged with possession of alcohol by a person under 21 as well as public intoxication, per E! News. She was also found in possession of an open container of beer. The incident happened in Oklahoma. Paige and her family paid a fine and the report of her arrest was removed from Paige's record.
Bryce is heading to college on a football scholarship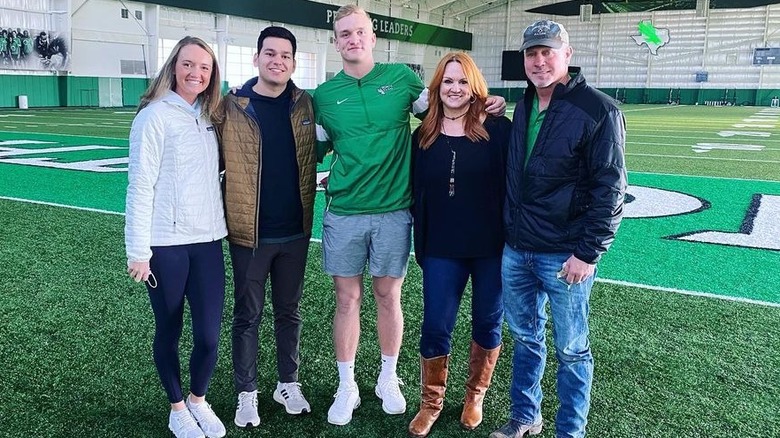 Ree and Ladd Drummond's son Bryce was born in 2002, per IMDb. Bryce was the star quarterback for the Pawhuska Huskies football team and he graduated from high school a semester early, per Pioneer Woman. Bryce moved to campus at the University of North Texas in January 2021 to begin training with the university's football team.
When Ree left Bryce at college, she took to Instagram to share a photo of Alex, Mauricio, Bryce, Ladd, and herself on the field of the football practice facility at the University of North Texas. "Ladd and I delivered Bryce to college today!" she wrote. "He was recruited to play quarterback at University of North Texas, and he worked hard to graduate from high school early so he could get down here and participate in spring practice with his new team. Alex and Mauricio live in Dallas, so they helped us move the big guy into his dorm room, then we all went out to eat enchiladas and burritos for dinner, which is what you do in Texas." Ree then summed up the thoughts of every parent dropping a child off at college: "My brain is dead and my heart is full." 
Todd Drummond could return to ranch life when he's older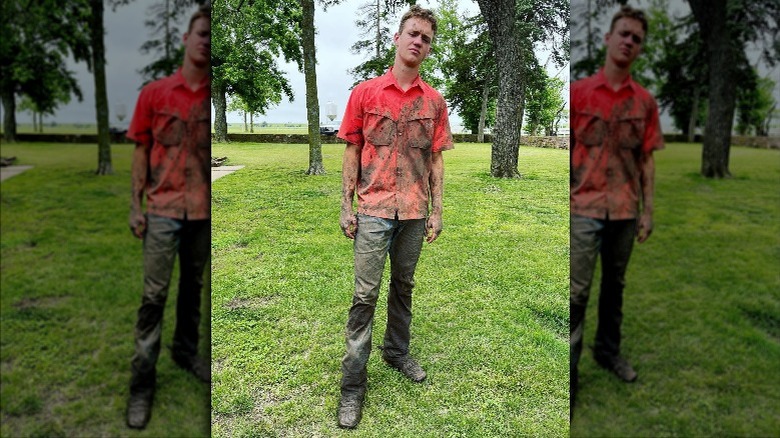 Ree and Ladd Drummond's youngest son Todd was born in 2004, per IMDb. He will be a senior in high school in the fall of 2021 and like his brother, plays football for the Pawhuska High School Huskies. Todd hopes to follow in his brother Bryce's footsteps and play college football, per the Pioneer Woman. He is also a wrestler and has earned awards for his skills on the mat. 
And while he can see himself returning to work on the ranch alongside his father one day, he's pretty determined to explore life a bit before committing to that. "Yes, that is what I plan on," Todd said when asked about his future on the ranch, per Pioneer Woman. "If football is not the move for me, I most certainly will come back to the ranch. We'll see how it goes." Todd's sister Alex pointed out he didn't have to choose, saying he could "have a good football career and then come back to the ranch."
"Bonus kid" Jamar joined the Drummond family in 2019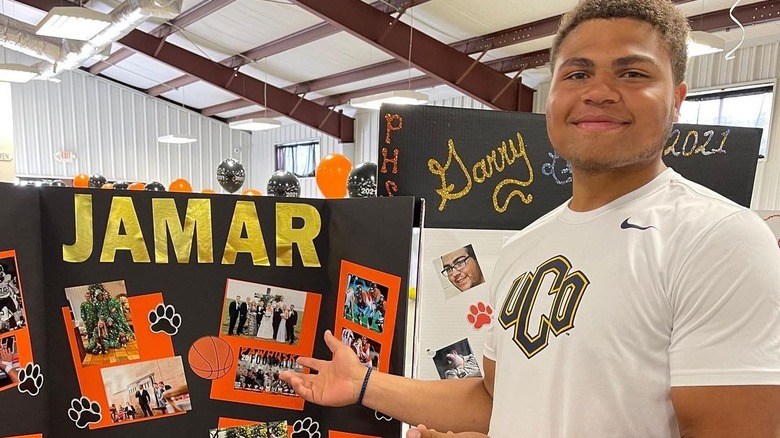 In late 2020, Ree Drummond revealed that she and Ladd had added a foster son named Jamar Goff to their family, per Taste of Country. Jamar is the same age as the Drummonds' oldest son Bryce. He started living with the Drummonds in early 2019.
Ree and Ladd didn't plan to foster a son, but Jamar's circumstances were not something they could ignore. Ree hasn't publicly gone into what those circumstances were other than to say he'd had a difficult childhood. It sounds like he was already well known to the family — he was a friend and football teammate of Bryce and Todd. Like Bryce, Jamar is heading off to play college football. He'll be playing for the University of Central Oklahoma. Ree calls Jamar her "bodacious, bright, brilliant bonus kid," per Pioneer Woman. Ree also said Jamar is "larger than life, has a hilarious laugh, and is extremely smart." Sounds like he was a great addition to the Drummond brood!
Source: Read Full Article