Imagine for a sec that you're a model and you want the chance to shoot with someone who's worked with Ariana Grande, Kim Kardashian, Kanye West—all the celebrities you love! Now imagine that this same photographer actually approaches you to do a shoot. Must be your lucky day, right? Well, not if they offer you a free photo shoot and then take back said offer because you refuse to send them nudes. In 2019, I can't believe people are still doing messed-up sh*t like this—and neither can Ariana, who unfortunately worked with this loser in the past.
Now, allow me to get you up to speed: The scummy photographer in question is better known as Marcus Hyde, who has worked with Ariana, Kim, Kanye, and more in the past. Yesterday, Marcus was rightfully put on blast by model Sunnaya after he expressed interest in doing a free shoot with her. In their Instagram DMs, Marcus suggests she sends him a nude photo. Sunnaya declines, saying she doesn't have any nude photos but she wouldn't be uncomfortable shooting in lingerie or partial nudity. Marcus's price after Sunnaya declined to send nudes? $2,000. Sunnaya's satisfaction knowing she successfully avoided a dirtbag? Priceless.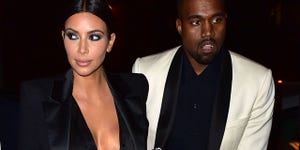 Sound unbelievable? There are receipts to prove it! Thankfully, Sunnaya took screenshots of their entire exchange and flagged him on her Instagram Story. You can see their exchange in full here, since Instagram was dumb enough to delete her original post in the first place:
Gonna post this here too #CancelMarcusHyde pic.twitter.com/MIgftKO7cR
Ariana, naturally, had a lot to say about this and made her own post about it on Instagram Stories. Although she didn't specifically name Marcus or Sunnaya in her post, it's preeetty obvious who/what she's talking about.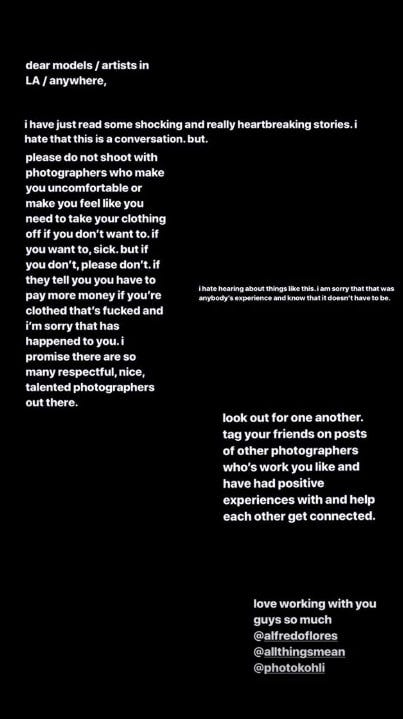 Can't read the tiny text? (Neither can I, if I'm honest.) Read Ari's statement in full below to get alllll the tea:
Kim and Kanye have remained silent about the situation, but that's probably because they're hella tight with Marcus. They did donate $25,000 to him after he got into a car crash once and attended one of Marcus's book launches, so who knows if they'll say anything. As for Marcus, he's since been accused of sexual misconduct by multiple other women, deleted his Instagram, and is getting exposed for being the filth human he really is. Ain't karma a b*tch?
Source: Read Full Article