Biblioteca Joanina–Coimbra, Portugal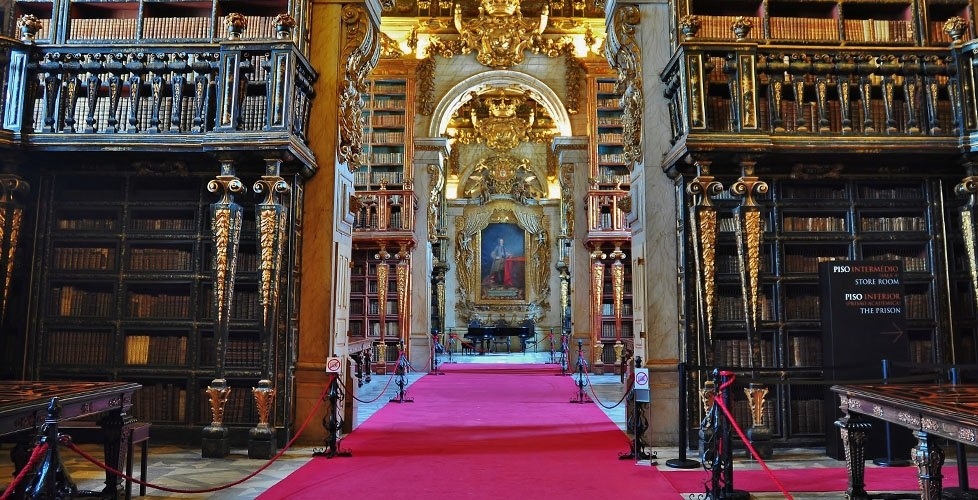 The first time I walked into this library, I thought to myself, 'Oh my God this looks just like the library in Beauty & the Beast." It wasn't until later that I found out this is the library used in the live-person version of Beauty & the Beast with Emma Watson. The Baroque library is part of the University of Coimbra and a National Monument in Portugal. It looks like an ornate, wood-paneled vault with gold details and ladders that look like they slide perfectly across the shelves. Fun fact: the library is one of two in the world that has a colony of bats in the rafters that swoop down at night to eat insects and protect the books. The other is Mafra Library, also in Portugal and also on this list.
Austrian National Library–Vienna, Austria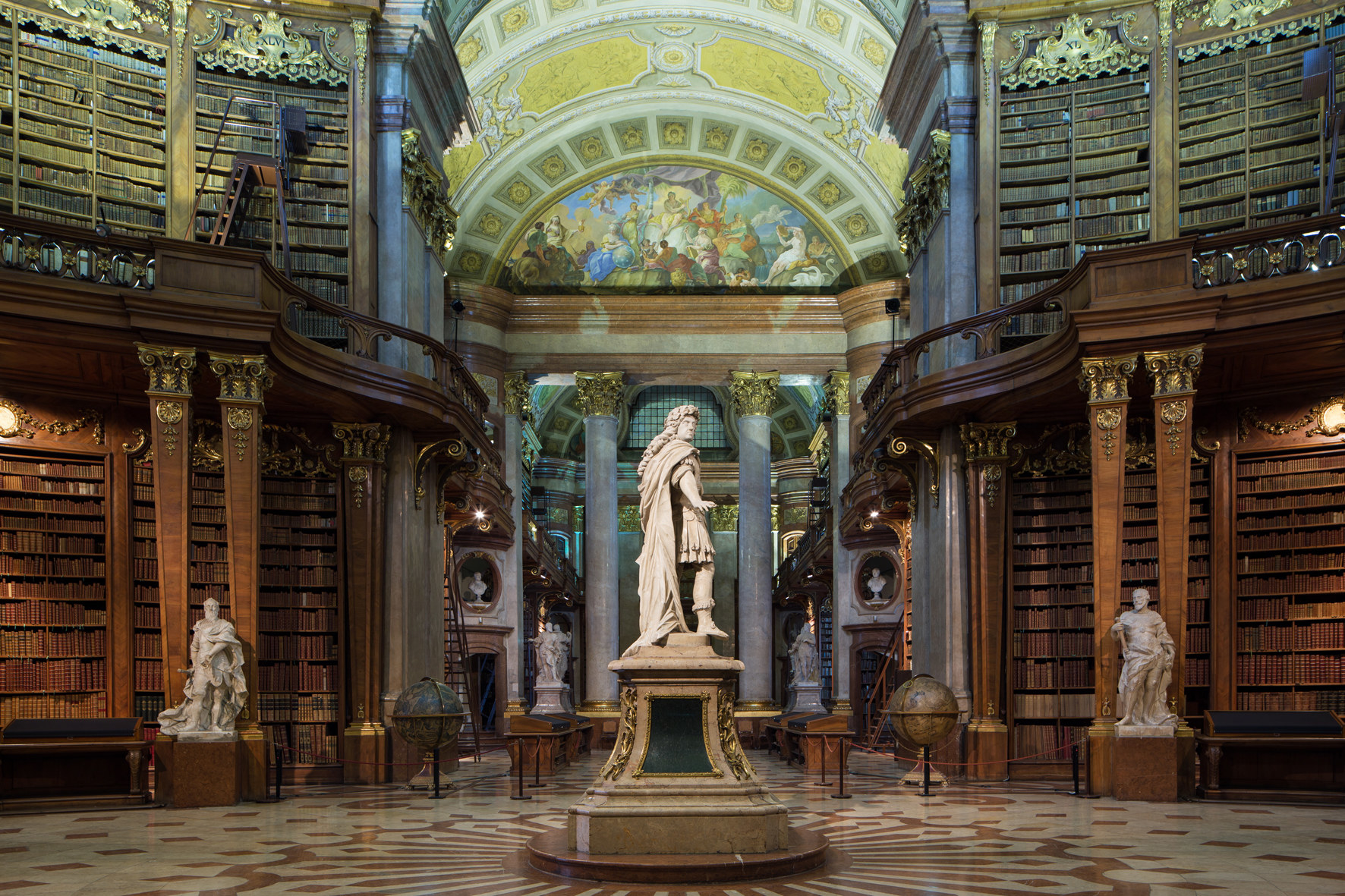 The outside of this building doesn't look like anything special, but step into the library in the Hofburg and prepare to gasp. It's stunning, packed with 12 million volumes, more than 300 decorative globes and thousands of maps, marble statues of emperors, and a detailed fresco in the cupola. Make sure to check out the papyrus collection and the Atlas Blaeu der Hem, a 2,400 map and print collection. Both are listed on the UNESCO register.
Trinity College Library–Dublin, Ireland
Dark arched beams stretch on and on in the aptly named "long room" of this massive library, built between 1712 and 1732. The room holds more than 200,000 of Trinity College Library's oldest books, as well as a copy of every book published in Ireland. Aside from dizzying stacks of books, look for the medieval Brian Boru harp, Ireland's national symbol.
Codrington Library–Oxford, England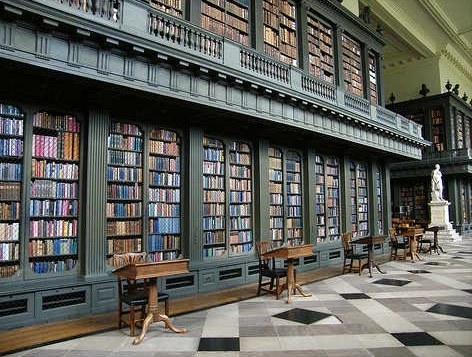 There are several beautiful libraries in Oxford, but this one is the prettiest. It was designed by Nicholas Hawksmoor (who also worked on St. Pauls' Cathedral in London and the west towers of Westminster Abbey), completed in 1751, and is on the National Heritage List for England. Black and gray tiled floors give it a more modern look than other libraries on this list, juxtaposed by heavy wood shelves and marble statues. It's hard to visit this library and not feel scholarly–you are at Oxford after all.
Mafra Palace Library–Mafra, Portugal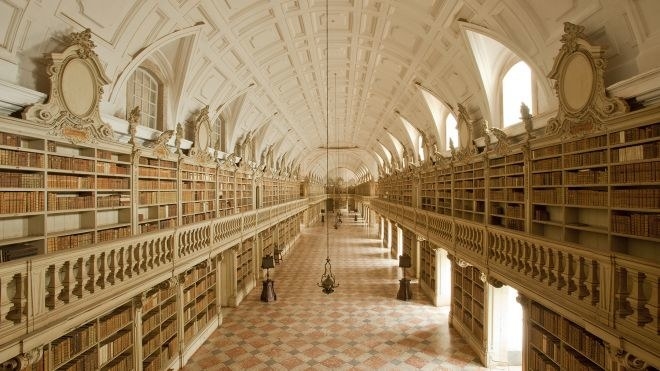 This national treasure in Portugal features wooden Rococo bookshelves and a bright, white ceiling that lights up the more than 36,000 leather-bound books. Like Biblioteca Joanina in Coimbra, Portugal, these stacks are protected by bats (staff covers the furniture every night to protect it from droppings). The collection is so precious visitors must make an appointment ahead of time to visit, but it's worth the extra step.
Admont Abbey Library–Admont, Austria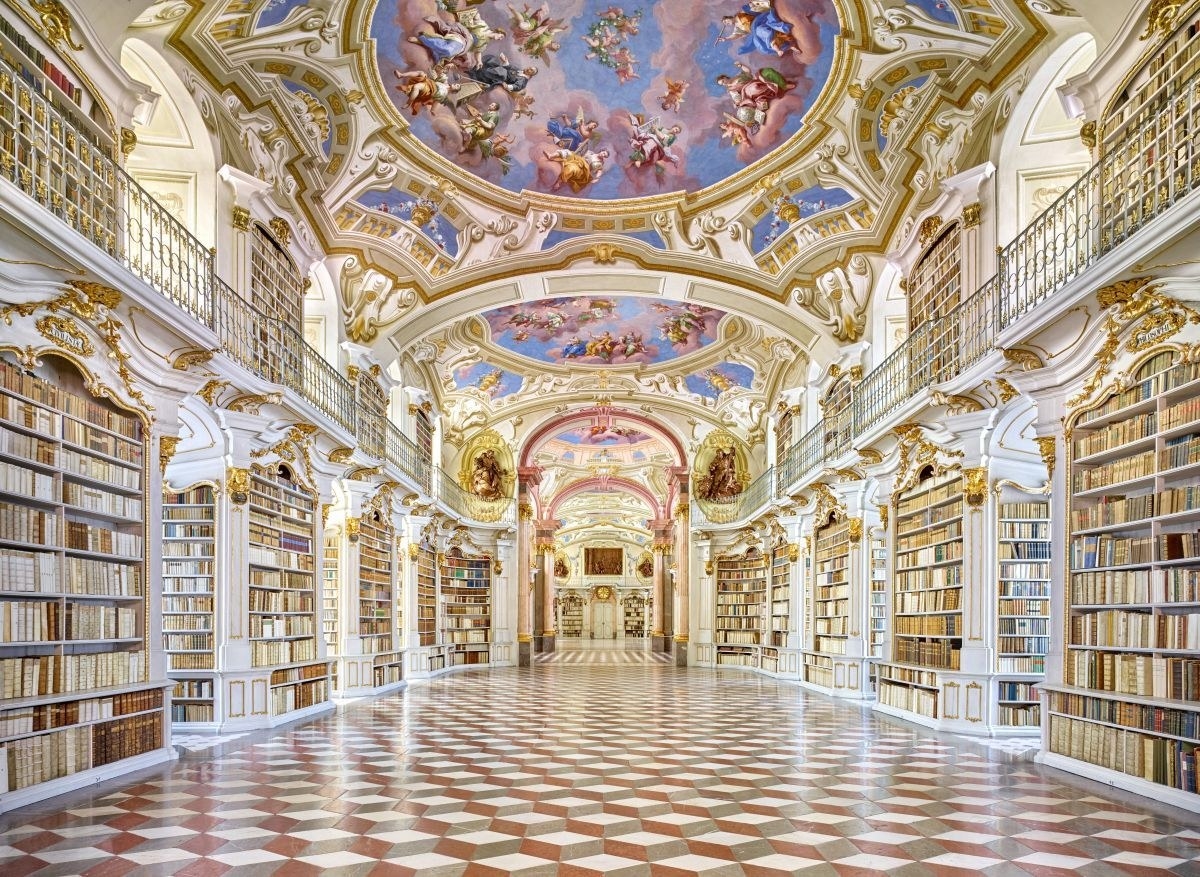 This elaborate, Baroque-style library is the largest monastery library in the world. Unlike the dark wood typical of many of Europe's most beautiful libraries, this one is white with gold details and elaborate limewood carvings. There are seven ceiling frescoes depicting goddesses and the geniuses of Grammar, Didactic, Latin, Greek, and Hebrew in swirling pastels. While Admont isn't on everyone's Austria itinerary, this library is so beautiful you might want to visit for it alone.
French National Library–Paris, France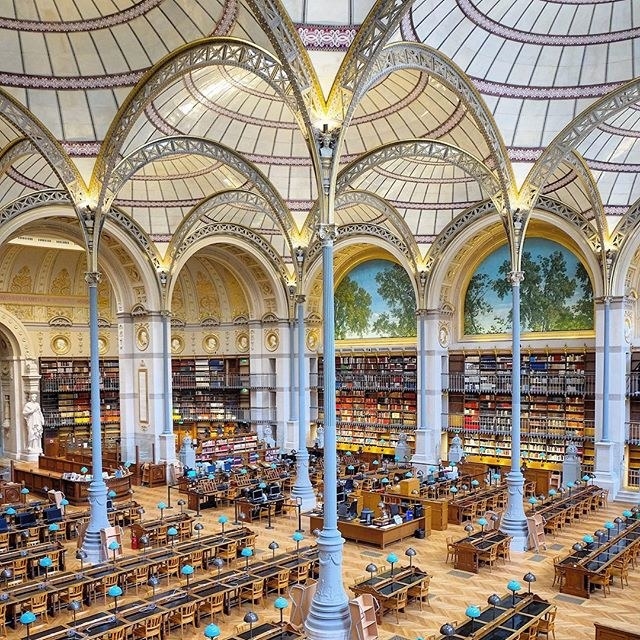 It's no surprise that Paris, a city that prizes beauty, is home to several beautiful libraries. If you only go to one, make it the Bibliothèque Nationale, or National Library, established in 1461 (that also makes it one of the oldest on this list). It holds more than 14 million books and publications in its rotunda, which is marked by soaring arches and a cozy reading room with individual desks and lights for patrons. You'll want to cozy up with a book and stay all day.
Biblioteca Marciana–Venice, Italy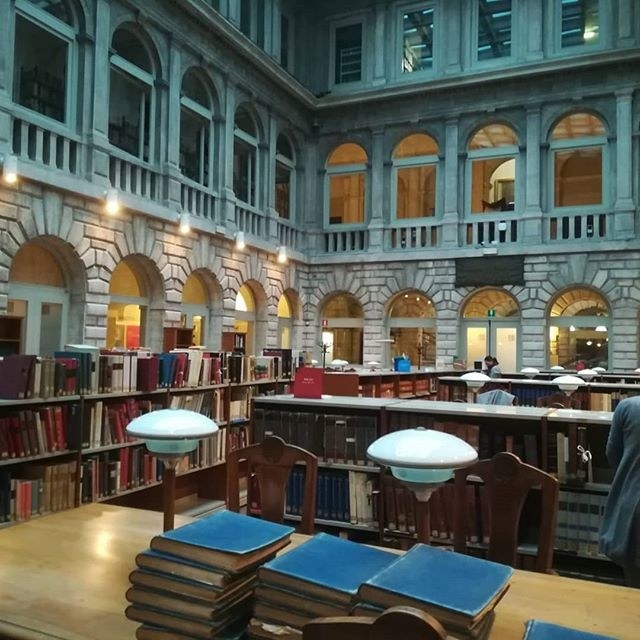 Come to Biblioteca Marciana (also known as the Sansovino Library) for the reading room ceiling–a Renaissance marvel decorated with 21 circular paintings by some of the greatest artists of the day, including Giuseppe Salviati, Battista Franco, and Bernardo Strozzi. Stay for one of the most impressive collections of classical texts in the world. The museum is a testament to Venice–its history, its artwork, its grandeur–and something you shouldn't miss on your next trip.
Baroque Library Hall in Klementinum–Prague, Czechia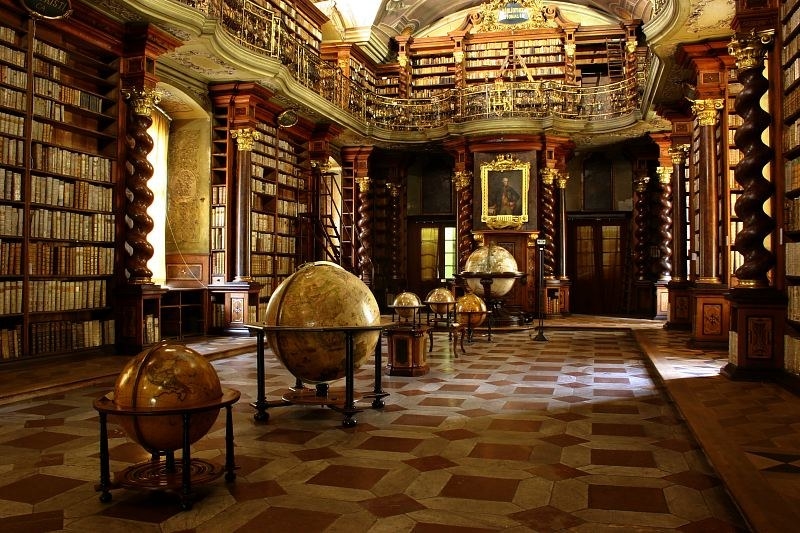 The Baroque period was a fantastic time for beautiful libraries, as you've seen so far on this list. The Library Hall in the Klementinum, a collection of historic buildings in Prague, is no exception. It was built in 1722 and hasn't been changed since, meaning you'll find it organized just as it was when it was originally built for a Jesuit college. You'll also find frescoes by Josef Diebel, large globes on wooden stands throughout, and plenty of embellishments and carvings along the shelves. Visitors can look around on their own or take a guided tour.
Szabo Ervin Library–Budapest, Hungary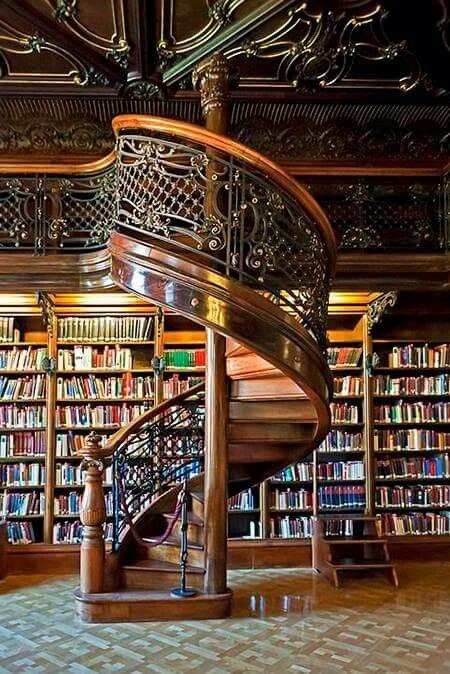 Tucked away in the Central Library in a bustling area of Budapest, you'll find the quiet, hardly visited Szabo Ervin Library. The cozy reading room with a spiral staircase and plush chairs looks like the beautiful parlor of someone's home, and that's because it was part of Count Frigyes Wenckheim's personal mansion when it was built in the 1800s. It's neo-Baroque style doesn't match the modern library it's housed in, which is part of the charm. Seek it out when you visit Budapest. When you enter, you'll gasp at the beauty and feel like you've stumbled on something secret in the center of the city.
Biblioteca Apostolica Vaticana–Rome, Italy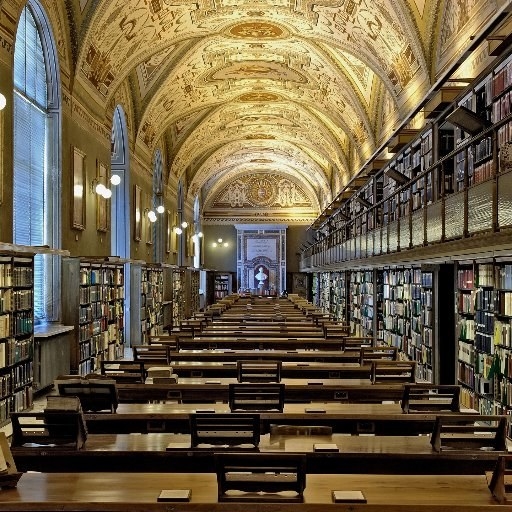 The Biblioteca Apostolica Vaticana, more commonly known as the Vatican Library, is one of the oldest libraries in the world and also one of the most impressive. Like much of the Vatican, it's incredibly decorated with sloping frescoes and other world-class artwork, including religious paintings and tapestries from around the world. It's so packed with detail it's almost overwhelming, and you'll need some time to take it all in. The library is a research library, so you'll need a legitimate research reason or qualification to visit, but if you can find one you won't be disappointed.
Abbey Library of Saint Gall–Gallen, Switzerland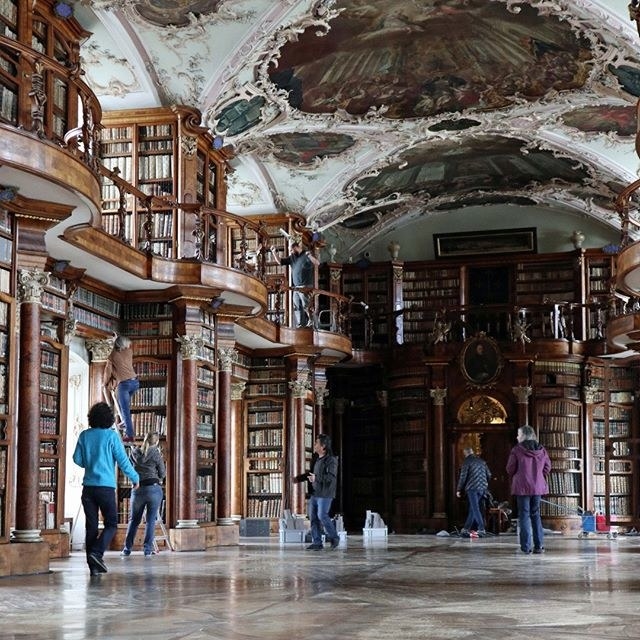 This medieval library is a World Heritage Site because it is "one of the richest and oldest in the world and contains precious manuscripts such as the earliest-known architectural plan drawn on parchment," according to UNESCO. The main hall was designed in the Rococo style in 1758, and features curving bookcases and balconies with carved cherubs and a decorative ceiling. It's packed with globes and more than 160,000 books, as well as glass cases holding special volumes.
National Library–Riga, Latvia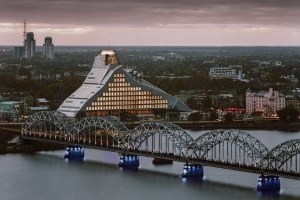 Latvia's National Library is distinctly modern. Founded in 1919, the year after the country became independent, and moved to a new building in 2014, it's glass facade has come to be known as the "castle of light," a Latvian metaphor for wisdom that has been lost but can be found again. Architect Gunnar Birkerts designed its silhouette to mirror the city's old town, while the interiors feature sleek, white floors and shelves packed with thousands of books. The result is striking, whether inside or out, and the building looks especially majestic when lit up at night.
The Royal Library of San Lorenzo de El Escorial– San Lorenzo de El Escorial (outside of Madrid), Spain

Built during the Renaissance, this library was so beautiful it supposedly inspired the architecture and design in the Vatican Library in Rome. Architect Juan de Herrera designed the arched ceilings and lines of shelves to be filled not only with books, but also things like globes and astrolabes, per the request of King Phillip II who wanted science, literature, and the arts to come together. The brightly colored frescoes fit this theme as well, depicting grammar, dialectics, music, geometry, arithmetic, rhetoric, and astronomy.
Wiblingen Monastery Library–Wiblingen, Germany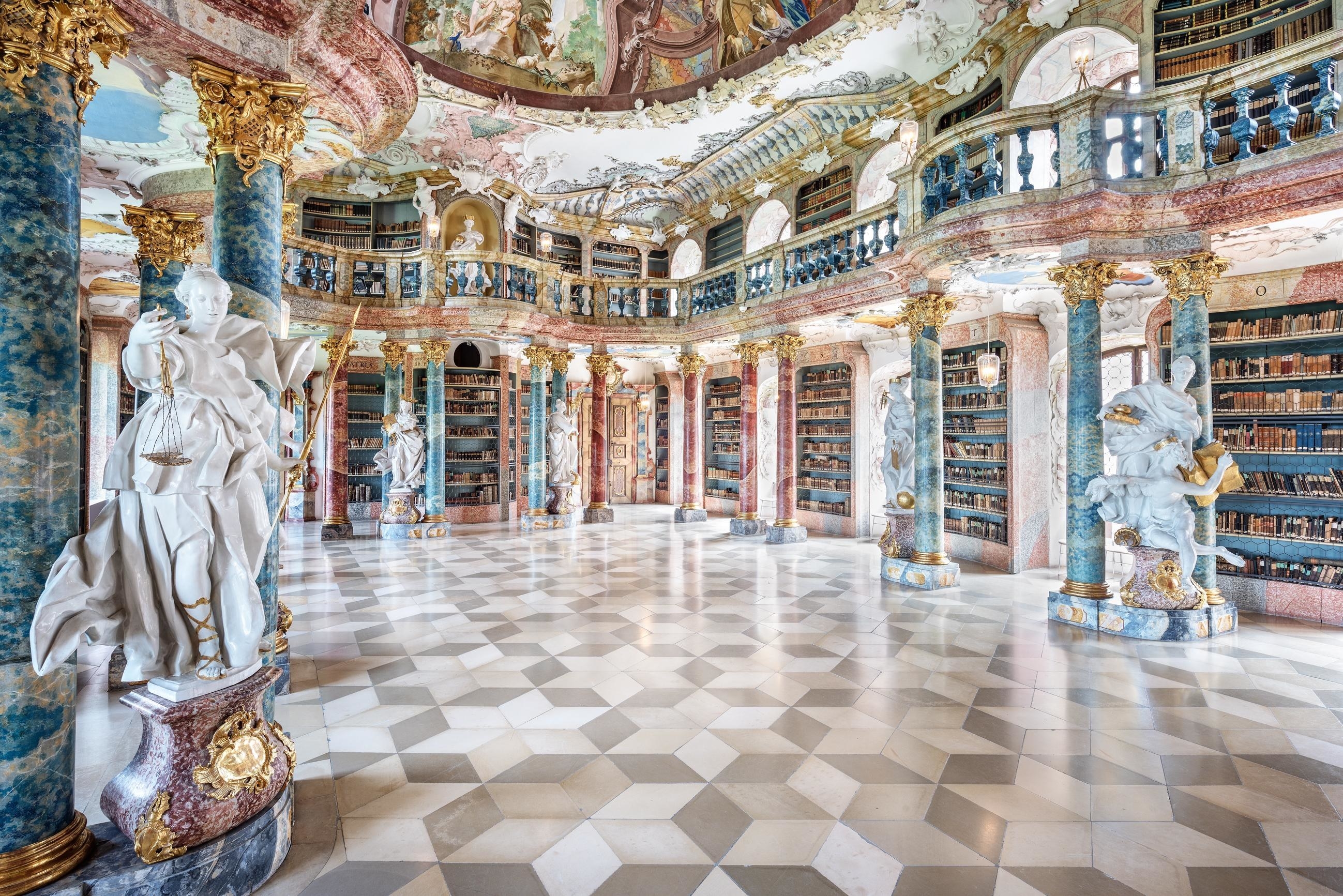 If you like pastels, this is the library for you. The two-story library in the Wiblingen Monastery is decorated in swirling pinks, blues, creams, and golds, creating a romantic look different from many dark-hued libraries also from this period. The library was built in 1744 in the Baroque style and every inch looks covered in decoration, from the wooden pillars painted to look like marble to the statues to the friezes along the ceiling and of course the domed frescoes above it all. Prepare to be wowed–it's a truly dreamy place.
Source: Read Full Article