Look, if you were paying $3.58 per gallon…
ByBrianna Sacks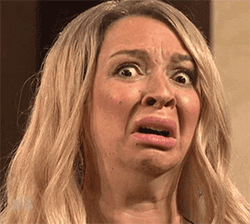 Also, in case you didn't know, Los Angeles has some of the most expensive gas in the country. A few months ago, prices averaged about $4 per gallon for the first time since 2015. Right now, we're hitting about $3.58 per gallon, way, way higher than basically every other state.
SO, when Angelenos heard that the #MaiselDay promotion included cheap AF gas at ONE station, we're talking 30-cent per gallon gas, shit got a bit crazy.
People and news stations were sharing stories, photos, and videos of long lines, cars blocking business entrances, police directing traffic, rumors police shut down the whole thing, tales of chaos, and stories of perseverance.
ABC7 captured the start of the swarm Wednesday morning.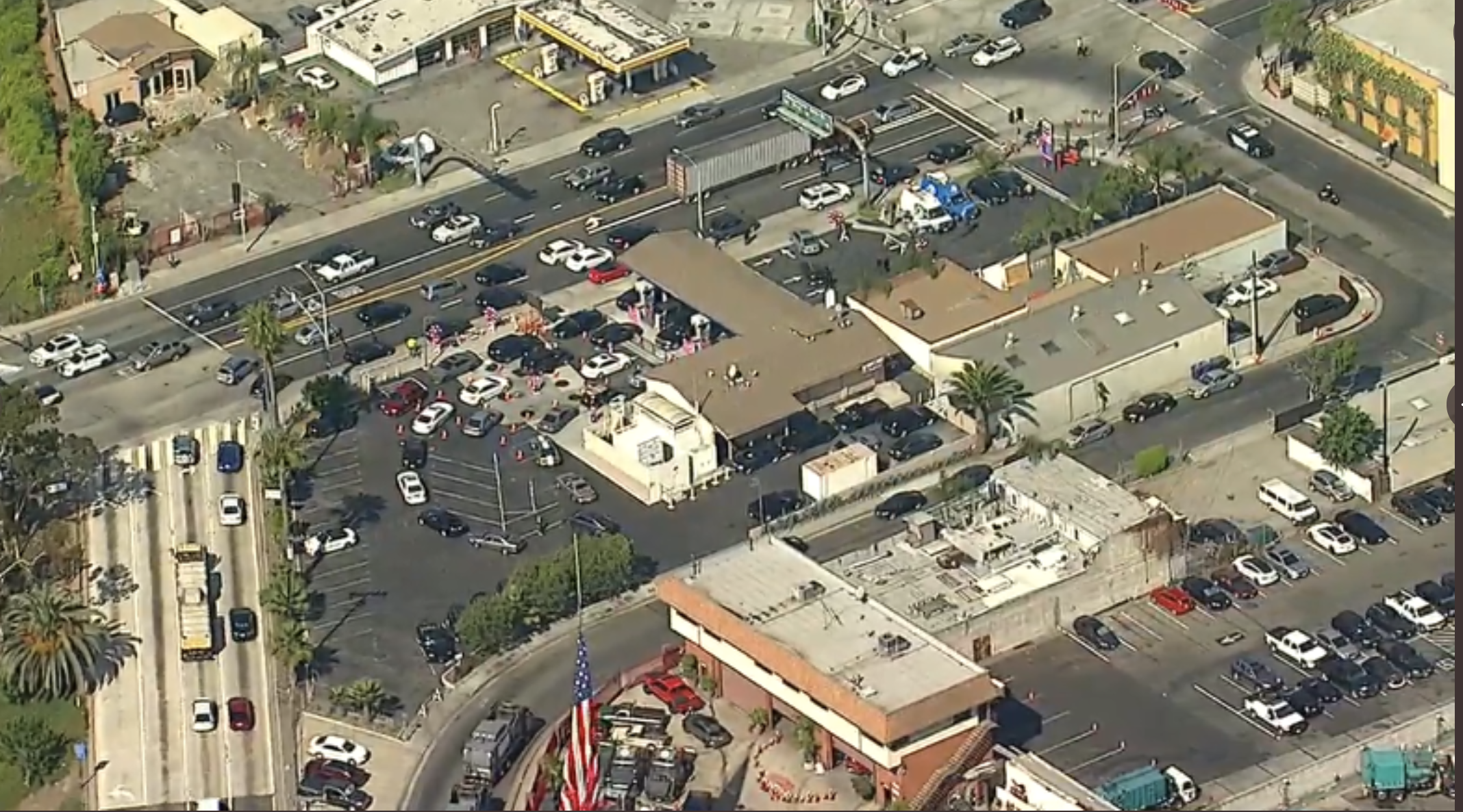 Ben here, for example, showed up bright and early to fill up. He got stuck in such a log jam that he probably changed his address to that very spot and made plans to grow old and die there.
A few hours later, this Twitter user says she drove 40 minutes (see what I mean) to get that 30-cent gas but it was no more. "Smh. I hate liars!!"
This guy apparently woke up at 6:00 a.m. and waited in traffic for two hours and got turned right back around.
This person tried to come at the Chevron from "2 diff angles," before parking and running in to try and find out how to get the golden gas. A guy named Frank felt so bad he gave her a gift card.
At one point, ABC 7 reported Santa Monica Police came and shut the whole thing down.
Amazon told the Los Angeles Times that officers were actually "counting the number of cars to ensure there aren't too many in line before they bring more in."
However, about an hour later, police did pull the plug on the whole thing because it was such a mess. The department told the Times that people started calling almost immediately when the promo began, quickly drawing officers to the scene.
The area became such a shit show that police decided to end the promo at 1:30 p.m., nearly four hours early. They let it run an hour more because people were almost selling their first-born child to fill up their tanks for $4.
Because of #gasgate, this Santa Monica art complex said it lost an "ENTIRE DAY" of business after police closed the street, blocking people from accessing the shops and galleries.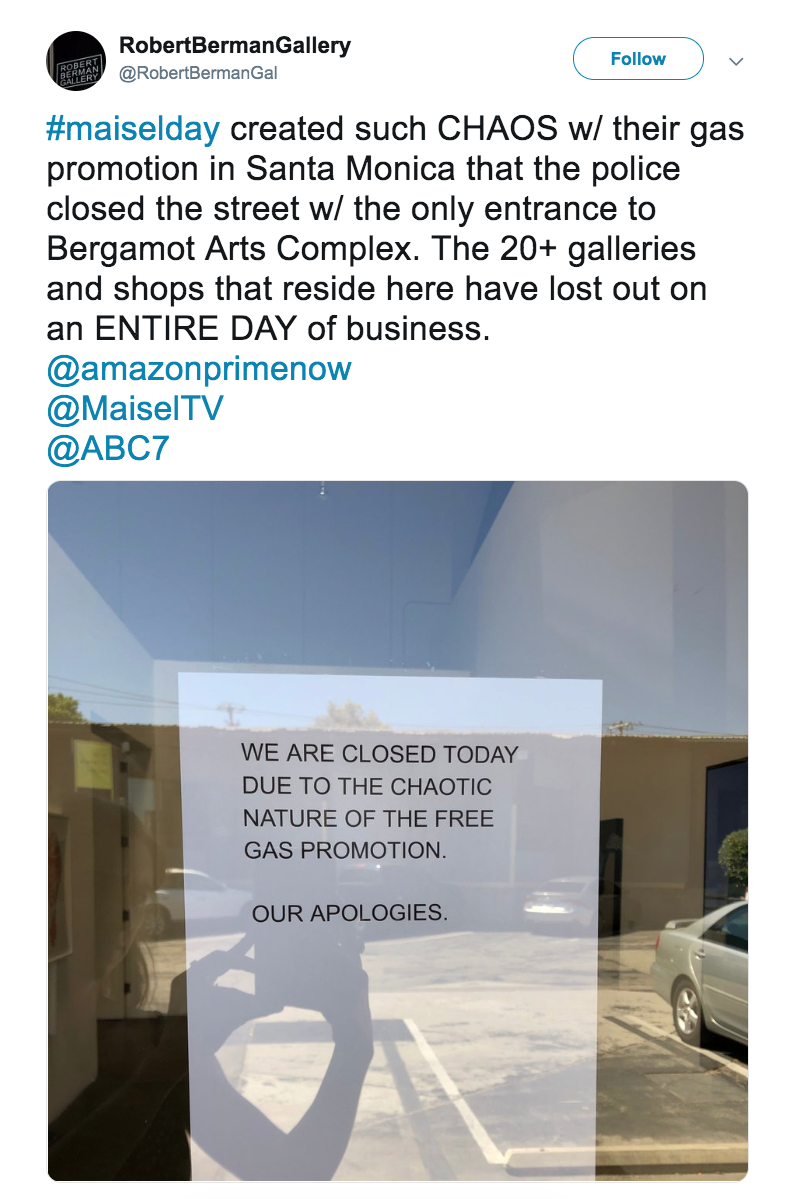 The show took to Twitter several times throughout the day to apologize. Oy!
Aside from the hellscape that was that Santa Monica gas station, other Angelenos reported waiting in crazy lines to try and snag $40 hotel rooms, $2.50 makeovers, and fancy 50-cent croissants.
This dedicated #MaiselDay adventurer hit up several establishments trying to get sandwiches and coffee before finally, "after a long wait," securing a coveted French Laduree macaron. 👏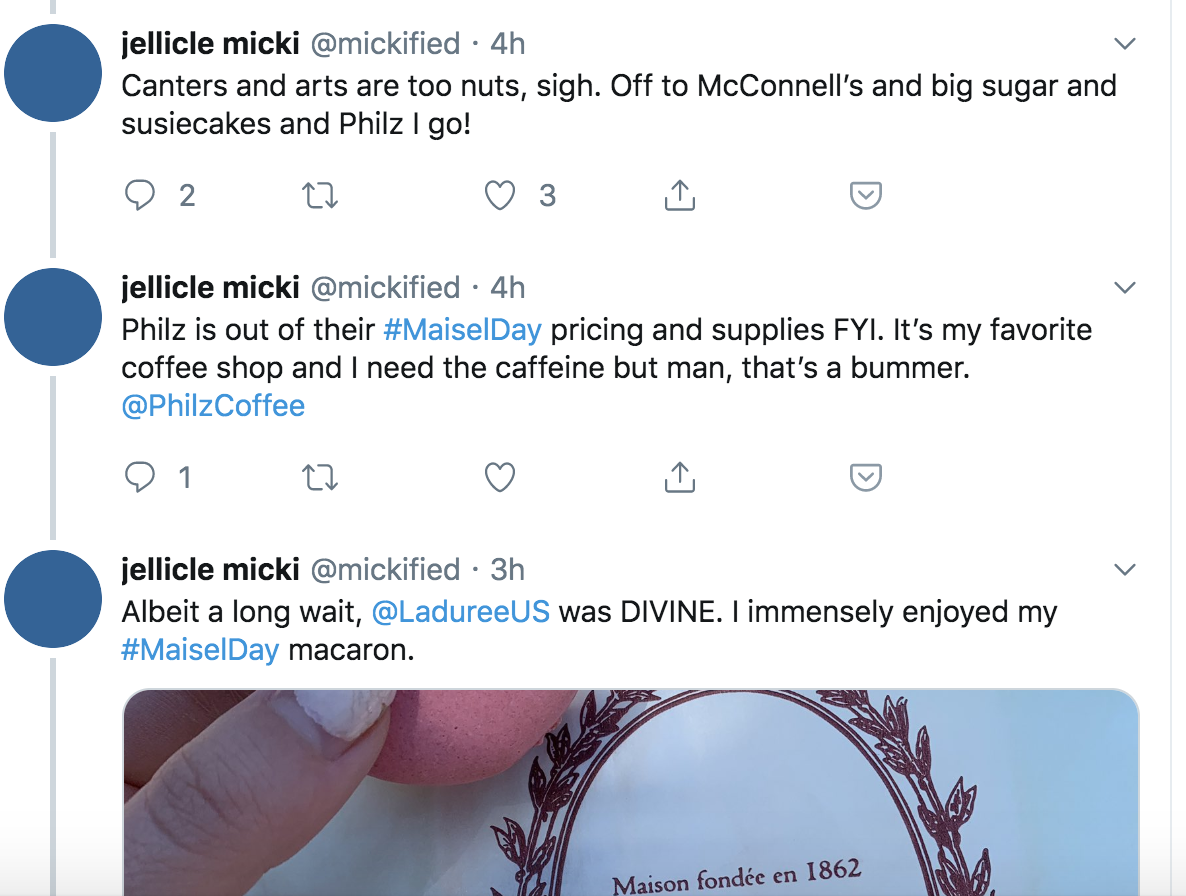 But it wasn't all bad news bears. Many people had a marvelous time cashing in their quarters for pie, fries, milkshakes, pastrami sandwiches, chocolates, and cupcakes.
Not to mention, those who got in line at the right time even scored $2 manicures and blowouts.
(I would also like to point out that these are pretty solid portions, imho).
Unsurprisingly, though, people in New York were pissed that LA got all the attention and amazing deals.
Why does LA get #MaiselDay when New Yorkers are *actually* the ones inconvenienced by filming, they asked.
I am not going to get into why Amazon most likely chose LA over NYC because I have better things to do like finding myself, sitting in my car in traffic, and then calling my friends to tell them about how I am sitting in traffic and listen to them talk about traffic.
But I will say that everyone can agree with Marissa here that 30-cent milkshakes are nice and all but can we live:
Brianna Sacks is a reporter for BuzzFeed News and is based in Los Angeles.

Contact Brianna Sacks at [email protected]

Got a confidential tip? Submit it here.
Source: Read Full Article