Ahead of Disney Channel's premiere of Descendants 3, stars Sofia Carson, Dove Cameron, and Booboo Stewart are saying goodbye to the film franchise and their lovable characters. Taking to Instagram, each of the cast mates paid tribute to the movie trilogy, which started with 2015's Descendants. Although bidding adieu to their parts is sentimental enough, the cast members expressed added feelings of emotion as they honored their late costar Cameron Boyce, who died from an epileptic seizure at age 20 on July 6.
Carson — who plays Evie, the daughter of the Evil Queen from Snow White — shared a heartfelt homage to her onscreen persona and the impact it's had on her since she assumed the role five years ago. "I cannot bring myself to say goodbye to you . . . but this is not a good bye. You and I are bound at the heart from here until eternity. And until then I will love you, Evie," she wrote. "But most of all, my dear Evie, you gifted me with an angel . . . My Cam. Our Cam. Who is looking down upon us today, dancing like only he knew how, laughing like only he (in the whole world) could make us laugh, and smiling as if everyday was heaven on earth. I thank you for every hug he gave me."
Meanwhile, Cameron — who portrays Maleficent's daughter, Mal — posted a behind-the-scenes snap of the four main stars, calling them "my family." And Stewart — aka Jay, son of Aladdin's Jafar — shared a picture of a recording monitor showing the same quartet piling their hands together as a team while filming. "There aren't enough ways to say, 'thank you' that measure up to the amount of love you have all shown us and our movies," he captioned the shot. "Thank you for all of the love you have shared and continue to share."
Their wholehearted salutes come shortly after Carson, Cameron, Stewart, and Descendants 3 director Kenny Ortega spoke about Boyce's legacy in an interview with Good Morning America. "When he walked into the room, the light changed, and the energy shifted," said Ortega, who also honored Boyce at his Hollywood Walk of Fame ceremony alongside the late actor's family. "Even when he was standing still, he was bioluminescent, he was lit from the inside out."
Disney has planned to honor Boyce with a dedication and tribute video during the premiere of Descendants 3 on Friday. Ahead, read the main stars' commendations of the magical franchise!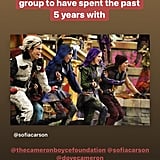 Source: Read Full Article