The record was previously held by Phoebe Dynevor-starring Regency era drama 'Bridgerton', which amassed 82 million viewers in its first 28 days after it launched last year.
AceShowbiz -"Squid Game" has made a history. The South Korean survival drama has officially been named the biggest launch for a new show on Netflix, surpassing "Bridgerton", after it reached 111 million viewers in less than a month.
Netflix announced the milestone on its official Twitter account on Tuesday, October 12. "Squid Game has officially reached 111 million fans – making it our biggest series launch ever," so the account wrote alongside a video of the show thanking fans for the huge achievement.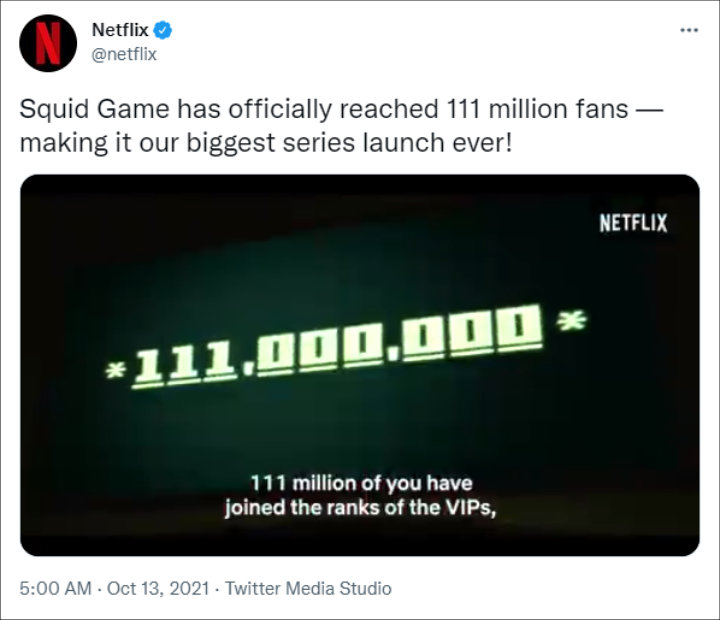 Netflix names 'Squid Game' the platform's biggest launch.
The record was previously held by "Bridgerton", which amassed 82 million viewers in its first 28 days after it launched last year. Netflix counts an offical view anytime a person watches over 2 minutes of a show as the streaming giant believes that it's an amount of time they say is "long enough to indicate the choice was intentional."
Additionally, "Squid Game" is among Netflix's Top 10 list in around 94 countries. The dystopian show is also the platform's first-ever Korean series to reach the No. 1 spot in the U.S.
Prior to this, Netflix co-CEO and content chief Ted Sarandos had already predicted such outcome, noting that the series had a very good chance becoming the streamer's biggest show ever. "We did not see that coming, in terms of its global popularity," Sarandos said at Vox Media's Code Conference.
Released on September 27, "Squid Game" is "an imaginative, unorthodox story in which 456 contestants risk their lives in a mysterious survival game — involving multiple rounds of childhood games — for a chance to win 45.6 billion won."
The 9-part series stars Lee Jung-jae ("Chief of Staff"), Park Hae-soo ("Yungnyong-i Nareusya"), Oh Yeong-su ("The Great Queen Seondeok"), Wi Ha-Joon ("The Greatest Divorce"), fashion model Jung Ho-yeon, Heo Sung-tae ("Your Honor"), Anupam Tripathi and Joo-ryeong Kim. Hwang Dong-hyuk ("The Fortress") wrote and directed the show.
Of the show's idea, Hwang previously told Variety, "When I started [writing 'Squid Game'], I was in financial straits myself and spent much time in cafes reading comics including 'Battle Royale' and 'Liar Game'," Hwang said. "I came to wonder how I'd feel if I took part in the games myself. But I found the games too complex, and for my own work focused instead on using kids' games."
Source: Read Full Article